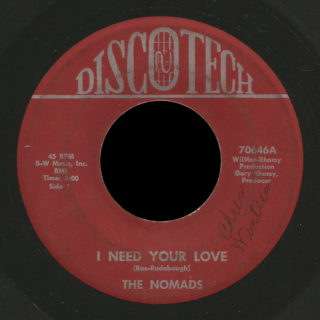 The Nomads are an unknown band as far as I can tell. They released their only single in June, 1967. It was probably recorded at the Athena Movie Theater in Athens, Ohio. The band came from Sylvania, Ohio, near Toledo, a good 220 miles from Athens.
"I Need Your Love" is stellar 12-string harmony rock, with an interesting middle section. It was written by Rae and Radabaugh and published by B-W Music, Inc. BMI.
"Willow Wind" is a Kingston Trio cover; the Nomads version is a favorite of some teen doo-wop fans.
Gary Rhamy produced the 45. Discotech was his label and also released the Last Exit's "It's The Same The Whole World Over" and the Sands ov Tyme.
Credited as a WilMat-Rhamy Production, his partners were Willis Parker and engineer Bob Matthews.
Gary Rhamy became chief engineer of United Audio in Youngstown, which he renamed Peppermint Productions Recording Studio in the early '70s.
Info from Buckeye Beat.