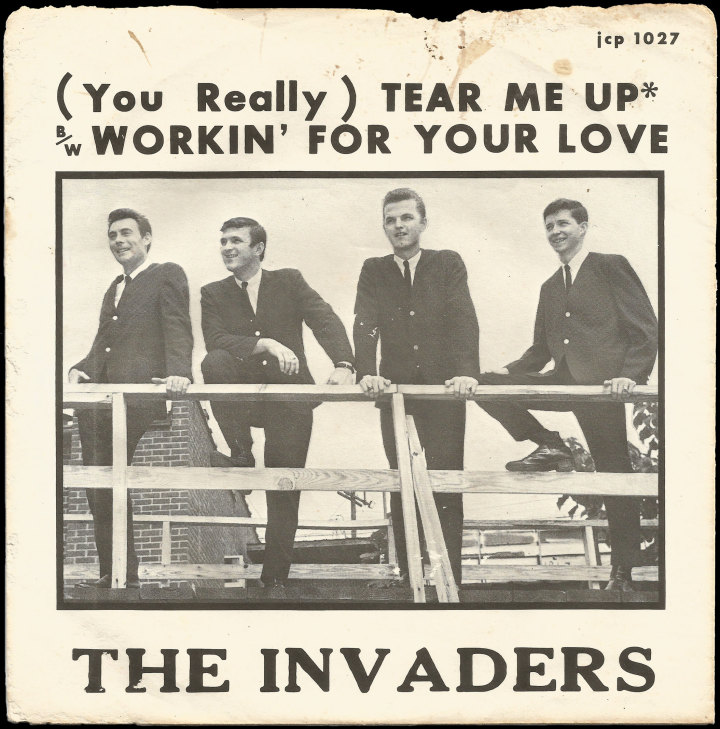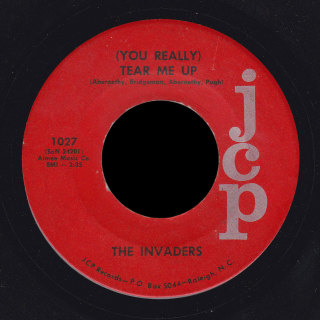 I found this great sleeve featuring the Invaders on JCP records. Unfortunately I don't have the 45 yet, and it's an excellent one.
The Invaders came from Asheboro, North Carolina, a town just south of Greensboro. By the time of their 45 release in 1965 they were older and more experienced than most garage bands, having come together in high school as early as 1958.
Tom Abernathy – lead vocals, piano, organ, trumpet
Joe Abernathy – vocals and bass
James Bridgeman – lead guitar
Bryan Pugh – drums
The Invaders went to the JCP Studio in Raleigh to record this single. "(You Really) Tear Me Up" was a group composition, while "Workin' For Your Love" is credited only to Abernathy, not specifying Tom or Joe. Both sides published by Aimee Music Co. BMI. The single came out on JCP 1027 in September, 1965.
There are supposed to be other singles and a couple dozen unreleased tracks by the band, many of which were recorded at JCP, but I haven't heard those yet. The group often played at the Red Barn in Southern Pines. I've also read Tom Abernathy has passed away.
This band is not the same Invaders who recorded the LP On the Right Track on Justice Records, that group was from Charlottesville, VA.