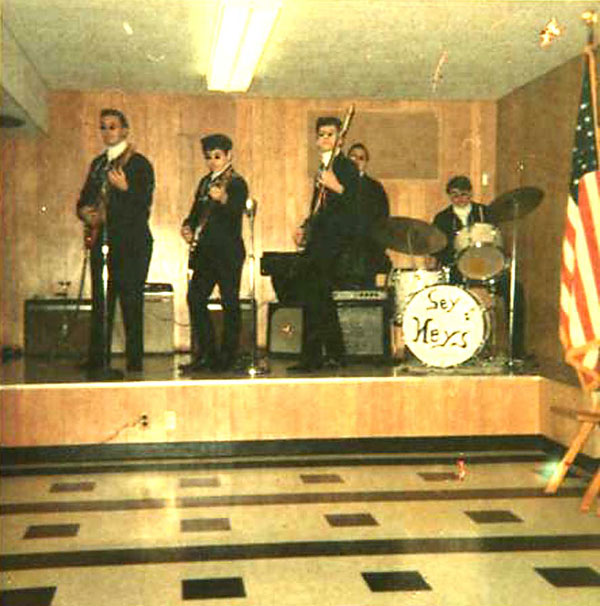 The Sey-Heys, l-r: Bob Baranowski, Steve Di Giovoni, Eddie Ferrick, Al Kuraz behind Eddie, and Lenny Hope on drums.
Here's a song you might be able to relate to, going on down to hang out around the convenience store. Certainly did enough of that when I was a young teen. The audio quality on this acetate is rough but the performance is good, with both guitar and piano solos on The Corner Store.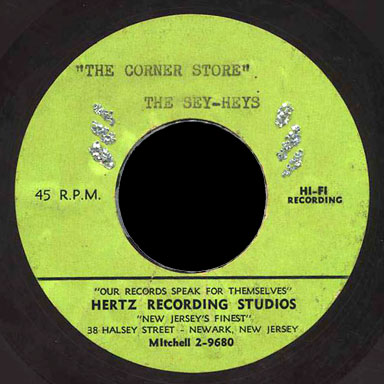 Rhythm guitarist Bob Baranowski wrote a terse summary of the band's history:
Group organized in 1965-1967. Manager Mike Petro from Harrison, NJ.

Bob Baranowski – rhythm guitar (Harrison, NJ)
Steve Di Giovoni – lead guitar (Clifton, NJ)
Ed Ferrick – bass guitar, lead vocals (Harrison, NJ)
Alan Kuraz – organ (Harrison, NJ)
Lenny Hope – drummer (Clifton, NJ)

Group played locally and at most colleges. Also played for Bank of Toyko at Waldorf in NY. Won competion on Zacherley TV show [Zacherley's Disco Teen on Channel 47 WNJU-TV] in Newark NJ. Backed up the Duprees at the Cornet in Irvington NJ, 1966. Won several battle of the bands in NJ. Recorded first record Rose Marie in 1966. and flip side The Corner Store. The group broke up in 1967.
Ed Ferrick was lead singer and composer of "Rosemarie". He and Bob Baranowski wrote "The Corner Store" in fifteen minutes to fill the session. They cut the two tracks in two hours at the Hertz Recording Studio on Halsey Street in Newark, for a total of $90: $30 per hour for the time and $30 for demos for the band. Bob's uncle was going to push the demo to RCA, where he worked as a patent attorney for RCA, but he died before he could make anything happen.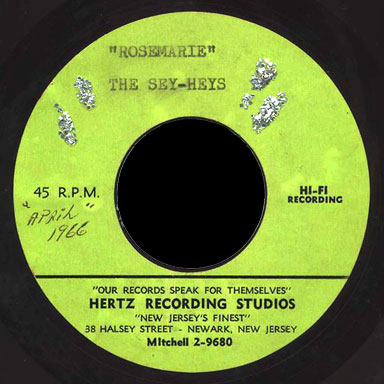 Their primary competition was The Caretakers from Harrsion, whose members included Artie Cuff on sax and Ritchie Ferollia on lead guitar. The Caretakers were mainly a cover band who had the distinction of touring Vietnam with Bob Hope.
Steve Di Giovanni went on to join the Clifton band the Brats. Bob Baranowski joined the Sidesteps, based in Newark.
Special thanks to Arnold Max for submitting the Sey Hey's acetate, photo and story.
The Hertz Studio had some of the crudest acetates I've heard. Here's a partial list – any additions would be welcome.
Johnny Kriss & the Mark IV – "Rockin' Baby" / "Please Baby Please"
Viscaines – "Wind Storm" (garage with harmony background vocals)
Creations – "The Outcast" / "I Don't Care"
Creations – "Bricks and Stones" / "Set Me Free"
Creations – "Far Away / "Captain Dirtbomb"
Sey Hey's – "Rosemarie / "Corner Store" (April 1966)
Karriem Productions – "Heartbreaker" / "Strangers In Love" (soul or funk)