I didn't know where the Saucer Men were from until one of the comments below gave Paterson, New Jersey. The ZTSP prefix on the label indicates this was a Columbia Records custom pressing, most likely out of New York. This band has nothing to do with the Saucermen of Dickie Goodman and Bill Buchanan fame.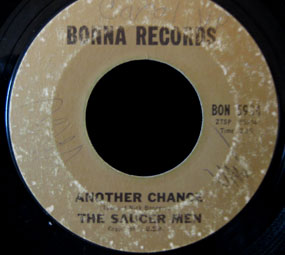 "Another Chance" is a maudlin tune, good if you like the downbeat, weepy garage numbers. The flip, "Don't Do It" is a poppier, somewhat awkward song.
Both songs were written by Tom and Nick Bonagura and released on their own Bonna label.
Thanks to Ra for sending in these clips and the label photo.