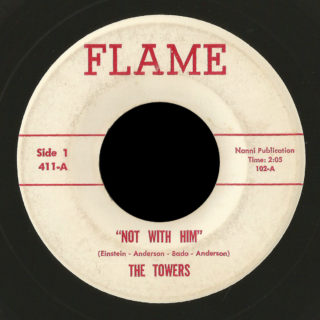 Great double-sider 45 from the Towers, "Not With Him" b/w "Babe", their only release on the Flame 411 with 102-A/B also on the labels.
The fast, pleading "Not With Him" was written by Einstein, Anderson, Bado, Anderson.
Harmon Einstein wrote the flip, which I like even better, "Babe". Both songs have Nanni Publication listed for publisher.
The mastering engineer must have been working without a title sheet, as he etched "Said I Love You" in the deadwax of the A-side and "Bab" of the flip. It's a low-fidelity pressing, with lots of surface noise, but the quality of the performances comes through.
The location of the band was a mystery to me until Mike Kuzmin wrote to me that the band was from Hamilton Square, New Jersey, near Trenton.
The Flame label also released Clay Brown & the Invaders "Talkin' Soul" (C. Wilson) / "Nothin' But Love" on Flame 415. Clay Brown & the Invaders formed in Florence, South Carolina in 1967.
I'd like to know the three singles that come between the Towers on Flame 411 and the Clay Brown on Flame 415.