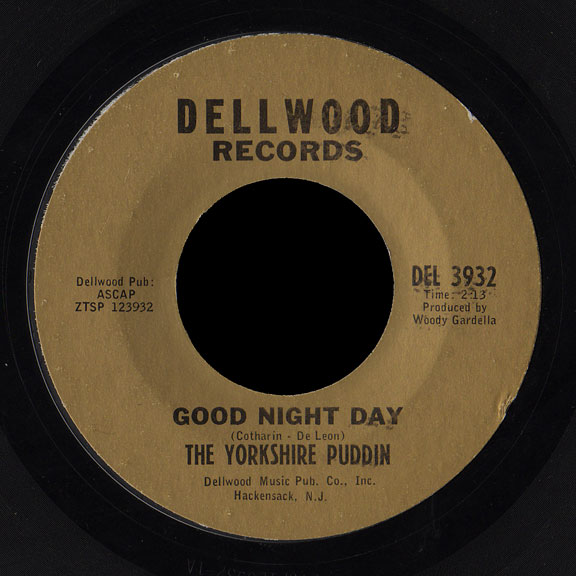 The Yorkshire Puddin cut two 45s in '67 and '68. Their first 45 is the fine "Good Night Day" backed with "Ain't Gonna Love Ya No More". They updated their sound for the second release, "Keep Me In Mind".
"Keep Me in Mind", like both sides of their first 45 were written by Cotharin – De Leon and produced by Woody Gardella. "Black Jacket Woman", the flip of "Keep Me in Mind", is the same moody pop number also done by the Zone V and the Tropics (the original?). I hear a female voice on the harmonies on this song only.
Dellwood was based in first Hackensack then nearby Saddle Brook, New Jersey.
Rhythm guitarist and vocalist Frank DePauw left a detailed comment about the band below, that I'll repeat here:
Bob Cotharin, left hand Hofner bass player, and head singer and spokesman of the group.
Reynold Ponce De Leon, keyboards, (harpsichord), rhythm guitar, and harmonies.
Robert Heinick, lead guitar, and vocalist.
Gail Koennemann did some backup singing, and wed Bob Cotharin in '69 or '70. No longer together.
Daniel Jollen, drummer, drafted into the Army in the summer of '68
Frank DePauw, second guitar, harmonies, backup keyboards, and in spare time, light show producer.

The group was the "house band" for the "Castaway" in Hampton Bay, Long Island, N.Y. in the summer of "68, when the drummer was drafted. A mad search went out, but no one could fill Dan's job, and the group, after trying to get the "sound" back, broke up.
Anyone have a photo of the group, or can fill in more history on how they came to record for Dellwood and play at the Castaway?
Thanks once again to JP Coumans for the scan of "Keep Me in Mind" and transfer of "Black Jacket Woman"