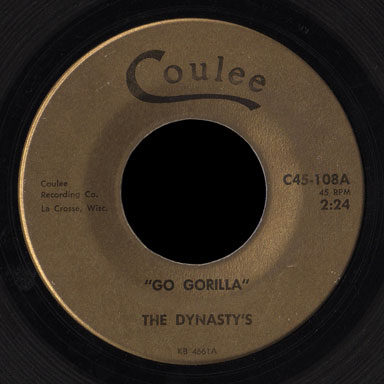 OK, it's not as heavy as the Shandells, but I can't believe no one ever mentions this version of "Go Gorilla". The original of the song was done by Chicago r&b group the Ideals in 1963, who had a #3 regional hit with it on KQV in Pittsburgh.
The Dynastys version come out of Wisconsin in September of '64, followed by the Shandells a few months later. The instrumental flip, "Birmingham", shows how accomplished a band they were as it really swings. Neither song has been comped before to my knowledge.
The Coulee label was out of La Crosse, Wisconsin, owned by Bill Grafft, who also ran the Boom, Knight and Transaction labels. The Dynasty's 45 (Coulee 108) comes just before Dee Jay and the Runaways' "Love Bug Crawl" / "The Pickup" (Coulee 109).
The Dynasty's definitely honed their skills pre-British Invasion, with large helpings of rockabilly, r&b and even surf and folk music in their sound. They originally came from Oskaloosa, Iowa. Their first 45 came out on the Fan, Jr label in 1964, a cover of the Eldorados' "I'll Be Forever Loving You" backed with another cover, Harold Dorman's "Mountain of Love", which Johnny Rivers made a hit not long after the Dynasty's version came out. Production by Orlie Breunig.
As Gary Myers wrote in a comment below, the band came from Milwaukee. Band members were George Shaput (guitar), Duane Schallitz (guitar), Mark Ladish (organ), Dave Maciolek (bass), Jim Serrano (lead guitar) and Kenny Arnold (drums).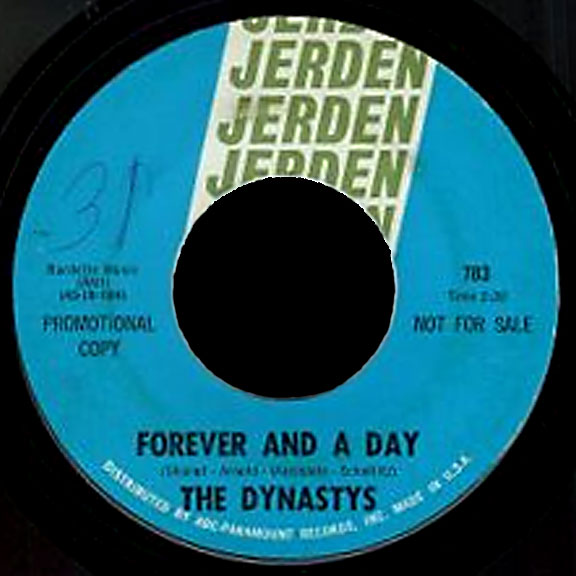 At the band's request to play on the West Coast, their manager Lindy Shannon booked them into the Longhorn in Portland, Oregon. Jerry Dennon of Jerden Records saw them there and heard their demos, leading to their final 45 in 1966, "It's Been a Long, Long Time" / "Forever and a Day".
On "Forever and a Day" the band manages to create a memorable harmony pop ballad without sacrificing their strong rhythm and drumming.
Not long after this release George Shaput joined the Shades of Blue and then played with Conway Twitty. The band reunited at a La Crosse show to honor Lindy Shannon in 1994.
Anyone have a photo of the group?