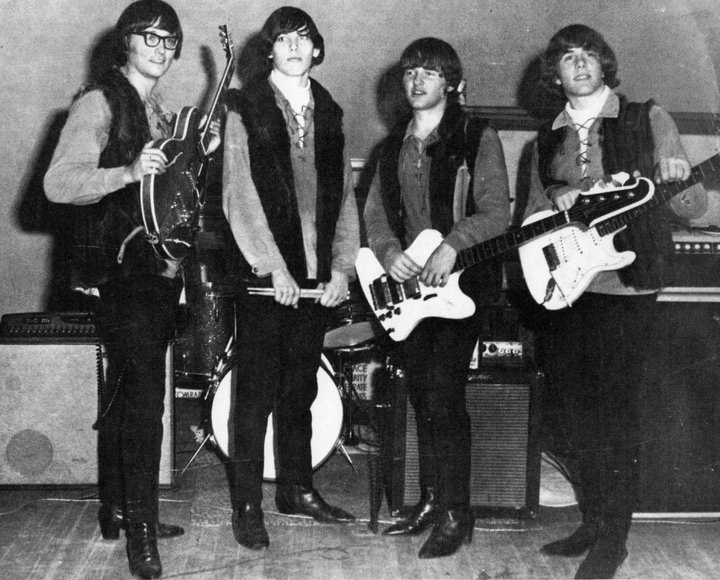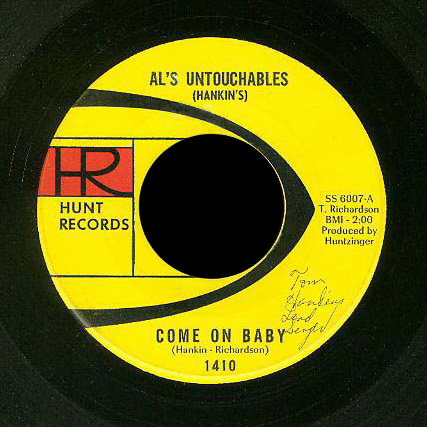 Al's Untouchables' "Come On Baby" / "Stick Around" is one of long-time classics of 60s garage rock. Original copies are rare and when they do sell, go for well over $1,000. The G45 Central site described "Come On Baby" as "raw energy that may never be equaled", all within two minutes of playing time. After the band establishes the pounding rhythm, lead guitarist Dick Douglas solos for nearly half a minute, and continues whenever there's a break in the lead vocals.
Though overshadowed by "Come On Baby", the flip "Stick Around" is excellent bluesy r&b. The label for "Stick Around" has "Douglas" in parentheses, referring to Dick Douglas on lead vocals.There were actually two different groups on Hunt Records called the Untouchables. The first group consisted of Al Huntziner (drums), Larry Fountain (guitar), Ernie Dvorak (saxophone), Ron Hamad (guitar), Bob Keith (keyboards), Bill Alley (bass), Mel Winder (guitar), Frank Glaser (guitar) and Bob Gaston. This Al & the Untouchables released one 45 on Hunt, "Church Key" / "Danny Boy".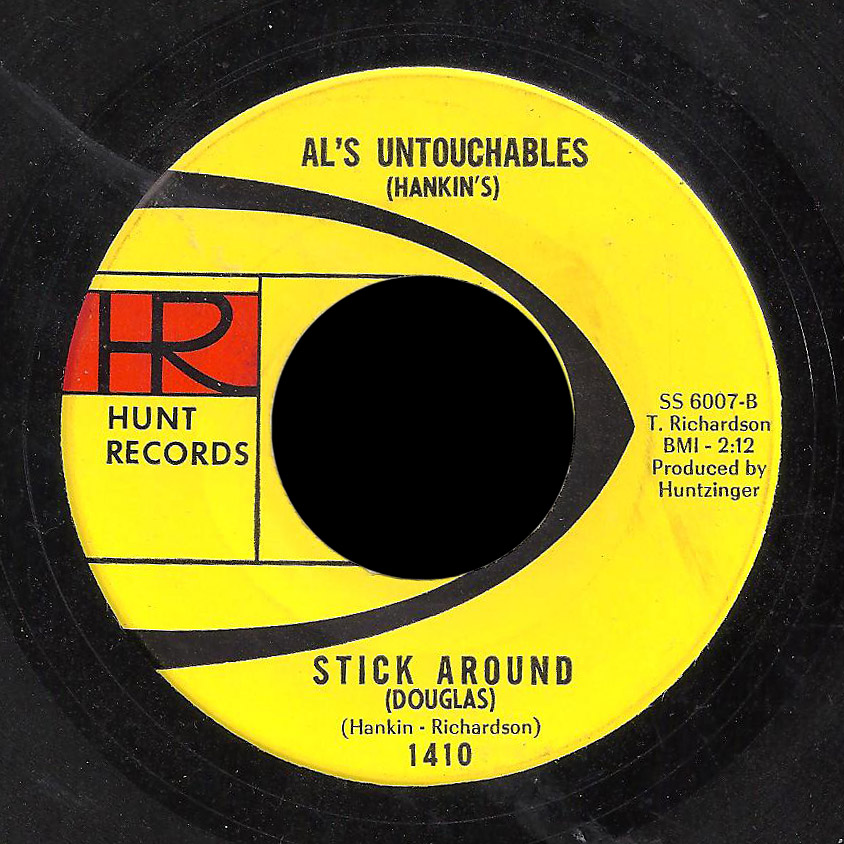 Then came an all-new Untouchables – but that story is best told by bassist and vocalist Tom Hankins. Tom also sent in the photos seen here.
In 1962, 14 year old Tom Hankins (bass and vocals) started a rock band with Scott Bascom (guitar and vocals), Mike Sexton (guitar and vocals) and Mike Curley (drums). The band was formed in Cedar Rapids, IA and named themselves The Belvederes.

Personnel changes were made at various points and the final version was Hankins on bass, keyboards, guitar and vocals, Dick Douglas on lead guitar and vocals, Bruce Nunamaker on rhythm guitar, Eddy Hood on 12 string guitar, bass and rhythm guitars and vocals and Ron Bressler on drums.

The Untouchables billed with Sam the Sham and the Everly Brothers, among others

They were having moderate success when area manager Al Huntzinger called Tom and asked him if his band would become Al's Untouchables, as Al's band of that name had all quit over money issues with Al. Hankins accepted and The Untouchables were born. Al still insisted on putting his name on the band, but they were just known to their fans as The Untouchables and Al no longer performed with them, as Hankins made that part of the deal [which is why "Hankin's" is included in parentheses underneath the band's name on the second Hunt single – ed.].They quickly became Iowa's top group with the backing of Darlowe Olsen, owner of Danceland Ballroom in Cedar Rapids, where The Untouchables became the house band and backing band for touring acts like Sam The Sham, Ike & Tina Turner, The Hullaballoos and dozens more top national and British Invasion acts. They also toured on Olsen's circuit of venues in the Midwest with Chuck Berry, The Dave Clark Five, The Animals, Johnny Tillotson and others.

In 1965 The Untouchables recorded what turned out to be a double-sided hit in the upper Midwest in 1966 with the songs "Come On Baby" and "Stick Around", both penned by Hankins and Douglas writing under the name of Thomas Richards.

"Come on Baby" is now being called "The Holy Grail of Garage Punk". This was recorded in Chicago at Sound Studios, the same studio used by The Stones and also with their engineer Stu Black. Hankins and Douglas produced the songs, but manager Huntzinger listed himself as producer when the record was pressed.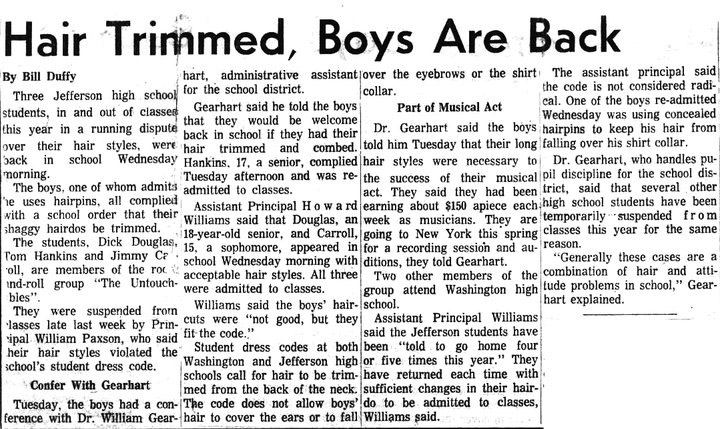 The Untouchables at the Spider Web, a youth club managed by Mom Uffelman

They began drawing packed venues. In 1966 the entire band was kicked out of high school because the school board deemed their hair as "unfit", as it covered the top of their ears and almost went over their collars.It turned out that Jefferson Senior High School principal William Paxton found out that the boys in the band were making more money than he was and he developed a grudge against them, doing his best to make sure the boys wouldn't get their diplomas, but he failed. This put The Untouchable's name in the headlines nationwide and they drew record crowds at all of the big ballrooms in the Midwest.

Once they were out of school they immediately headed to Hollywood. They had been there during Spring Break when Liberty Records asked them to come out and sign a contract. Liberty, however, wanted The Untouchables to clean up their image and cut their hair, to which the band refused, ripped up the contract and walked out the door.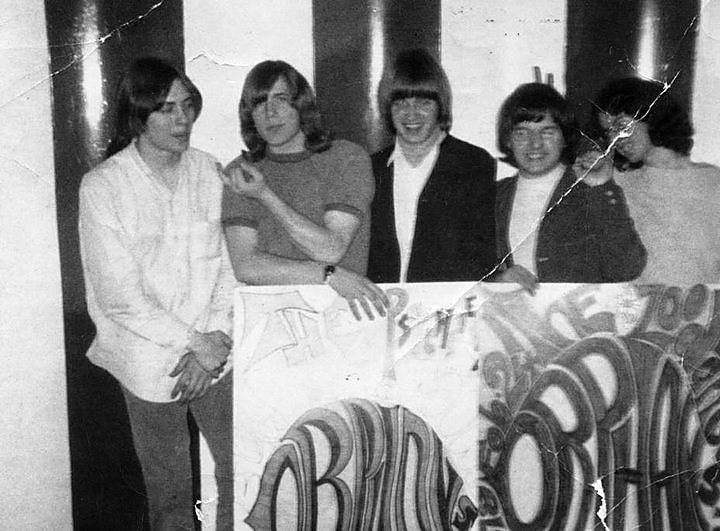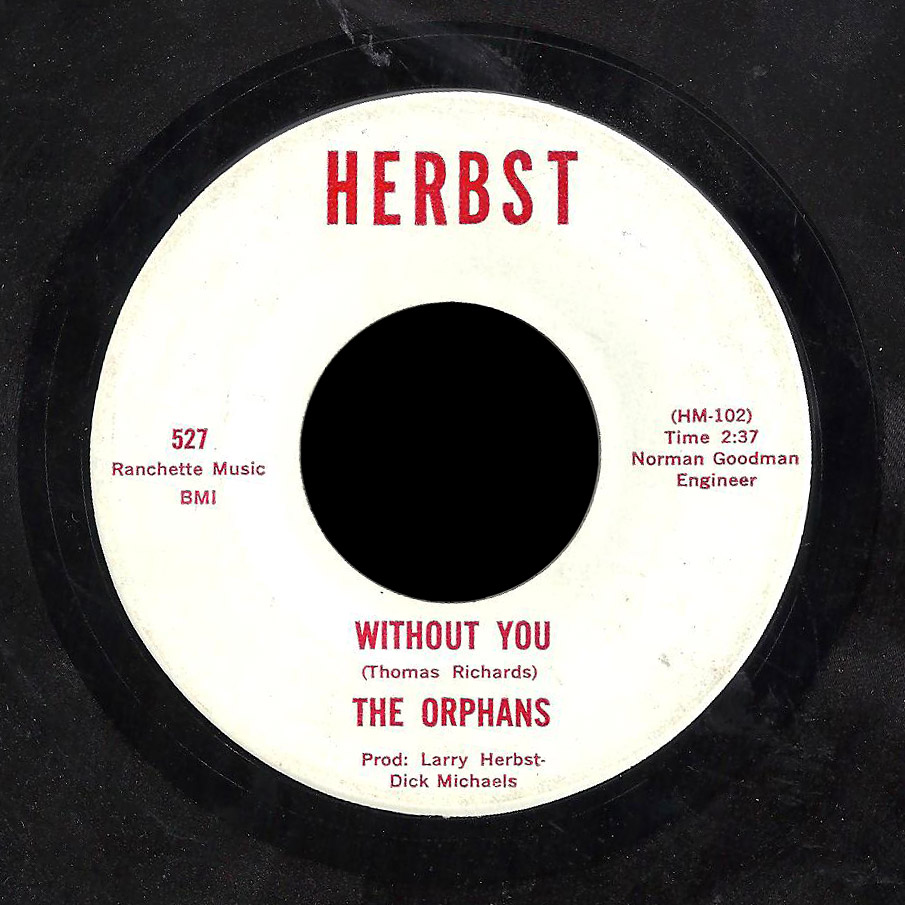 They dumped their manager Huntzinger and changed the band name to The Orphans at this point after finding out he had been pocketing up to 80% of the band's pay before dividing the rest up with the musicians. Famed producer Phil Spector listened to "Come On Baby" and "Stick Around" and helped them get a production deal with producer Marshall Leib. Herb Alpert was just starting A&M records with Jerry Moss and he wanted to sign The Orphans, but they lacked enough original material and Alpert needed someone immediately.They met The Doors and toured California with them. This was before The Doors were known outside California and were not even signed yet. Dissension broke The Orphans up.

The band returned to Iowa where Hankins and Douglas took over the operation of Danceland Ballroom from Olsen and ran it until it was closed for good, to be ripped down to make room for a parking garage and events center. They also put The Orphans back together. The duo also promoted concerts in The Midwest with The Orphans generally headlining, but other groups like The Byrds and Beau Brummels headlined some of these shows.

Douglas and Hankins returned to Hollywood and formed a new group with vocalist Aaron Brownstone and world-famous drummer Sandy Konikoff, who also played with Taj Mahal and George Harrison, among others. They record a 12 song album of original material for ABC Records, but upon completion of the LP, Brownstone was killed in a motorcycle accident, thus negating the contract.

Douglas and Hankins returned to Iowa where Douglas formed Enoch Smokey and they became one of the top Eastern Iowa groups. Hankins former a power blues trio with Dan Daniels and became the house band at the all-African American club called The Cougar Lounge in Cedar Rapids. In 1969 both Hankins and Daniels started training to become professional wrestlers and became known nationwide as "The World's Most Dangerous Wrestlers".

CAC 2004, from left: Verne Gagne, Jack Brisco and Tom Hankins

During this period they were both offered a berth playing with Charlie Daniels after participating in a jam session in Nashville, where they happened to be wrestling, but they had to turn him down as their wrestling career was just taking off.Dick Douglas still plays in Iowa and is recording a new CD as this is being written. Coincidentally, Hankins is currently recording and producing a new CD with The Powerhouse Blues Band in Los Angeles. Nunamaker lives in Colorado and continues to be one of the state's top guitarists. Bressler left the music business completely and Eddy Hood is currently an artist living in Northern California, and still plays with his own group around the San Francisco area.

The band was inducted into the Iowa Rock & Roll Hall of Fame in 2007, with Douglas and Nunamaker accepting the awards for the band, while Hood and Hankins went to San Francisco for a musical reunion of their own and jammed for two days.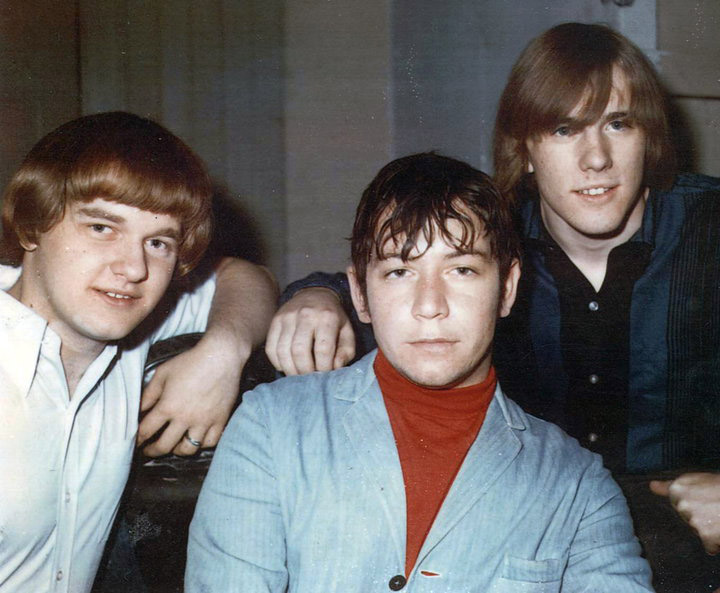 Tom kindly answered some of my questions about the Untouchables and also about the unreleased recordings of the Orphans:
Q. What was the connection with the Legends?

The Legends were the top drawing band in Cedar Rapids until The Untouchables hired Douglas out from under them. They did release a song that Eddy Hood and I wrote called "Sunshine Daydream" and the flip side was a cover of "Back in the USSR". It received airplay in Cedar Rapids only however and their popularity was mainly around Cedar Rapids itself.

Q. Is that you playing organ on "Come On Baby"?

Yes, I'm playing organ on both sides of the single and Eddy Hood played bass.

Q. Do you remember where the show with the Left Banke took place?

The Left Banke show was at Danceland Ballroom when Dick Douglas & I were running it and was the last major act to play there in 1967. They no-showed twice and this third time when they finally did show, the fans didn't and they drew less than 200 people.

Q. The Orphans was at least pressed to vinyl – what happened to all the copies of the 45?

"Without You", written by Dick Douglas and me and recorded as The Orphans in 1966 in Hollywood at Gold Star Studios. It was never released as the, engineering, production, mixing and mastering was so terrible and the quality of the recording is so bad that we refused to let them release it. This is what broke up The Orphans.

The flip side of "Without You" was "Hey Gyp". written by Donovan and obtained from him for The Orphans to record before anyone else did. The Animals did a much better version.

Our "manager" and all-around thief Al Huntzinger stole the 45's when we quit, even though we'd paid for them and for the recording session ourselves, and he must have destroyed them. I only have two myself.

I run into Eric Burdon at times as he lives here in Los Angeles too. He remembered Cedar Rapids and being hungover badly while playing there. We had just come off the road and were really hung over too.

Tom Hankins
May 2012
Despite the muddy sound, the Orphans' "Without You" is an excellent cut and deserves to be heard. As far as I can tell it's never been comped or featured before now. Norman Goodman engineered it and Larry Herbst and Dick Michaels are listed as producers. I can't find much further info about Herbst or Michaels as far as the music biz goes.
Hunt Records discography:
Any additional info would be appreciated
Hunt 450 – Al and the Untouchables – Church Key / Danny Boy
Hunt 1401 – Al's Untouchables – Come On Baby / Stick Around
Hunt 1201 – Corruption, Inc – She's Gone (Logel – McCleary) / Somewhere (produced by Jim Logel)
Hunt 270 – Uncle 'na Anteaters – Kathy Ran Around / I Can't Go On (formerly the Countdowns)