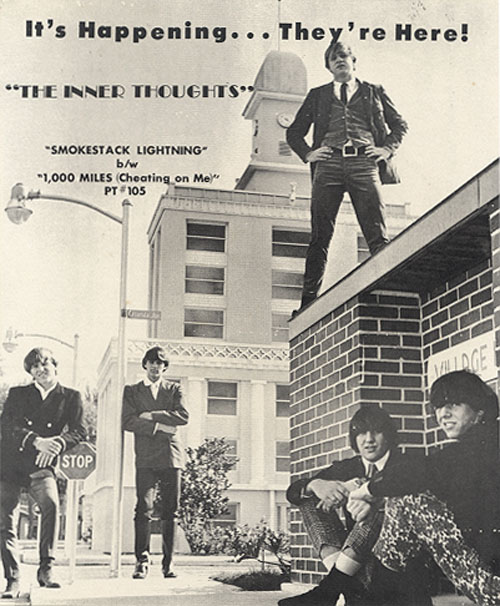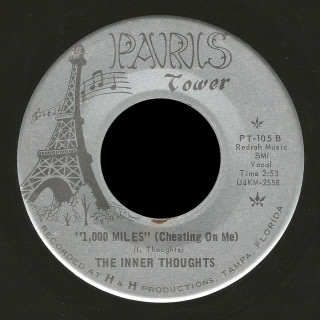 The Inner Thoughts came from Clearwater, Florida, west of Tampa. There's not a lot of info about them available, but the Inner Thoughts had one of the best and earliest releases on the Paris Tower label, "Smokestack Lightning" b/w a band original, "1,000 Miles (Cheating on Me)", released in March, 1967.
Paris Tower included a postcard with some copies of the single, featuring the cool photo of the band with this great description on the other side:
Shaaa-Zam!!! THE INNER THOUGHTS are ready to capture your city with their first Paris Tower release, which is a far out, fuzz-toned, revamped arrangement of "Smokestack Lightning."

Rumbling into high gear; this Clearwater, Florida group has made a name for itself among the cool set on Florida's West Coast.

Give a close listen to the flip side, "1,000 Miles (Cheating on Me)." This is a surprisingly original number with a wild "MOD" mood featuring tonal transitions indescribable in print. THE INNER THOUGHTS will be around for a long time!!!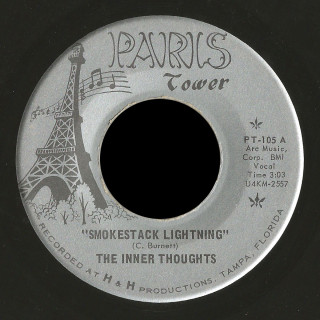 Members of the Inner Thoughts were:
Bob Baskin – vocals
Ray Carpenter – lead guitar
Mark Burgess – bass
Sonny (surname?) – guitar
Jeff Covert – drums
Mark Burgess was formerly the lead guitarist for J. R. and the Newtrons, a Dunedin group that didn't record but whose members included David Muse, later of Firefall; John Roedel, who joined Those Five; Bill Harrill; Buddy Waterman; and Rick Roberts of the Flying Burrito Brothers.
Publishing for "1,000 Miles (Cheating on Me)" was through Redrah Music, BMI. The Inner Thoughts recorded at H&H Productions in Tampa, the pressing through RCA, U4KM-2558.
Sources include the Limestone Lounge and Tampa Bay Garage Bands.