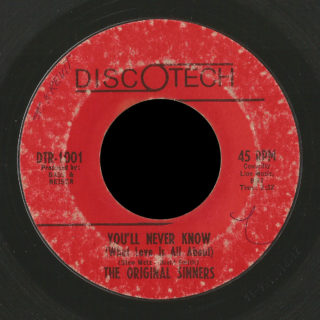 The Original Sinners formed at Yale University in New Haven. Robert Brentson Smith wrote "You'll Never Know (What Love Is All About)", which borrows the opening riff of the Stones' "Empty Heart" for an archetypal garage single, with put-down lyrics, good harmony vocals, harp and a guitar break.
Brent Smith and Stew Metz wrote the stomping, bluesy "(Any Time You Need Me) I'll Be Home", freshened like the flip by good harmonies and balance in rhythm & lead guitar.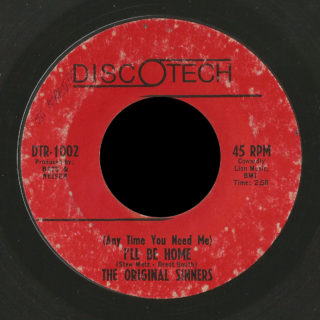 Both songs were copyrighted in April of 1966 with Cowardly Lion Music BMI. Produced by Bass & Reiser, it was released in May, 1966 on Discotech DTR-1001 (stamped Columbia custom pressing code ZTSP 122156/7 – 1A).
There's no link between this Discotech label and the Ohio label that had cool releases by the Nomads and others.