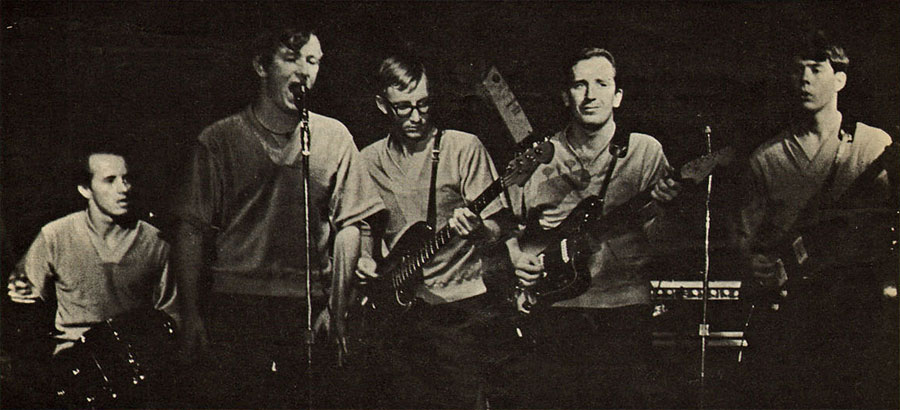 A great 45 by the Beckett Quintet; the producers must have had high expectations, as hundreds of copies exist on the original Gemcor label and this was also picked up by A&M.
"No Correspondence" has been featured on plenty of compilations since its original release, but there was very little information out there on the Beckett Quintet.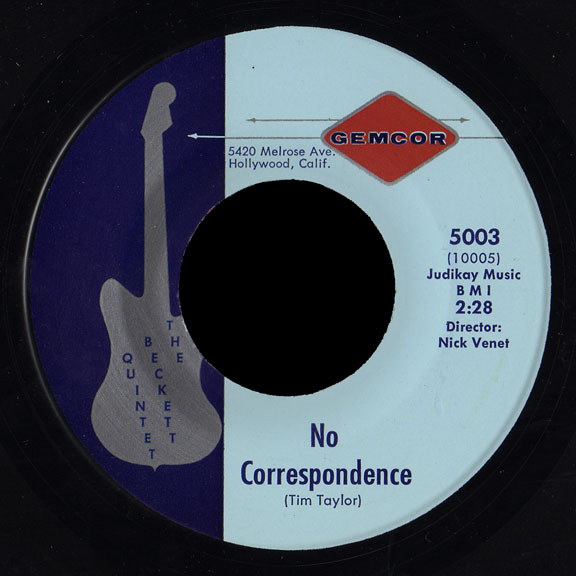 Freddy Fortune sent me these clips from the amazing KRLA Beat newspaper site – a full page article on the guys! Now we know, the band consisted of:
Tommy Muncrief, vocals
Tim Taylor, guitar
Barry Dunkeson, guitar
Norm Reccius, bass guitar
Steve Nagle, drums
They were actually students at Eastern New Mexico University in Portales, by the Texas border. Over a hundred miles northwest of Lubbock, it's even further from Amarillo, Albuquerque or Santa Fe, but only fifteen minutes away from Clovis, where Norman Petty ran his studio. I wonder if they ever stepped foot in there.
Most of the article is about how the band saved to move to Hollywood, but, having been ripped off by a manager, they made the journey on a shoestring and half-starved while looking for a break. The subtitle is Cinderella Story, but the band disappeared soon after. What happened to them? What about the stacks of original material that the article talks about – any demos out there?
"No Correspondence" was written by Tim Taylor. The flip is a decent version of "It's All Over Now, Baby Blue". Production was supervised by Nick Venet, a veteran producer with Capitol and Mira who worked with the Leaves, Lothar and the Hand People, and Mad River among others. This was the third and last release on Gemcor.
As a footnote, the article gives the band's name spelled Becket 5 or Becket Quintet, but the record lists them as Beckett Quintet. It also spells the singer name as Tommy Munirief (I also had it as Tom Munifief) but I believe it should be Tommy Muncrief.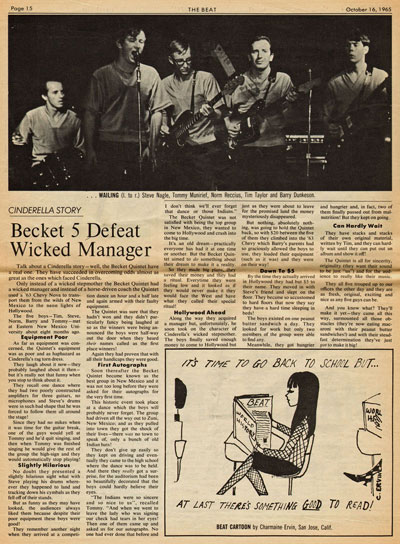 Steve Nagle wrote to me in November 2009:
I am Steve Nagle and played drums for the Becketts (formerly the Epics out of New Mexico).

The band originally came together as the Epics when we were all students at Eastern New Mexico University starting out playing fraternity and homecoming dances. Tim was a fantastic guitar player and we decided to start a band so I asked my Mom to send out my drums from Missouri – she sent the drum cases on the Santa Fe railroad and they arrived in Clovis, New Mexico at the start of my sophomore year. I had played professionally since I was 12 years old in my hometown of St. Joe with a rock and roll band called the Teen Kings and also worked in little jazz combos and Bill Geha's Big Swing Band.

I read your remarks about Clovis and yes we got to be friends with the one and only Norman Petty and were in awe of his connections with Buddy Holly, the Fireballs and others. He took our band to lunch once after he had just returned from London and meeting the Beatles. We recorded in his studio and he helped us prepare some demos to take to California. Our other musical mentors were Jimmy Gilmer and the Fireballs. They told us we were the next big group out of the Southwest. That's when we began to lag in our college work and took the band seriously and began getting calls to play all over New Mexico and the Texas Panhandle.

The most fun and spiritual times were playing the Indian proms and homecoming dances at various pueblos and little towns in New Mexico. We would drive around to band gigs in Barry's Chevy Nova with a rickety trailer in tow. One night after playing the Zuni Indian Homecoming we stopped and got out of the Nova to admire the clear starry night and were enchanted by a very bright shooting star flashing a long trail cross the western sky. That moment was when we made a vow to go to California right after Spring semester and make our way in the music scene which as you know was at its zenith in those days.

Promotional card sent with some copies of their Gemcor single, very rare now

We were working on a major album with A&M Records with Herb Alpert and Tommy LiPuma (following our Gemcor contract with Nick Venet) when I got my draft notice. I have some old masters.

We worked all around Southern CA but mainly the Sunset Strip and even fronted once for Dylan at a place called The Trip. We did see Bobby Fuller in California, shortly before he was murdered. We were invited to a Halloween party and Frank Zappa's house. We saw the Lovin' Spoonful, we played for Dick Clark, saw Big Brother and the Holding Company, Sonny and Cher, the Grassroots, et. al.

We even had a groupie who we were proud of, he had just spent time in New Mexico and returned wearing knee high moccasins, silver and turquoise jewelry, he wore a concho belt and sported long grey hair – his name was John Barrymore Jr. and he would come to our manager's house often to listen and a few of our gigs then one day just disappeared.

After my draft notice from the Army in the Spring of '65 the band got nervous and basically began to disperse and ended up traveling down separate roads.

After several years in government after my discharge from the Army, I went back to Hollywood and worked in a few films and TV shows and ran into Norm who was a practicing clinical psychologist, but we lost contact.

I have an occasional day dream about rounding up Tim, Barry, Norm and Tommy for a reunion and recording but they have all left only faint trails and I have not been able to make contact. I now play a lot of folk music with my Martin guitars and trying to learn the fiddle. I produced an album just last year featuring some of my original tunes, River Voices and Songs – it was a fund raiser for a local conservation organization. My drums are being used by a PhD student from Ghana at a Methodist church here in St. Louis.

The reason I'll never forget our good year in Southern California is because we were such a close brotherhood and with that mix of Texas and New Mexican guitar work and vocals – we were unique and when we played we got goose bumps and felt deeply we had something special – if only for a brief shining moment.

Oh yes, by the way we were truly a garage band – our manager's two car garage in Encino was where we rehearsed almost everyday.
Thanks to Steve for the information, hopefully we can hear the unreleased material someday.
After the Beckett Quintet split, Tommy Muncrief wrote and sang the title song for the feature movie "Didn't You Hear".