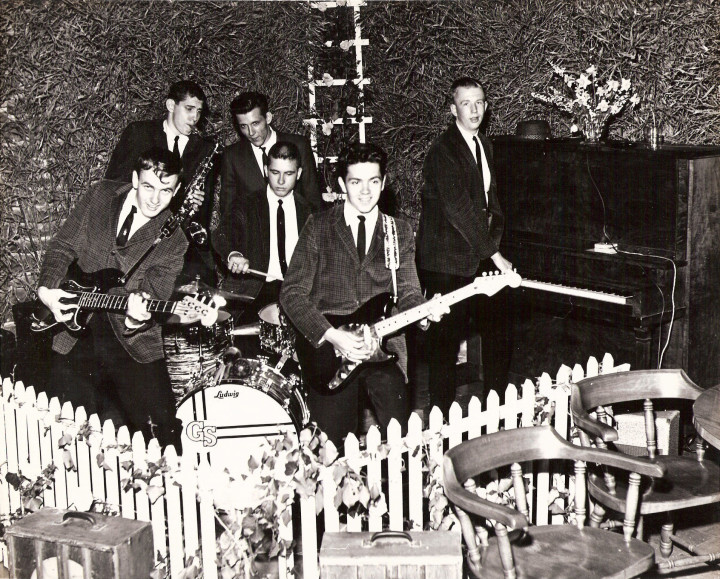 Jeffrey Harvey interviewed Roy Rogers of Bobby and the Denos and wrote this article on the group. Roy has a fantastic collection of photos which he kindly shared with Garage Hangover.
Bobby & The Denos were a Fort Smith, Arkansas based group that released just one 45 on Fayetteville's Chance label in their five-plus years together.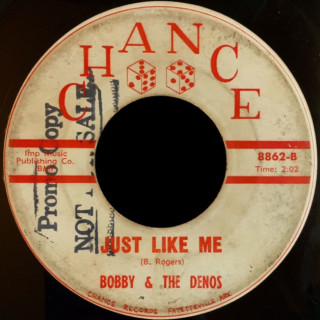 "Just Like Me" is a super-tough outsider anthem penned by Billy Jack "Bobby" Rogers, lead singer of the group, and features lyrics such as:
I don't want to be like Elvis Presley
I don't want to be like Jerry Lee
I don't want to be like Ricky Nelson
Oh baby, I just want to be like me!
The flip is a solid take on Peggy Lee's version of "Fever" that the boys didn't even know how to play until they got to their recording session at Gene Sullivan's studio outside of Oklahoma City.
I was able to track down Denos guitarist Roy Rogers (birth name), and speak with him about the band's history.
GH: Can you tell me how the band was formed?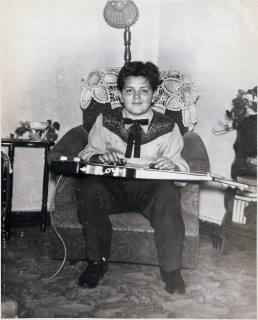 RR: Well, I started playing lap steel guitar when I was 11 years old. After a couple years, a piano player (Tony) showed up at the music school where I took lessons. He had perfect pitch and total recall, and after a while the music school told his parents "Don't bring him back, cause we can't teach him anything he doesn't already know!" We were 14 and 15 years old by then, and Elvis was jumping around and wiggling, and the girls were screaming, and I went; "Holy Hell, I gotta do that!" So I dug out an old Kay guitar my dad had in the closet and started asking around and learning chords. Well, pretty soon Tony and I were at a party, and we met a bunch of boys older than us who played. A few days later some of those boys came by my house to jam.
GH: What year would that have been?
RR: Probably '58 or '59. We just all started jamming out together and calling ourselves "The Satellites." We added a bass player (George), drummer (Gary), and sax man (Billy), to round out the sound. Gary was our age and in the high-school jazz band, so he could really play the drums. We continued on until probably 1960, when we changed our name to "Bobby & The D-Notes."
GH: What prompted the name change?
RR: Our original lead singer Gordon Jennings quit, and we had heard about this guy named Billy Jack Rogers – no kin to me – and we went out to the American Legion one night to listen to him sing. He was singing Elvis Presley's "It's Now Or Never" and he was just killing it! I was like "My God, you're kidding me!" So we approached him on one of his breaks and told him that we needed a singer, and asked if he'd like to come over and jam with us. Well, he did, and he quit the other band real quick.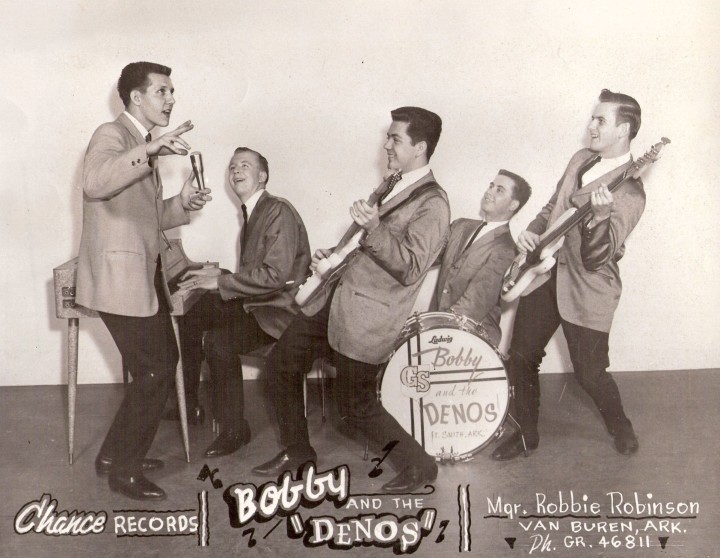 GH: How did the Denos name come to be?
RR: Well, just about six months after Billy Jack joined, someone told our sax man that "Denos" meant "well-liked" in Italian. I still don't know if it's true or not, but that's the story we got from some guy, and it made for a pretty easy change!
GH: That is a great story! Where were you guys musically around this time?
RR: We were practicing all the time. I mean, we were playing so much that my damn fingers were bloody! We also started making real money playing dance halls and what not. My dad was an upholsterer who worked in a factory, and he kept telling me I was gonna be a bum if I didn't learn how to upholster or something. By this time I was 15 or 16, and making more money in two nights than he was working a whole 40-hour week!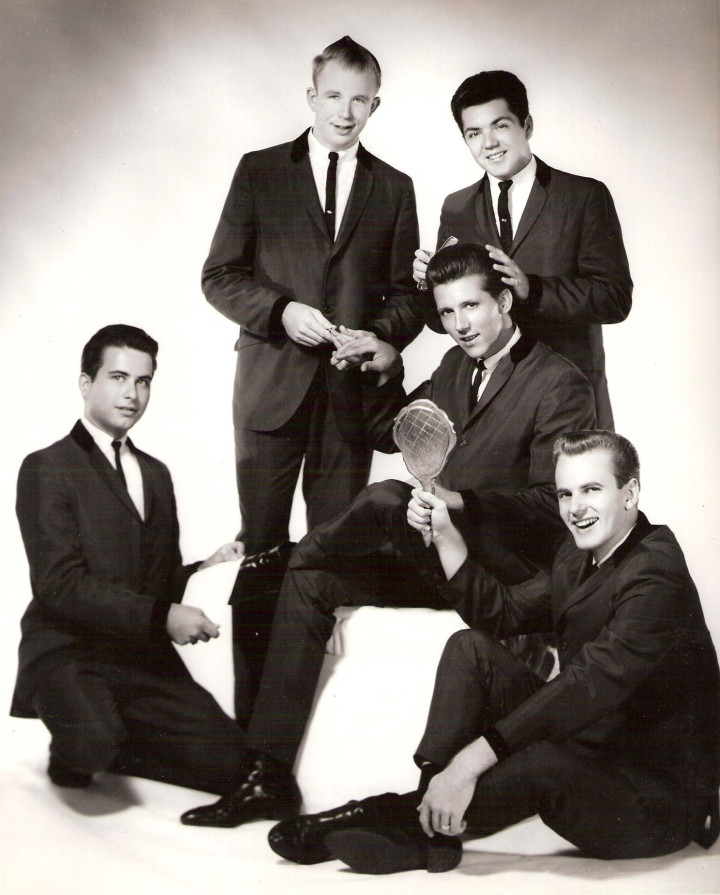 GH: What were your live shows like?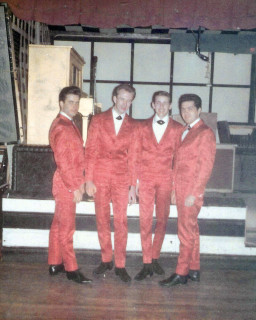 RR: We did choreography and all that stuff like The Temptations. Our piano man Tony would jack up the upright piano back in the day on two Coke cases, and he would stand up, play one-handed, and do the steps with us. We also really liked what the black artists were wearing. Very snug tailored jackets and pegged pants. We loved our "Beatle Boots," and started having our jackets made out of red, blue and green, brocade material with the James West waistcoat look. Remember the Wild, Wild West series on TV? Maybe you're too young for that. We were very sharp dressed. We didn't think too much about politics because we were into being the coolest cats in town. Music and women… Typical band boy stuff, you know?
GH: What comprised your live set list?
RR: We were playing about 50% – 60% R&B and blues numbers that were popular at the time.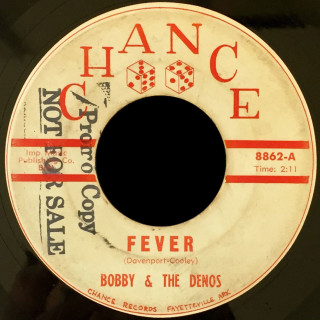 GH: Tell us about the recording of "Fever" b/w "Just Like Me"
RR: "Fever" and "Just Like Me" were recorded in Oklahoma City around 1961 in Gene Sullivan's recording studio. A guy named Phil Eagle out of Fayetteville, Arkansas owned a small label called Chance. He was also a booker, promoter, and manager, and he approached us about recording. We said "Of course!!!" and did some demos before heading down to Sullivan's to cut the record for real. The record actually got played on the radio in Oklahoma City, Dallas, Little Rock, and Fort Smith for a while.
GH: What was the music scene like in Fayetteville around that time?
RR: Oh boy, there were all kinds of bands going on. Ronnie Hawkins was on the scene around that time. He ended up marrying a girl out of Canada and moving there. His group went on to be The Band. We played in and around Fayetteville lots back then. We were playing sorority and fraternity parties, and this beautiful, two-story club called the Rockwell Club that looked like it just grew up out of a mountain! It looked like it was made out of all native stone, and we would open for Ronnie in there sometimes.
GH: What else do you remember about recording in Oklahoma City?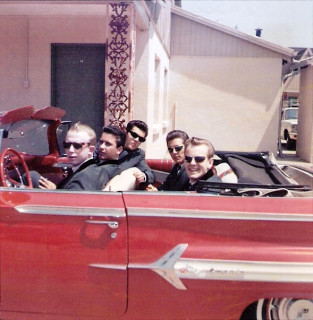 RR: We were all 16 and 17 years old when we made that record. I remember we went down there, and realized that nobody in the band really knew the lyrics to "Fever." We ended up going down to a drugstore and finding a Hit Parade magazine. Sure enough, the song "Fever" was in there, and that's what we used to remember the lyrics! After that, we just went in the studio and did it. It was so dumb how we did it, but it was great!
GH: The lyrical content of "Just like Me" conjures up the image of an outsider essentially giving his girl an ultimatum that if she can't take him for who he is, then don't even bother. The anti-name dropping is also impressive for the time. Did you feel that you guys were making a social statement with that song?
RR: Right!!! That was it!!! When we played music, we did it our way. I didn't learn the lead guitar parts exactly right for all the songs we covered or anything, we just jammed them out. I mean, of course we rehearsed them all and got it the way we wanted, but unless it had a really important lead part in it, Tony and I were, at that time, just good enough to play our own lead. We were playing a lot of black clubs back then too, and musically, we were kicking ass. Billy Jack (Bobby) was a lot older than most of the Denos, and he came to us and said "I wrote this song!" It was "Just Like Me" and it ended up perfectly fitting the way we played. We just did our own thing, you know?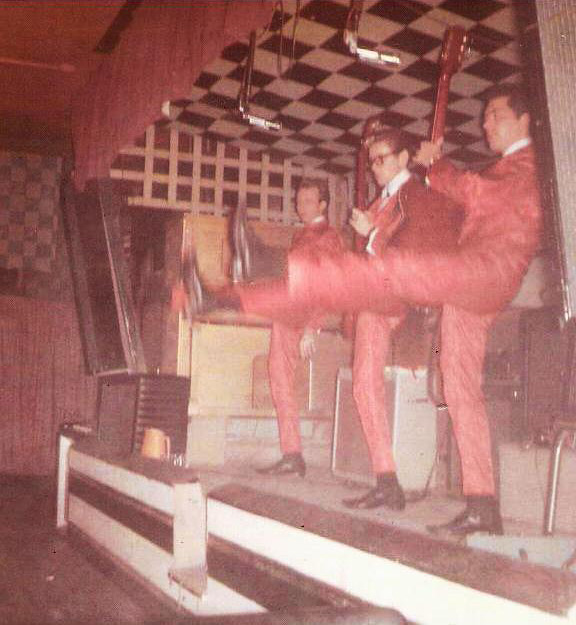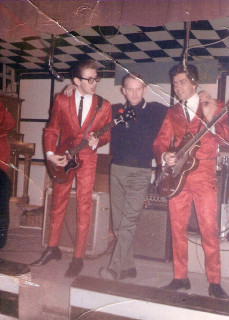 GH: Tell us more about the kinds of clubs you guys played back then.
RR: One of our first jobs was in Kansas City in September of 1962. We were all around 17 years old (except for Billy Jack), and had graduated high school earlier that May. We decided we were going out on the road, so we just took off. I had an aunt in Kansas City and I called her. She obliged us, and we slept on cots down in her basement. We got there on a Sunday, went out banging on doors on Monday, and landed our most lucrative job at the 2500 Club on 2500 Truman Road.
GH: What was that scene like?
RR: Oh man, it was your typical "knife & gun club!" You know, one of those places where you gotta give them your license in exchange for a knife or gun to go inside! (laughs). The crazy thing is that we ended up playing there, off and on, for the next three years!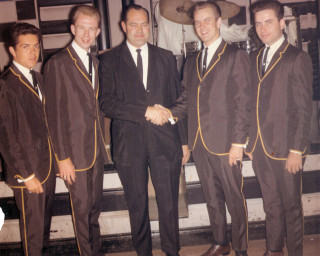 GH: Do any other clubs or acts that you shared a bill with at the time stand out in your mind?
RR: Well, we went down to Galveston, Texas – I think it was Pleasure Pier or somewhere – and just walked into a little club and told them we were good. There was a black band called Little Hot & The Volcanoes – or something like that – playing and Little Hot was a five-foot tall drummer who was a monster when he played. He would stand up and play the hell out of those drums! We worked there for a bit, and while we were down there, we got to open a show for Bobby "Blue" Bland out on the pier one night. We were just five white guys playing our damn hearts out, and they loved it!
GH: Wow!
RR: Yeah, and after that we headed over to New Orleans, to 426 Bourbon Street at a place called "The Dream Room," which was later called "Your Father's Mustache." Well, The Champs – from "Tequila" fame – were playing there, and we had met them in Kansas City, and they told us to go up to The Peppermint Lounge in Shreveport because the owner – Mr. Mike – needed a band. We said "Hell yeah we'll do it," and it was actually in Bossier City, Louisiana. At the time back then, Bossier City looked like Vegas. It had more neon than you've seen anywhere! Dale Hawkins – from "Suzie-Q" fame – and his band were already playing there, so we just set up on the floor of the club and kicked his ass!!!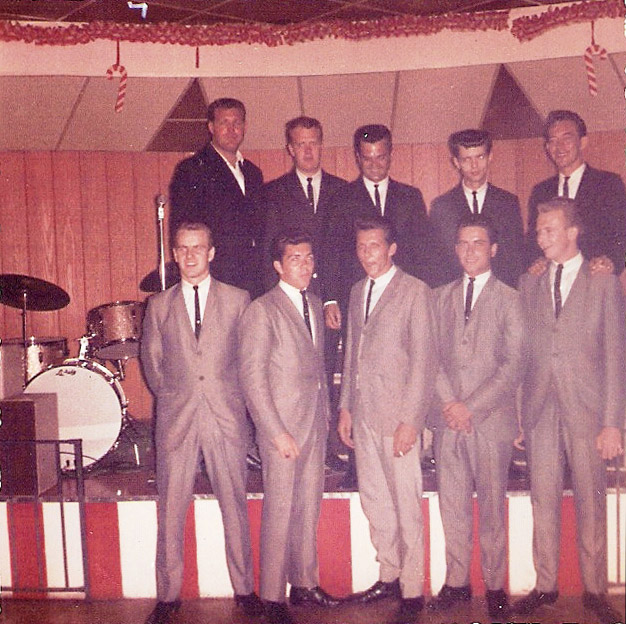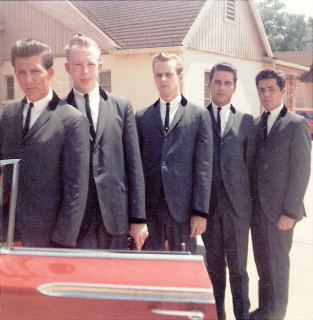 GH: That's a great story! Who were your main musical influences at the time?
RR: Bo Diddley, Bobby "Blue" Bland, Freddie King, B.B. King, The Ventures, Duane Eddy, Ronnie Hawkins, and Lonnie Mack.
GH: When did Bobby & The Denos finally go their separate ways?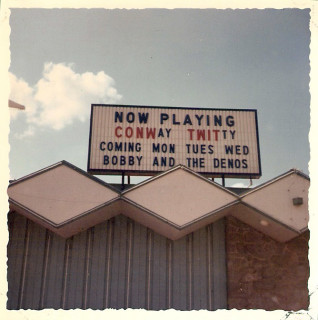 RR: Well, Billy Jack (Bobby) quit around 1964 after another run we had at The 2500 Club in Kansas City. We went back home and needed a singer. We found a guy named Jim White, who later changed his name to Jim Mundy. He went on to do commercials for Green Giant vegetables and some beer companies. He was married and only lasted a few weeks with the Denos. We were younger than him, and a lot wilder at the time. One night we were raising hell and Jim just said, "Boys, I can't take this… I QUIT!!!" After that, we were still rehearsing at Tony's house in Fort Smith and one day he said "I know all of Billy Jack's (Bobby's) songs. I said "Bullshit." But man, he sang every damn song Billy Jack (Bobby) sang, and just as good too!!! We went back to The 2500 Club, and after the first week, had the place packed out. We were making $1200 a week at the height of our run, and they had to lock the doors on Friday and Saturday nights and do a one-in/one-out type thing! After our run at 2500 was up, we went back home to Fort Smith. The day we arrived, I found a letter in the mailbox that said: "Uncle Sam Wants You." I called around and found out I wasn't the only one. Two other Denos got the same letter on the same day, and that's when we knew it was over.
GH: So essentially, by the time you guys were really up and running as a band, really hitting your musical stride, that's the time the war put an end to things?
RR: Yeah, that's right. We had picked up an agent – The Jackson Agency in Kansas City – and they were booking us around. The war ended all that, and we all went our separate ways.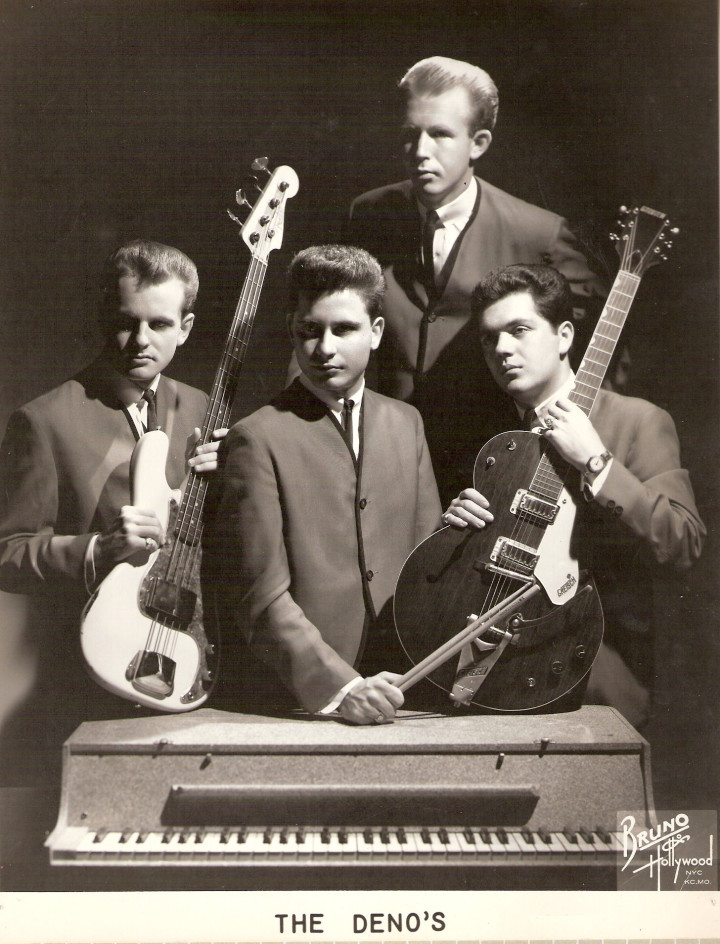 GH: What happened after Bobby & The Denos broke up?
RR: Well for one thing, I got married. This was around 1965 and I had been dating a girl for about a year. I also ended up flunking my physical for Uncle Sam. I had double-curvature of the spine, and they said "Get your ass out of here!"
GH: Did your music career end there too?
RR: Well, no. When everybody quit Bobby & the Denos, I just kind of took over. I had always done the majority of talking to the club owners and such, so when everybody left; I started up Roy Rogers & The Denos. I recruited some guys to play, and we continued traveling around. That lasted until about 1966 when my daughter was born. After that I joined a group out of Louisville, Kentucky called The Imitations. Can you believe that in early 1970 we toured the Far East? We were in Japan, Korea, Thailand, Okinawa, The Philippines, and Vietnam for six months. Dumbass me gets recruited for the Army, and ends up going over there anyway as a civilian without a gun! At some point The Imitations turned into Roy Rogers & The Internationally Famous Imitations, and that lasted until 1979.
GH: Are there any last words or memories you'd like to share about your time with the band?
RR: I've probably had one of the best lives of anyone you've ever met. I feel that we grew up in the best of times ever in the history of the United States – the late '50's and early '60's. When I got into music, it changed my life. All I ever wanted to do was play music, and whenever we got on the road I was just free, man. You know? We were five Arkansas hillbillies, and we would go into black clubs, play with the bands, and be welcomed. We could go wherever we wanted, and be accepted. It was just a great time to be alive. 1958 – 1965 were the best days of my life.