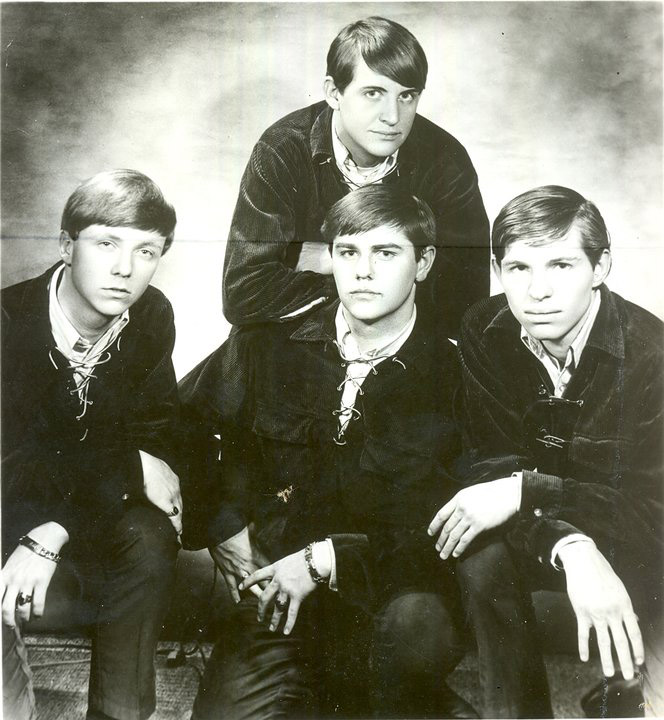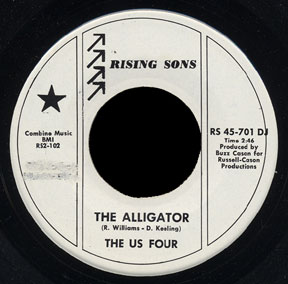 From Louisville, Kentucky, the Us Four were Donnie Keeling guitar, Mike Winebrenner keyboards, Duke Freeman bass and Jack Richardson drums.
They released two 45s, the first being the very catchy "The Alligator", featuring funky drumming and percussion and a nice keyboard and fuzz combination. "The Alligator" was produced by Buzz Cason and released on the Rising Sons label in March of 1967, and reached #6 on Louisville station WAKY 790 AM in April. It's played at 60's DJ nights to this day.
Rising Sons was run by Cason and Bobby Russell. Both "The Alligator" and the flip side, the more conventional "By My Side" are credited to Keeling and Richard Williams, Cason's longtime associate from when they were in the early Nashville rock 'n roll group the Casuals in the '50s.
The Us Four released one other 45 in January 1968, "She Loves It" pts. 1 and 2, written by Don Keeling; a more commercial production full of harmony singing. Around this time they changed their rhythm section, bringing in Jim Bower on bass and Paul Hoerni on drums. When the Us Four broke up, Hoerni went to the Oxfords.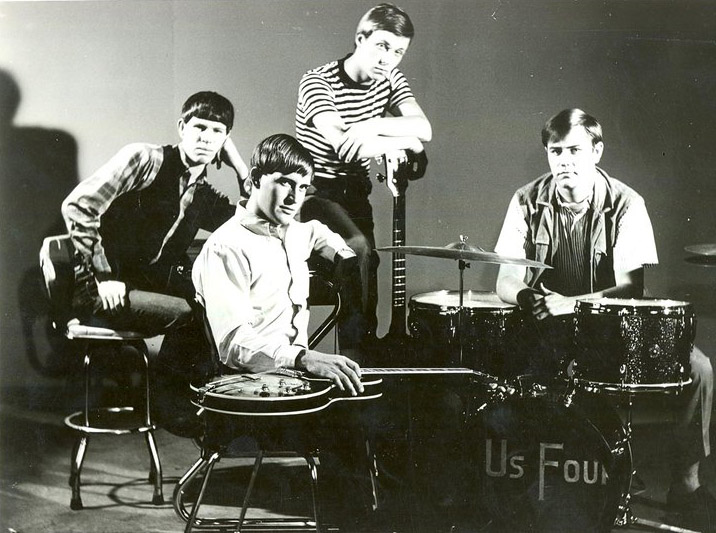 Duke Freeman, bassist and vocalist wrote about how he became involved in music and his bands, including the Us Four:
I was always singing around the house. My Dad and I would sing nearly every day, He'd sing the lead and I'd sing the harmony. I'd have to say that started when I was about 7 years old and lasted until I went into the USAF in 1969. Dad couldn't play a thing but that man sure could sing.

At age 8 it was the accordion. Yes that's right! It wasn't exactly a direct path to rock & roll. That lasted about eight months, then it was the guitar which lasted equally as long. In the 8th grade I started playing trumpet and it lasted for about a year.

In my sophomore year I met four guys who had a "garage band". They were all underclassmen. I went to one of their practices, sang a few songs and they were impressed. They needed a bass player so I convinced my Dad to loan me the money to buy a bass and amp with the agreement that if I didn't stick with it I'd pay him back.

I worked with those guys for about a year then moved on to another group with a bit more talent. It was while I was with that group that I met Don Keeling at a teen local club. He'd been playing with the Cavaliers and was a very good lead guitarist. The Cavaliers had broken up and Don was looking for something new. He'd already located a keyboard player, Mike Winebrenner and was still looking for bass player and drummer. We hit it off pretty well and so we got together shortly after that with Jack Richardson on drums.

We rehearsed for a few months getting tight and doing a lot of current material. Other than trios which played small bars and clubs (playing nightclub music) all other groups in the area were at least 5 pieces. We were the first four piece group that I know of. Donnie and I handled most of the lead vocals, with Mike singing a few. Harmonies were excellent and we were able to reproduce most anything that was being played.

If I remember correctly our group didn't want a flashy name. We wanted to keep it simple and easy to remember. Also there wasn't anything flashy about us so our music spoke for us, "US FOUR" that is.

At that time the Oxfords were working for the Joni Agency (Gene & Vi Snyder). Our guitar player had worked for them before so were were going to audition for the agency during the Oxfords breaks at a local teen club. We'd been rehearsing for several months to get everything tight. I remembered that we had no extra money for clothing so we all wore jeans and yellow short sleeved sweatshirts with the name of the ban written in black magic marker on the front (real classy).

I remember when we stepped up on stage for that first 15 minute set. I was so nervous and we could hear some of the crowd laughing at the way we dressed. Anyway we played about 5 numbers and the crowd went wild. The Oxfords were great at what they did, but this crowd wanted to dance and they didn't play a lot of top 40 dance music. Needless to say we signed with the agency and wound up on the circuit. We thanked the Oxfords for allowing us to share the stage with them and apologized for all the commotion. They were great guys and understood because they had all been there before.

We played the Kentuckiana area regularly with occasional trips to Lexington. One of our regular stops was the Golden Horseshoe which was located around Lebanon, Kentucky. I'd say our main competition were the Oxfords before their split and reorganization. If you would have asked me back then who was the best group, I would have said the old Oxfords [with Steve McNicol] / the Rugbys and I still believe that to this very day.

[We met Buzz Cason] through Gene Snyder (Joni Agency). He was friends with Richard Williams who was Brenda Lee's piano player. Richard and Buzz were great friends. Richard was looking for a group to record for him. He'd noticed the the dance "The Alligator" was sweeping the colleges across the US and he thought it would be a great idea to have some relatively unknown midwestern group record it.

He called Gene with the idea and asked if he knew of a group that would fit the idea. We were asked to show up at the agency to meet someone who had something we may be interested in. that's when we meet Richard for the first time and he shared his idea with us. He wanted us to come up with the song and he'd fly us to Nashville for a session and we'd record 4 sides. That meant we needed 4 songs.

You'll notice that Richard Williams and Donnie Keeling are credited with writing the song, but actually Donnie and I wrote the lyrics, the band as a whole penned the music, and Richard merely came up with the idea. Since Richard was paying the bill, who could argue? Donnie also wrote "By My Side" and "She Loves It". I wrote "Opposite Ends of the World" in a Nashville hotel room the night before our recording session.

Time became a constraint and we ended up only having enough time to record the two sides. As you know "She Loves It" was eventually recorded in Louisville, and "Opposite Ends of the World" never made it to the studio.

It was in 1968 that Donnie and I had a disagreement and I thought it would be best for me to leave. I was immediately picked up by the Keyes, Jim and Tom Owen had been playing for quite a while and when Jim gave up playing I was recruited. Tom had worked with his brother for so long that it was difficult for me to really fit in.

With the Keyes I was more of a sideman and didn't have that influence that I had in Us Four, even though I carried a lot of the vocal duties. I'd been with them less than a year when Tom announced that Jim was coming back and I wouldn't be needed any longer.

It wasn't long after that their drummer Charlie Jones, keyboardist Bob Ernspiker, contacted me about wanting to leave the Keyes and form a new group, We ended up hiring Denny Enzer (Inzer?) to play lead and "Justice" was formed. If this group would have survived it may have topped everything that every came out of Louisville. The musicianship, vocals, and rich harmonies were unbelievable. We played for only about 6 months and booked ourselves, but we made strides that it took most groups years to make.

Uncle Sam was wanting me badly and the group was short lived. It was just after that group's demise that the Rugbys were looking for a bass player and I was asked if I'd be interested in the job. I had to turn it down due to the draft. A year or so later I saw them on TV and thought that could have been me.

Duke Freeman, December 2008
Thanks to Duke for sharing the history of his band and photos of the group.