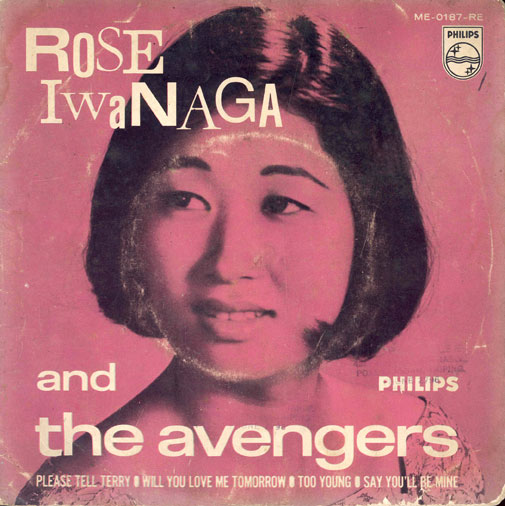 Rose Iwanaga and the Avengers came from Kuching, capital of Sarawak in eastern Malaysia. Iwanaga is a Japanese name, but I don't know anything of Rose's background or how she came to be living in Sarawak.

Rose Iwanaga and the Avengers are credited as the first band from Malaysian Borneo to make an English-language recording. They are said to have made three EPs in total, but I have only ever seen this one, their debut, which I reckon was released in 1967. The Avengers were James Ong – rhythm guitar, Jimmy Ho – lead guitar, Peter Ho – bass, and Jalek Zula – drums.


James Ong (rhythm), Jimmy Ho (lead), Peter Ho (bass), Jalek Zula (drums), Rose Iwanaga

I love the liner notes description of Jalek Zula as a 'violent' drummer. This isn't obvious from the recording, however, most of which is saccharine-sweet with huge doses of strings added into the mix. I wonder what the band might have sounded like when they played the small nightclubs of Kuching without all the accompaniment? Much better I am sure.

Too Young seems to be the song that most older Malaysians remember from this record, but my favourite is Please Tell Terry, which is a straight ahead pop song and the only one without the annoying strings or horns. This song and Say You're Mine are credited to Adrian C. Tills. I have not been able to find out anything about Adrian and do not know whether these songs are cover versions or were written for the band. I have seen Adrian's name on a record from a Singapore singer also, so perhaps he was a local.

What became of the Avengers is a mystery to me, but I have read that Rose was still performing in Kuching nightclubs until at least the late 1990s.