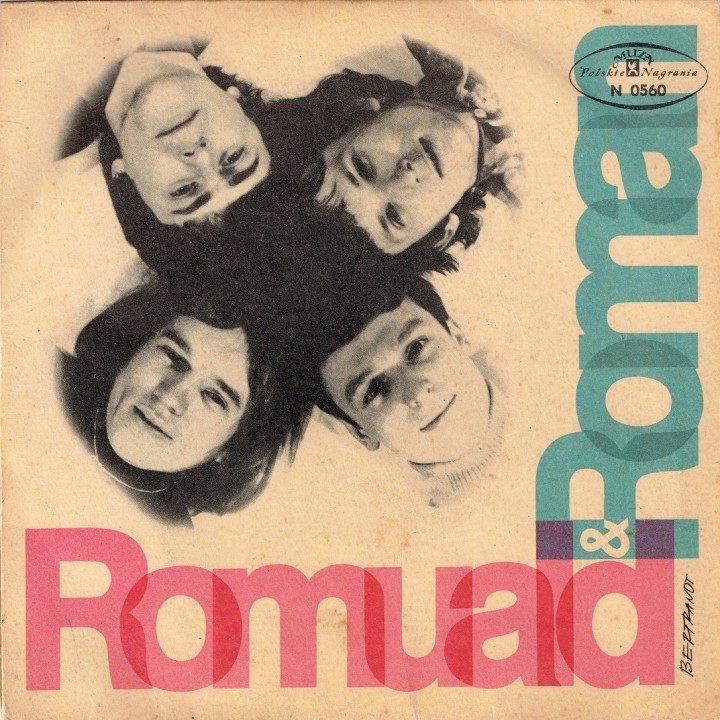 Pete Kowalski,  a new contributor, is beginning a series on some very rare '60s rock records from Poland, starting with Romuald i Roman: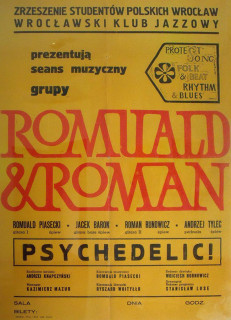 Romuald & Roman, one of the most interesting Polish bands active in the 1960s was founded in Wrocław, Poland in the spring of 1968 with the following lineup:
Romuald Piasecki – guitar, vocals
Roman Runowicz – guitar, vocals
Jacek Baron – bass, vocals
Andrzej Tylec – drums, vocals
After a few months of concert activity, Jacek Baron was replaced by Leszek Muth. Core members of the band were Romuald Piasecki and Roman Runowicz, hence the band's name.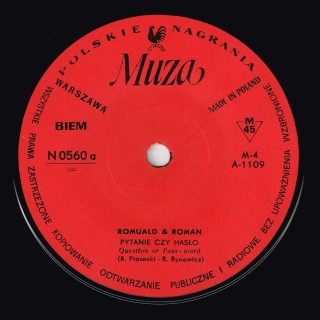 Romuald & Roman were one of the first Polish groups whose music could be easily called "psychedelic" (a notable mention goes to ELAR-5, their 1967 recording "Moloch" is vastly reminiscent of Syd Barrett-era Pink Floyd, with intense guitar feedback and fuzz) and they were the first avant-garde rock band in communist Poland to release a record which was only possible through state-owned and state-controlled record company Polskie Nagrania. Their shows often incorporated innovative, psychedelic light shows, at the time unheard of on the wrong side of the Iron Curtain.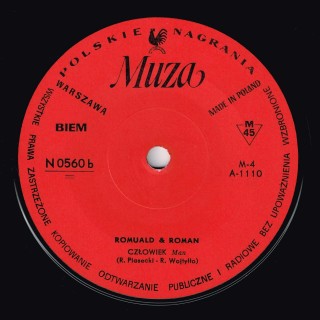 Their officially released discography is rather modest but as with many Polish groups, the amount of what was released on records is notwithstanding the number of actual recordings, often committed in local radio station studios. Romuald & Roman recorded about 2LPs worth of material, but only one EP and one song on a pop music compilation album was released:
Muza N0560 – "Pytanie czy hasło" / "Człowiek" (7" 45rpm extended play; 1969)
Muza XL0623 – Przeboje Non-Stop – side B, track 2: "Bobas" (12" LP compilation album, 1970)
The aforementioned 45 is among the rarest and the most wanted Polish beat records. Both sides are deeply psychedelic, with hypnotic, hallucinatory "Pytanie czy hasło" ("Question or Password") being especially recommended to any collector interested in 1960s rock music from behind the Iron Curtain. "Człowiek" ("Man") is more upbeat yet full of broken rhythmic patterns, strange sound effects and assorted psychedelia.
"Bobas" ("Tot") is probably their best-known song, starting with a loud fuzzed-out feedback and bizarre screams. The lyrics are witty, showing a tot's point of view mixed with philosophical reflections: "No, I don't want to grow so old to have to swear all the time".
Other songs by Romuald & Roman include: "Stał ten dom" ("There Used to Be a House"; an anti-war protest song), "Towarowy Rusza do Indii" (their most psychedelic recording, with a running time of nearly 10 minutes, the abbreviation of the title: TRI is the name of a solvent frequently used by Polish hippies to get high – the title is a Polish counterpart to "Lucy in the Sky with Diamonds)", "A ja nigdy i basta" ("I Will Never Get Married, Period").
The band didn't get much promotion in the media, which was more interested in less subversive music (psych pop renditions of soldier songs, for instance). After 1971, the band would often go through line-up changes, repeatedly suspending activity. No further recordings were released in the 1970s. Most of Romuald & Roman's recorded material is available on 2CD compilation released by Polskie Radio.