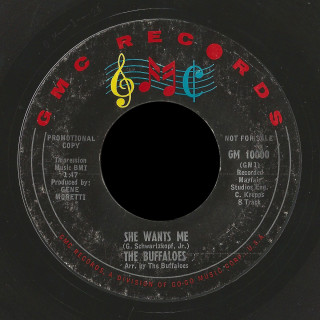 Considering the names on the labels of this 45 and the quality of single, it's amazing how obscure this group called the Buffaloes seems to be. Other than a likely location of Long Island, I know nothing about the group.
The A-side is the jangly blaster, "She Wants Me", written by G. Schwartzkopf, Jr. It's a catchy song and I could imagine it being a hit, but seems to have missed. The flip is a ballad written by A. V. Walker, "You Told Me Lies". Both songs published by Impression Music, BMI.
The Buffaloes may have had the first release on the GMC label. Gene Moretti founded the label; he had been director of international sales for MGM-Verve in 1964 after starting in the mail room of ABC-Paramount (according to Billboard).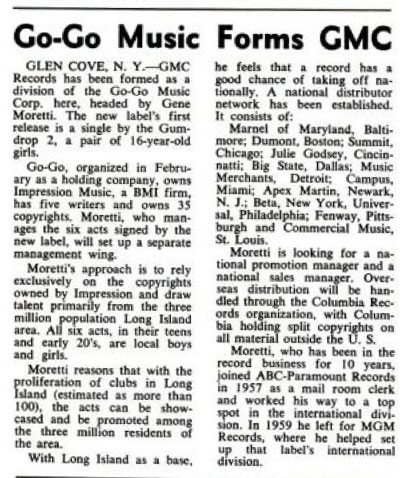 "GMC Records, a Division of Go-Go Music Corp" led me to a notice in the April 22, 1966 issue of Billboard explaining how Gene Moretti would be managing and recording six acts for his new label. The telling line is "Moretti's approach is to rely exclusively on the copyrights owned by Impression and draw talent primarily from the three million population Long Island area. All six acts, in their teen and early 20's, are local boys and girls."
Billboard announced the Gumdrop 2 would have the first issue on GMC, "Getting Over You" / "So I Try", numbered GM 10001, However, the Buffaloes single, dated to October '66 in Teen Beat Mayham, is numbered GM 10000. GMC had about fifteen releases in total, featuring a dozen artists including Priscilla Price, Tony Kaye, Johnny D., Doreen Rose, the Miller Sisters, the Islanders, the Spoilers, Frankie 'Slim' Summerville, and Frankie Gracie & the Plastics.
Another interesting connection is the studio, listed as Mayfair Studios (8 Track). Clair Krepps had been a recording engineer for Capitol, MGM and Atlantic Records and also did a lot of stereo percussion albums for Audio Fidelity. About the same time Moretti started GMC, Krepps began Mayfair Recording Studios at 701 Seventh Ave in Manhattan. Other clients would include the Velvet Underground, Al Caiola's Caiola Combo All Strung Out LP on United Artists, Nico, the Chameleon Church, the Ultimate Spinach, the Beacon Street Union, Puff, Galt MacDermot, Ricardo Ray, Jimi Hendrix, the Mothers of Invention, etc.