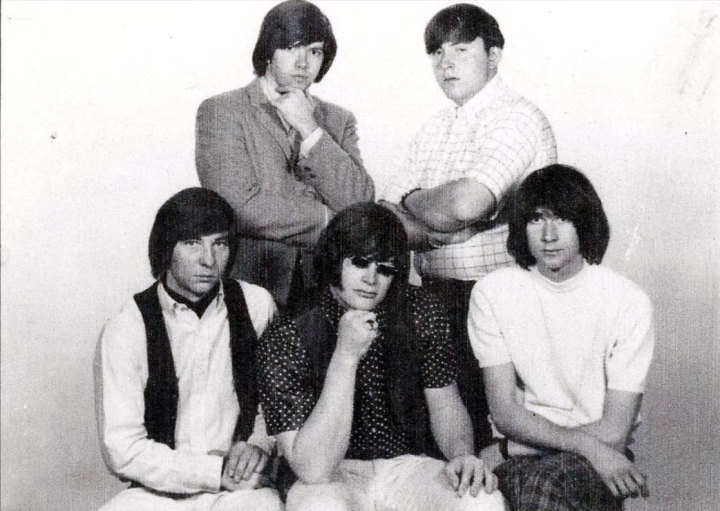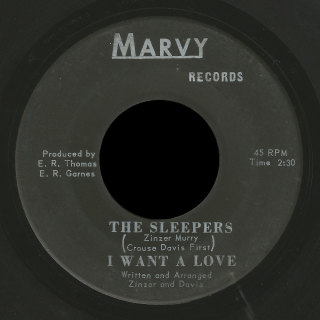 The Sleepers were from Mansfield, Ohio, located in the northern part of the state about halfway between Columbus and Cleveland.
Tom Zinser lead the band so they were usually referred to as Tommy Z and the Sleepers, though not on the record label which simply says The Sleepers and lists the members by last name, including Murry, Crause, Davis, and First. Tommy Zinser's name is spelled Zinzer on the labels.
"I Want a Love" combines a fuzz riff with a jangly guitar sound and unison vocals. There's a short drum break and the fuzz repeats its riffs without trying for anything ambitious. "Time Will Tell" features hypnotic picked guitar and fine harmonies in backup and on the chorus.
Zinser and Davis wrote both songs. The single was recorded at Audio Recording in Cleveland, produced by E.R. Thomas and E.R. Garnes, and released on the Marvy label in 1966.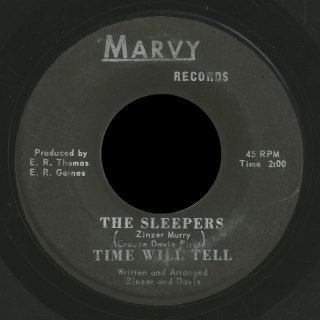 After the Sleepers broke up in 1967, Zinser went into the Wildlife with guitarist and vocalist Terry Van Auker. The Wildlife released one 45 on Columbia, 4-44369, "Time Will Tell" / "Hard, Hard ,Year", which I haven't heard.
Confusingly there was another group with two earlier 45s on Columbia who are listed as the Wild Life (two words instead of Wildlife) which have similar credits, arranged by Chuck Sagle and produced by John Walsh:
"This Is What I Was Made For" / "Somes Times I'm Up (Sometimes I'm Down") (Columbia 4-44213)
"New Games to Play" / "Where Do You Go" (Columbia 4-44285)
Same band?
In any case, Zinser and Van Auker went into Owen-B which had a self-produced LP recorded at Mus-i-col Studios in Columbus. Another member of Owen-B was Jim Krause, vocals and harmonica. I suppose he could be the same person listed as 'Crause' on the Sleepers label.