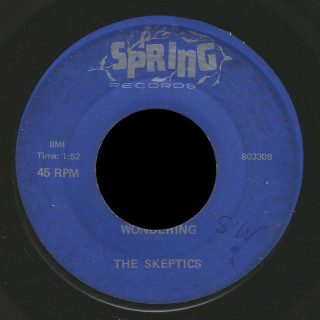 Here's a great single by the Skeptics, whom I've read were from Dayton, Ohio. The urgency and scuzzy burning distortion on the guitar on "Wondering" scream out 1968 to me, a date confirmed by the QCA # 80330, specifically March 1968. The flip is a slow recitative called "I'm Lonely Again" that I find less essential.
This band of Skeptics is not related to the Oklahoma group who cut "Apple Candy", "Stripes", and "Turn It On" among other classics.
There's very little info on the label, even the publishing is limited to simply BMI. No trace seems to exist in BMI's databases, but I found a Library of Congress copyright record listing Michael Downing (Michael Joseph Downing) and John Hoskins as composers of both songs, published by Lamar Music in May of 1968. Presumably Downing and Hoskins were part of the band.
Spring Records was part of O'Brien's Recording Service in Springfield, Ohio, 24 miles north east of Dayton. There were at least a few releases on the Spring label, but this may be the only one in a rock style. The 45s were pressed at Queen City Albums in Cincinnati.
O'Brien's Recording Service did register copyrights for a few of song-poem composer Irene Dollar Heffner's songs, including one, "Vietnam Sweetheart" that was sung by Rodd Keith (under the alias of John Dough). The flip of that was arranged by Jeanne O'Brien.