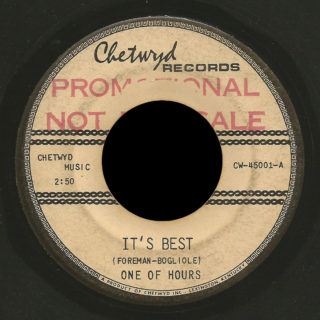 One of Hours came from Lexington, Kentucky and released two singles on the local Chetwyd Records label.
Robert Nelson played drums, but for the rest of the One of Hours, I only have last names from the record labels: Foreman, Bogliole, Flynn and Willcutt; and a couple first names: David who played bass and Shawn.
The band has the very first release on Chetwyd, CW-45001 featuring "It's Best (by Foreman – Bogliole), a gentle ballad featuring the band's vocal harmonies, accompanied by what sounds like autoharp and even whistling.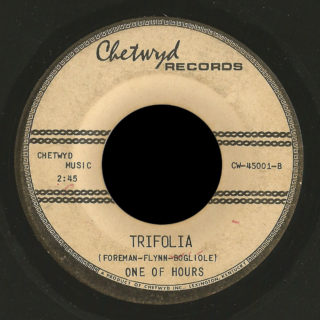 "Trifolia" (by Foreman – Flynn – Bogliole) is more rocking but the production gives it a distant sound. The release date was 1966, and like all their songs the labels list publishing by Chetwyd, though there's no listing for them in the Library of Congress.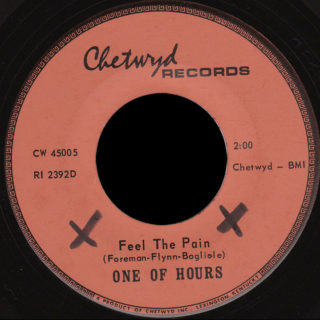 In April 1967 the One of Hours released their second single on Chetwyd CW-45005. The production is so much better, and the band more energetic and tighter. "Feel The Pain" (written by Foreman – Flynn – Bogliele) is a stand-out rocker with blistering lead guitar, some fuzz blasts, good lead and backing vocals, and a solid rhythm section behind it all.
"Psychedelic Illusion" (by Foreman – Willcutt) has the cloudier production of the first single, but has beautiful guitar picking and a melancholy feel to go with lyrics like "the sounds and the colors start to sway / the sounds and the colors are starting to fade / I feel my life slip away". An organ, barely heard on the flip side, plays the instrumental break.