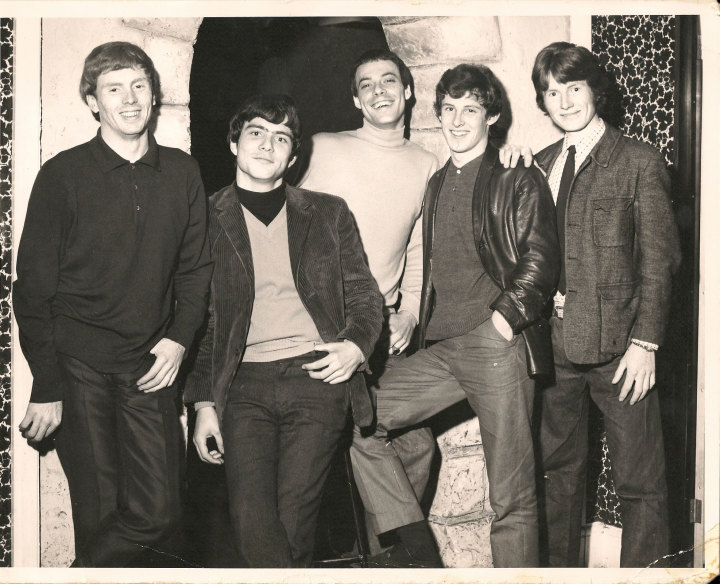 Alan Marshall – lead vocals
Ron Bryer – lead guitar
Rick Marshall – bass
Roy Davies – keyboards
Alan Whitehead – drums
Formed in Lewisham, southeast London in late 1963, The Loose Ends were fronted by Indian-born singer Alan Marshall and his bass playing cousin Rick Marshall, both residents in nearby Brockley.
Original lead guitarist Ron Bryer and keyboard player Roy Davies appear to have been there from the outset while Orpington-based drummer Alan "Noddy" Whitehead completed the formation after playing with singer Crispian St. Peters.
Shortly after coming together, the musicians started landing regular gigs at notable local venues like the Bromel Club in Bromley, the Tiger's Head in Catford and the Glenlyn Ballroom in Forest Hill. Crucially, their manager Bryan Mason secured the group a residency at Lewisham's El Partido, a club that he owned, which helped build their local fanbase.
However, around June/July 1965, Ron Bryer departed to join Carl Douglas & The Charmers and remained with the Jamaican singer for a year before hooking up with Bexley, Kent R&B outfit, The Big Wheel, which featured future Clark-Hutchinson member, Andy Clark. The group toured extensively in Switzerland and recorded a rare Swiss-only single in late 1966 for the Eurex label.
When The Big Wheel split, Ron Bryer joined Dee Dee Barry & The Movements in July 1967 and appeared on a string of singles. During 1968, however, he formed Brainticket, who recorded the Krautrock classic Cottonwoodhill album in 1971. Tragically, he died from a drug overdose in 1973.
Guitarist Peter Kirtley from Newcastle upon Tyne took Ron Bryer's place. A former member of The Chevrolets and Shorty & Them, Kirtley had appeared on the latter's lone single, "Pills or Love's Labour Lost" c/w "Live Laugh Love", released on Fontana in 1964, and a German-only album, shared with Liverpool group, The Roadrunners, before decamping to London in early 1965.
According to the South East London Mercury newspaper's 19 February 1965 edition, Kirtley and fellow Newcastle musician, bass player, the late Brian Rowan formed the short-lived Take Six with southeast London musicians, organist Roger Read (ex-Wranglers/Showtimers) and drummer Graham Willard in early 1965.
In February 1966, The Loose Ends landed a semi-residency at swinging Mayfair club, the Scotch of St James.
Having inked a deal with Decca Records in late 1965, The Loose Ends cut their debut single, an impressive take on "Send The People Away", a rare Moody Blues' track, backed by a cover of "I Ain't Gonna Eat Out My Heart Anymore", which was shipped in July 1966.
That same month, South East London Mercury reported that bass player Dave Collman had taken over from Rick Marshall.
Barely a month after the band's debut release, Decca issued a second single on 5 August 1966, once again produced by Noel Walker. Coupling a superb freakbeat version of George Harrison's "Taxman" with the more R&B flavoured "That's It", the second outing should have been a hit but for some reason failed to chart.
More encouraging in the immediate term was the fact that Otis Redding had spotted the group when it played at the Scotch of St James on his debut UK tour in September 1966.
Impressed by Alan Marshall's gritty, soulful voice, he took the singer to Muscle Shoals, albeit following his second UK tour in 1967, and recorded some material. It's unclear, however, what has happened to these tracks.
However, despite the clutch of great singles and Otis Redding's interest in recording Alan Marshall, The Loose Ends were unravelling quickly.
The Attack and Marmalade
In late September, Alan Whitehead departed, initially to join Cops 'N' Robbers. He then spent a month or so playing with The Epitaph Soul Band before joining The Attack alongside singer Richard Shirman and guitarist David O'List, and cut enough material in the run up to Christmas for a debut single.
Issued on 27 January 1967, the drummer can be heard on The Attack's debut single, a great cover of The Standells' "Try It" c/w the band original, "We Don't Know". By the time the single had reached the shops, he had decamped to join The Marmalade and remained with the band throughout its most successful years. In an interesting side note, he also auditioned for the band that became Procol Harum.
Alan Whitehead's departure appears to have prompted a wider split. In October 1966, Peter Kirtley accepted an offer to join The Alan Price Set, working alongside bass player Boots Slade; trumpeter John Walters; sax players Steve Gregory and Clive Burrows (replaced by Terry Childs) and drummer Roy Mills.
With two of the band's most integral members gone, The Loose Ends splintered in December 1966 and singer Alan Marshall joined Croydon, Surrey outfit, The Subjects.
Happy Magazine
Renamed The New Loose Ends, the musicians gigged until September 1967 when Marshall reunited with Peter Kirtley in Happy Magazine, a soul/R&B outfit that was managed and produced by Alan Price.
Joined by Kirtley's old friends from Newcastle, the late Kenny Craddock on organ from Tyneside bands The Elcorts and New Religion, and Brian Rowan on bass from Shorty & Them plus West Londoner Malcolm Wolffe on drums from The Tribe, the band cut material that was split over three singles for Polydor.
Kicking off with Alan Price's excellent "Satisfied Street", backed with "Beautiful Land" in December 1967, featuring a horn section that may well be Amboy Dukes members Buddy Beadle and Steve Gregory (also ex-Alan Price Set), the label re-issued the track three months later coupled with the Dan Penn/Spooner Oldham soul classic "Do Right Woman – Do Right Man".
However, it was possibly the band's third and final outing, a brilliant reading of the Dee/Potter collaboration, "Who Belongs To You", coupled with the previously available "Beautiful Land", issued on 14 February 1969, that should have catapulted the band into the charts.
One
With the single failing to grace the charts, Alan Marshall departed to form the experimental jazz/funk/blues band, One, who cut a brilliant lone album for Fontana later that year.
Joined by lead guitarist Kevin Fogarty (originally a member of Southport R&B group, Timebox); keyboardist Bobby Sass (some sources suggest Bobby Tench using an alias); bass player Brent Forbes; sax and flutist Norman Leppard; and drummer Conrad Isidore, One should have been a huge success but the album sank without a trace.
Griffin
Peter Kirtley and Kenny Craddock meanwhile brought in three friends from Newcastle – ex-Skip Bifferty members, singer Graham Bell and bass player Colin Gibson, and future Yes drummer Alan White, who'd replaced Malcolm Wolffe in time for Happy Magazine's final single (after the latter had left to join Geno Washington), and signed to Bell Records for a one-off single as Griffin.
Produced by Alan Price and issued on 25 September 1969, the Kirtley-Gibson-Craddock collaboration, "I am The Noise in Your Head", coupled with Kirtley's "Don't You Know" was an impressive outing but failed to trouble the charts.
Griffin soon splintered and Kirtley went on to record with several notable bands, including Riff Raff, Radiator and Pentangle. Later he appeared on albums by Liane Carroll and Bert Jansch.
Kirtley has also issued two solo albums, Peter Kirtley and Bush Telegraph as well as the charity single, "Little Children", for Jubilee Action, to raise money for street children in Brazil and featuring Paul McCartney.
Alan Marshall, meanwhile, had surfaced as a solo artist on Fontana in 1970. In France, the label issued a rare single that coupled One's excellent cover of Richie Havens's "Don't Listen To Me" with a solo outing – "How Much Do You Know", adapted from "Adagio Royal" by F de Boivallee.
Gonzalez
When that single failed to chart, Marshall ended up joining Strabismus, which subsequently changed its name to Riff Raff when the singer's former band mate from The Loose Ends/Happy Magazine, Peter Kirtley joined. However, Marshall quit before Riff Raff's debut album was recorded and pursued a solo career before recording with Zzebra. He then joined Gonzalez in the late Seventies in time for their 1979 release, Move It To The Music.
Interestingly, Gonzalez's keyboard player was Roy Davies, Marshall's former band mate from The Loose Ends. In the intervening years between the end of The Loose Ends and joining Gonzalez in 1974, Davies had worked initially with The Freddy Mack Sound and later The Butts Band with members of The Doors. He later became a prolific session player before passing away in 1986.
The Loose Ends recordings meanwhile have surfaced on numerous Sixties CD compilations, including Deram's Mod Scene and Freakbeat Scene.
I would like to thank Alan Whitehead and Peter Kirtley for helping with the story. Thanks also to Vernon Joynson and Bruce Welsh. Thank you Alan for the use of The Loose Ends photo.
The following selected gigs are taken largely from Melody Maker and the South East London Mercury.
Selected gigs:
19 December 1964 – Cromer Links Pavilion, Cromer, Norfolk with Maniax (may be another Loose Ends)
25 January 1965 – Bromel Club, Bromley Court Hotel, Bromley, Kent
13 February 1965 – Cromer Links Pavilion, Cromer, Norfolk with The Trends (may be another Loose Ends)
25 February 1965 – Bromel Club, Bromley Court Hotel, Bromley, Kent
10 April 1965 – Ricky Rick Club, Basingstoke, Hants
16 May 1965 – Bromel Club, Bromley Court Hotel, Bromley, Kent
16 May 1965 – Studio '61, Leicester Square, London
23 May 1965 – Studio '61, Leicester Square, London
14 August 1965 – Ticky Rick Club, Basingstoke, Hants
10-11 September 1965 – El Partido, Lewisham with Duke Lee
11 September 1965 – El Partido, Lewisham with Duke Lee, Sonny Childe and Lou Johnson
18 September 1965 – El Partido, Lewisham with The Artwoods
25 September 1965 – El Partido, Lewisham with Guy Darrell
February-April 1966 – Scotch of St James (three times a week)
26 February 1966 – Glenyn Ballroom, Forest Hill, London
16 July 1966 – Savoy, Catford, London
17 July 1966 – Eltham Baths, Eltham, Kent
26 July 1966 – Scotch of St James
27 July 1966 – Bromel Club, Bromley Court Hotel, Bromley, Kent
29 July 1966 – Glenyn Ballroom, Forest Hill, London
15 September 1966 – Ram Jam, Brixton, London
17 September 1966 – Witchdoctor, Catford, London (last gig with Alan Whitehead)
23 October 1966- Bromel Club, Bromley Court Hotel, Bromley, Kent
28 October 1966 – Tiger's Head, Catford, London
3 November 1966 – Raven's Club, Lewisham
20 November 1966 – Bromel Club, Bromley Court Hotel, Bromley, Kent
26 December 1966 – Bromel Club, Bromley Court Hotel, Bromley, Kent (billed as New Loose Ends)
15 January 1967 – Bromel Club, Bromley Court Hotel, Bromley, Kent (billed as New Loose Ends)
8 March 1967 – Bromel Club, Downham, Kent (billed as Loose Ends)
15 April 1967 – The Polytechnic, Central London with Savoy Brown Blues Band (billed as Loose Ends)