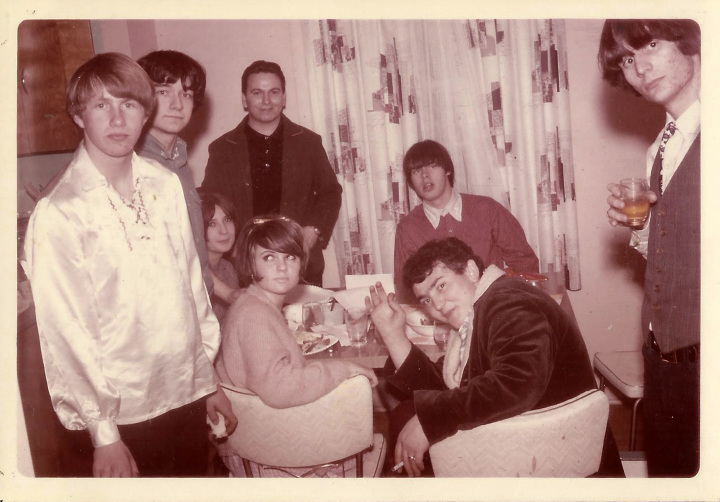 Collin Pruit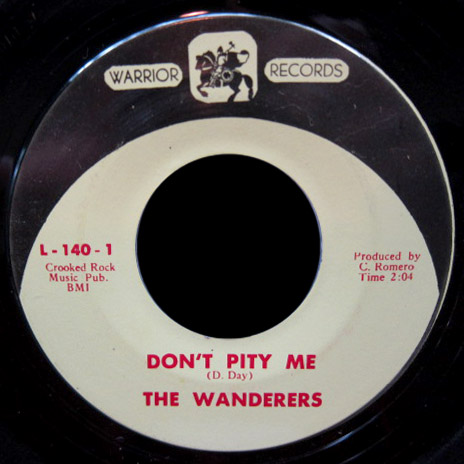 sent in scans and transfers of a very obscure 45 on Chan Romero's Warrior label, Warrior L-140, The Wanderers "Don't Pity Me" / "Give Me All You Got". It sounds like 1965 or 1966. Collin and I agree that "Don't Pity Me" is fine, low-key garage. The pressing is noisy even though the record Collin found was near mint.
"Don't Pity Me" was written by D. Day, and the flip by Day and J. Newstrom.
In June 2013, drummer Jan Cahill wrote to me:
The Wanderers got together in the early fall of 1965.  All of us were high school students (seniors) and I was contacted by David Day (he attended Billings West with me although I did not know him) as he heard I was a drummer and he wanted to put together a rock band. I cannot remember how he knew Danny Barnhart (Danny was our bass player and he lived in Laurel and attended high school in Laurel). Jerry Newstrom was a guitar player that I had heard of but really did not know all that well until we started practicing in … you guessed it … Danny's garage.

We practiced for about two, maybe three months, and then began playing various weekends in and around Billings. We almost always had two nights a week which included the following places in Billings:  What's Happening, Lake Hills Golf (teen center in basement of club house), Shrine Auditorium, the Pub … and quite a few teen dances in Red Lodge, Laurel, Bozeman, Roundup, Lewistown, Deer Lodge, Butte, Great Falls, Plentywood (once 30 below zero when we played there), Columbia Falls, Powell, Wyoming, Thermompolis, Wyoming, Casper, Wyoming, Miles City, Montana. For the most part we barely made enough money to pay the rent on the halls, security, and gas for travel. A "good" night would provide each of us $20-$30 each after all expenses. A "bad" night and we had to chip in a few dollars to cover costs. BUT WE HAD A BLAST PLAYING!!

We were one Billings' top teenage rock bands along with other bands such as the Frantics, Peter & the Wolves, Sound Establishment, Imperials.  I am sure there other bands but I cannot remember their names.

"This one is at Teen Town "66" with Kip Sherman (Kim's Brother) in the line up." – David Day

Our major claim to "fame" as a teenage rock band was the fact the we won the "State Battle of the Bands" at the Yellowstone County Fair in the summer of 1966.  I believe we beat out fifteen other bands from all over the state to be #1. I still have the plaque presented to the band from Governor Tim Babcock that evening.  Each band played two songs and if my memory serves me correctly we played "Paint it Black" and "Ticket to Ride". After we won we were then able to play one more song and I think it was "Walk Away Renee". The grand finale was for all bands to perform "Gloria" which was the loudest (up to that time) I had ever heard bands play. There were several thousand spectators who watched all of the bands play throughout the early afternoon until the final performances in the early evening.  It was one of the most exciting times (probably the MOST exciting) of the Wanderers.

The record was recorded in a local studio which explains the rather tin quality. I think we had 500 copies pressed. We recorded the songs in the thought that the Wanderers would be the next "Beatles or Rolling Stones". Obviously that did not happen.

I have recorded several other 45's with two different bands and those recordings were done in professional studios in Vancouver, Washington and Lubbock, Texas. I still have one of the records (Bobby Dann & the Generation Gap) but the other record has long ago disappeared (Gary Mundon Band). Unfortunately I do not have any pictures or posters from the Wanderers. Those that I had have long ago disappeared and the only reason I still have the plaque is that I somehow was smart enough to give it to my parents after the Battle of the Bands and my mother kept it all these years. I found it when I was going though her stuff after she passed away three years ago.   

Eventually I left the Wanderers in early 1967 to join a road band that was on the Nevada circuit and make more money … a whopping $110.00 per week plus motel room. David Day moved to California and  he eventually split up with Rick Mars and stayed with Whitehorse while several other band members formed Motley Crue. You can see their history by going to the Motley Crue website and you will see pictures of David Day.  

Jerry got married and I think stopped playing and I have no clue what happened to Danny and Dennis Devlin.  I talked with David Day about a half dozen years and he was still playing and was also a producer.
I played music professionally for another fifteen years on a steady basis in the area of country-rock and continue to play about two – four times a month.  I had the pleasure/honor of playing with Wynn Stewart, Rex Allen Jr., and one night with Ray Price (his drummer was sick and Ray needed a drummer to play a concert in Great Falls, Montana, in the summer of 1975). 
Bobby Dann and the Generation Gap performed at the J Bar T (Great Falls, Montana) between 1970-1976 and we always took three months off to perform in Nevada, Washington, Oregon and Canada.  We played the Calgary Stampede, Edmonton Klondike Days, Carson City, Lake Tahoe, Reno, Fallon, Ely, Winnimucca, Gardenerville, (all in Nevada) but never in Las Vegas.  We (Bobby Dann) also had our own nationally syndicated television show (1972) that ran for eighteen weeks.
It was a great time for all of us and one that I will always remember with great affection. 
Jan Cahill, 2013
See the Warrior page for more info on the label.
The Wanderers – Don't Pity Me
The Wanderers – Give Me All You Got
Thank you to David Day for the photos seen here, which Dave Martens forwarded to me in October, 2014.