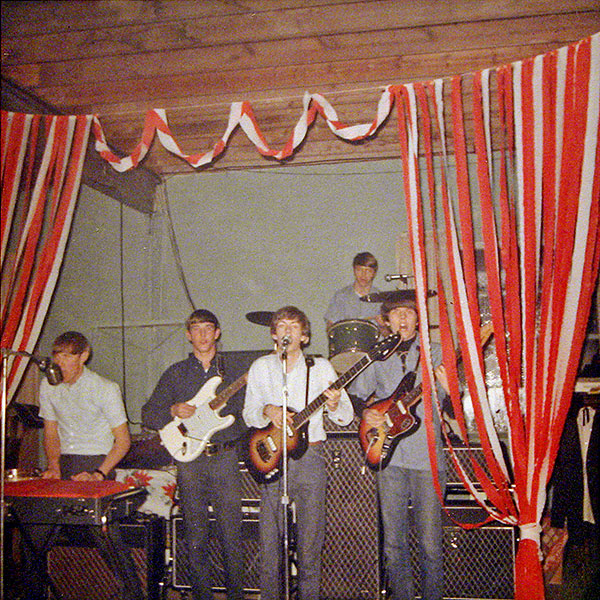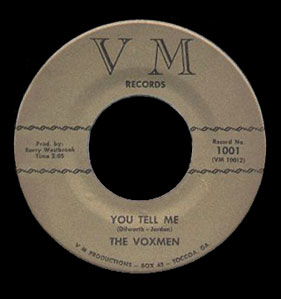 The Voxmen released two 45s on their own VM label. Although most of the band was from the town of Toccoa in northern Georgia, they often performed throughout north Georgia and South Carolina and recorded one of their records in Charlotte, North Carolina.
They recorded their first 45 in Atlanta, produced by Barry Westbrook. "They Say (You're Gonna Lose That Girl)" is their crudest number, it sounds like many a Texas record to me. "You Tell Me", written by George Dilworth and Eddy Jordan, is less primitive but holds up equally well, with an excellent solo and scream during the break.
They recorded their second 45, "Time Won't Change My Mind", at Arthur Smith's studio in Charlotte, NC in December of 1967, a three hour's drive from Toccoa. Their harmonies are smoother, the guitar jangly instead of distorted, and the organ takes a backseat to Sam Camp's catchy harmonica lines. It's a radio-friendly 45 that probably didn't get much exposure, but it holds up very well to repeated listens.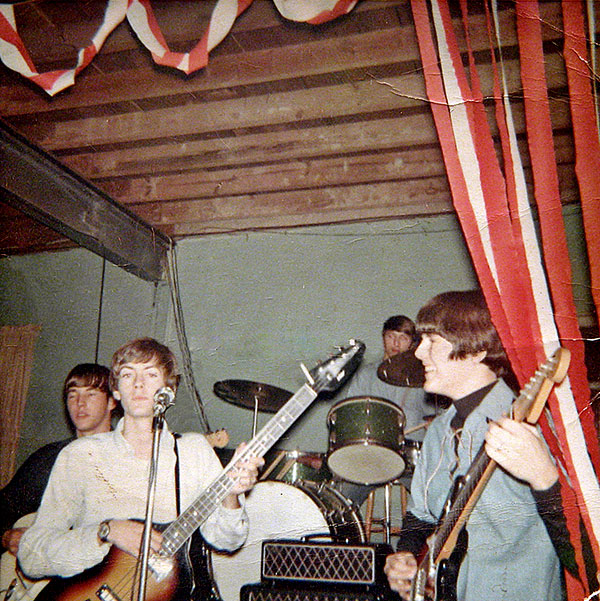 I interviewed drummer, vocalist, and songwriter George Dilworth about his time with the Voxmen:
I connected with music from my earliest recollection of hearing it. Coming from a family of four – two girls and two boys – I was the oldest boy. My sisters had a small record player and I cut my teeth on Buddy Holly, Elvis, Shirelles, Platters, Bo Diddley, early rock and roll. I was always pounding away on something with my hands, which led to bongo drums. My dad died when I was eleven and my mother dated a musician for several years (they almost married). He talked me into buying a used set of drums (Slingerland, green glitter) at a music store in Greenville, SC.

Between the Beatles and Motown, I was in love with music. I played with a small three piece band (guitar, bass, and drums) called the Kapps for a few months. Meanwhile, I was also playing country music (which I dislike for the most part) with my mother's boyfriend to supplement my income and stay in practice. We played VFW clubs, Moose Lodges, and Armory dances.

I had seen the Voxmen play at a popular hang-out in Seneca (my hometown), known as the Chicken Shack, and was impressed. When the group I first played with (The Kapps – guitar, bass, and drums) broke up, I sat in on a song or two to give drummers a break at the Chicken Shack occasionally, and Eddy and I had spoken a time or two at the shack. He undoubtedly remembered me as a drummer without a band and when they needed a drummer they tracked me down.

It surprised me to get a call from Georgia (if memory serves me correctly, [Voxmen manager] Barry Westbrook called me at home) asking if I was interested in auditioning as a drummer for the Voxmen. It was the summer of my sixteenth year. The original drummer was moving to keyboards. They also had a lead guitar (David Westmoreland), rhythm guitar (Bill Thompson), bass (Eddy Jordan). Bill Harding was the drummer moving to keyboards. I went after the position, never giving the first thought to the distance between Toccoa and Seneca should I become a member of the band. Ultimately, where there was a will, there was a way.

Mutually addicted to the Beatles, Eddy and I became close and began singing together (and later writing). Eddy tought me how to harmonize. That led to my doing more and more vocals. I am lead vocalist on both "You Tell Me" and "They Say You're Gonna Lose That Girl".

For the life of me, I do not remember where in Atlanta we went to record our first 45. It was an old chicken house or barn converted into a recording studio. Our manager probably set it up. Bill Harding, whom I haven't been in contact with since the late 60's, might recall where it was. I've been told he lives in Florida and that Sam has invited him to his 60th birthday jam, so, perhaps he can put you in touch with him. Anyway, it was a crude set-up, but we were excited just to be recording. We were pretty nervous at first, though we "settled in" once we began to play. The 45 sounds pretty much like what you would have heard if you had been there.

It was during this time that I met Sam Camp. He played with one of the best bands around at the time, the Avalons. I was a huge fan of the Avalons. I sat in for their drummer a time or two at the Shack and subsequently got to know some of them as time progressed. Sam was a member of the Voxmen when we recorded our second record, "Good Things" and "Time Won't Change My Mind."

[The photo above] was taken at the Chicken Shack sometime in 1967 prior to the Voxmen's second release, "Time Won't Change My Mind" and "Good Things." The girl standing next to me was my date, Kay Chambers. Up front and center is Sam Camp on keyboards with Eddy Jordan to the far right.

The band was enjoying a close-knit period with Roy Thompson on lead guitar (not pictured) and his brother, Bill on rhythm (not pictured). Sam Camp and Roy Thompson came aboard not long after our gig in Greenville with the Dave Clark Five, bringing a much-needed seasoning to the band. We were experiencing a surge of creativity from virtually every musician in the group, culminating in the Voxmen's last recording (December, 1967).

Our second recording was done, as you know, at Arthur Smith Studios in Charlotte. Sam loved getting to play the baby Hammond and blew us all away on the harmonica break on "Time Won't Change My Mind."

Eddy and I stood side by side to sing "Time Won't Change My Mind", with a scream from me and a "hooooo" from Eddy. I was worried about my voice that day since I had a cold (stuffy nose, scratchy throat, etc.), but it didn't seem to bother me. Eddy and I were grinning from ear to ear or laughing out loud the whole time.

Something most people do not know is that "Time Won't Change My Mind" was really written by Eddy and me. The original song by Roy and Eddy never quite suited us, but after Eddy and I rewrote it, we never bothered to change the credits. It's still mine and Eddy's favorite song by the Voxmen.

We came up with the idea for the guitar and harmonies at the end of "Good Things" the night before going up to record in Charlotte. Hearing it play back the next day in the studio was a trip. We were never quite happy with the horns on "Good Things," but had a lot of fun doing both songs. I sing lead vocal except on "Good Things", which is sung by Roy Thompson. Eddy, David Westmoreland, and I sang background harmonies.

About where we played live. I mentioned the Chicken Shack in Seneca. It was owned by a fellow named Charlie B. Stancil (he and a friend went in together to convert an old chicken shed into a place the young people could hear live music and dance, but the friend took his share and pulled out) who later went on to give a few live outdoor concerts on his farm in the country with groups like Edgar Winter and White Trash, Cactus, Fleetwood Mac, Marshall Tucker Band, and REO Speedwagon to name a few. Charlie's house burned down years ago and when he rebuilt his house, he finished the basement in a smaller replica of the old Chicken Shack. Charlie brought a lot of bands to this area who would never have come otherwise. All of the young people liked Charlie B. when I was coming up.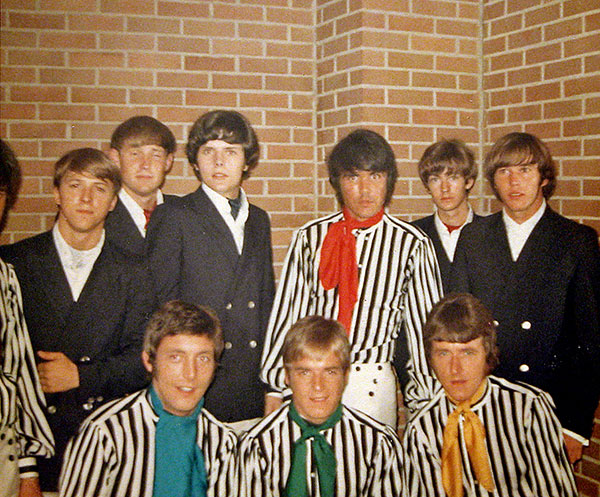 We played places like the Chicken Shack, youth centers (like the Hut in Toccoa) throughout SC and GA, and, at our peak, opened for the Dave Clark Five at the Greenville Auditorium in Greenville, SC. An article in the Greenville paper made a big deal of our Beatle cover song, "A Day in the Life". We heard from several sources that we outshone the Dave Clark Five that night. I still have some photographs of the two groups backstage. (Would you believe my future wife was in the audience and managed to get my autograph that night?)

It was during this phase of the band that we discovered a group in California already had legal use of the name Voxmen. We lost Roy Thompson, our lead guitar, so, Eddy and I made a trip to Jacksonville, Florida to try and recruit an old friend of Eddy's. We brought Karl Hague back to Toccoa with us and formed the group Fredrick Haze. Internal problems (Karl was married and his wife was expecting) broke up a pretty good sound that never saw maturity. I got a job and married Deborah while the band was fizzling and never attempted to re-enter the field of music.

The keyboardist and harmonica player on "Time Won't Change My Mind," Sam Camp, has continued to play music over the duration of his life. He is primarily a saxophone player. He threw a big jam at his place ten years ago when he turned fifty. He's doing it again this October for his sixtieth and it's going to be the best yet. We're trying to get all the old band members to attend.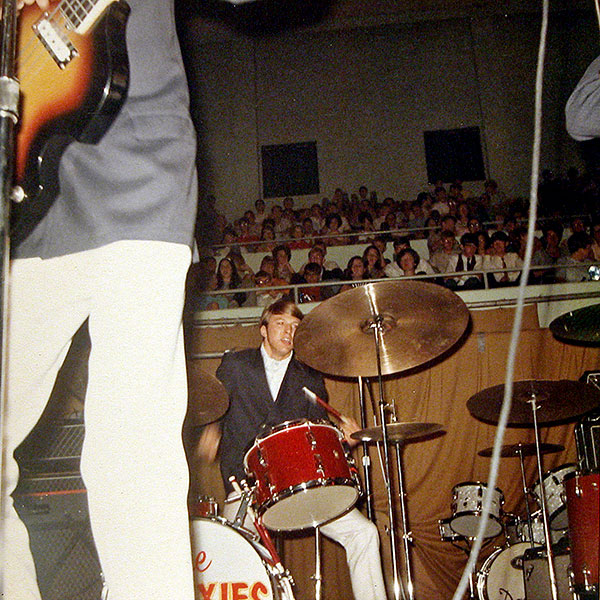 Special thanks to George for taking the time to answer my questions and for sending the photos of the band, and to Sam Camp for the photo of the Frederick Haze poster. Sam tells me the reunion was a great success, with the band playing for over three hours. I hope to add his story on the band, along with some photos in the near future. Check out the Avalons, Sam Camp's band before joining the Voxmen.