The Tuesday Club started as the Garfield Air Mattress, a band formed in 1966 by Bruce Lambert and Tony Tezak in Grand Junction, Colorado.
In an early flyer they are shown as a quartet with three members from Grand Junction: Terry Tezak (bass), Daryll Cooper (guitar and keyboards), Bruce Lambert (lead guitar); plus Salvador "Pete" Friese from Fort Collins on drums. Bill Wagner managed the Garfield Air Matress, who advertised as playing "rhythm and blues and what have you".
Tony Decker of Salt Lake City, a freshman at Mesa College, joined on guitar and lead vocals.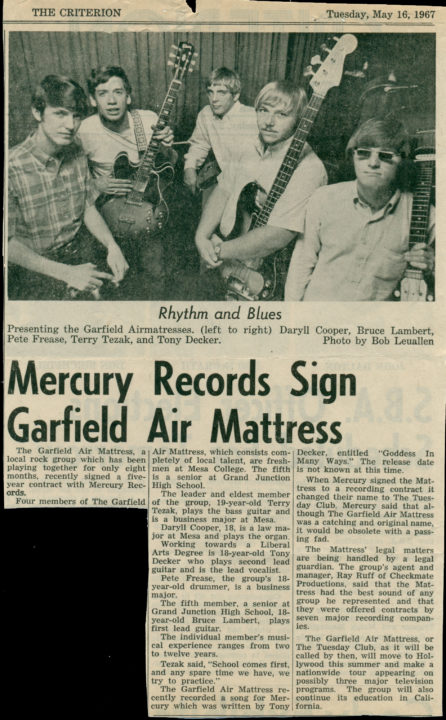 When the Mesa College paper, The Criterion profiled the Garfield Air Mattress on May 16, 1967, Mercury Records had just signed the group and Ray Ruff was their manager. All of the group were freshmen at Mesa College, except Bruce Lambert, a senior at Grand Junction High School. Tony Decker had already written "A Goddess in Many Ways", which would be the A-side of their single for Philips (a Mercury subsidiary), and the group had already decided to change their name to The Tuesday Club.
The Tuesday Club relocated to Amarillo, Texas, recording at Checkmate Studios, with Marty Cooper and Ray Ruff producing. Ray Ruff was producing and managing a number of bands at the time, including Tracers, Them, the Orange Confederation and the Page Boys.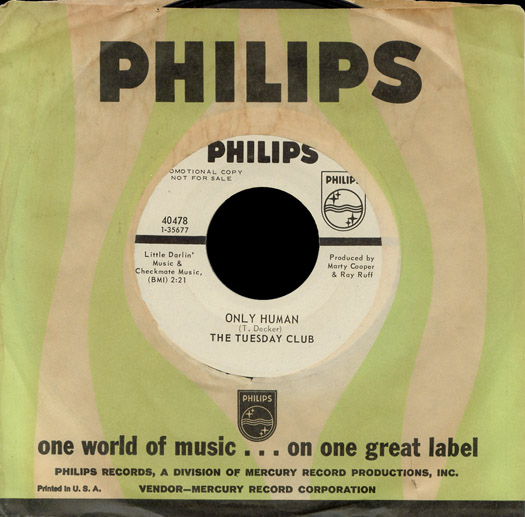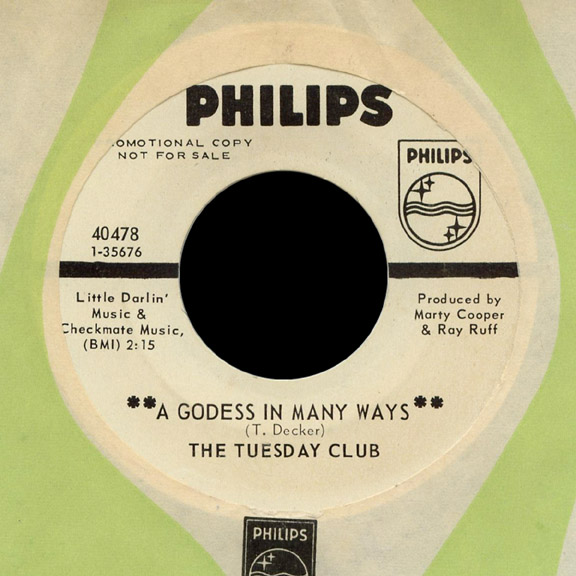 Even though Tony Decker wrote both sides of the 45, each song is incredibly different from the other; they could almost be by separate bands. The top side is "A Goddess in Many Ways" a gentle paean to a seventeen year old beauty who commits suicide. For years it's been overshadowed by the flip, the garage classic "Only Human", but will probably be garnering more fans from the recent resurgence of interest in Fargo. It did reach #24 on Grand Junction AM station KEXO on August 26, 1967.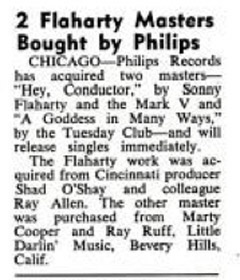 I'm sure "Only Human" is familiar to every fan of '60s punk, with it's memorable opening bass slides and tambourine, the powerful guitar line and Tony Decker's shouting delivery of the lines "… when you turn the heads of everybody in the crowd!" and "… but all this competition's driving me insane!"
After the 45 was recorded, Terry Tezak and Bruce Lambert left the group and returned to Colorado. Dean Wilden joined: he had been in Maudz Only with Tony Decker at their Salt Lake City high school. The band changed their name to Fargo, and in 1968 relocated first to Grand Junction, where Cooper and Friese left the group, and then to Salt Lake, where Randle Potts joined on drums, later replaced by Bob Holman. By the time they became Fargo, neither song from the Tuesday Club single was part of their live sets.
Fargo traveled to Los Angeles to record a single, "Robins, Robins" / "Sunny Day Blue" for Capitol and an LP I See It Now for RCA, both produced by Marty Cooper.
Dean wrote to me about how he joined the group and their change to Fargo:
Garfield Air Mattress was a Grand Junction based band with Tony Decker. When they moved to Texas, two of the members quit and I joined. At that time we were called the Tuesday Club. Tony & I had previously played together in a band called Maudz Only.

I never recorded with Tony's early Grand Junction band, so I really don't know where the two tunes were recorded. I don't remember ever even hearing those two Tuesday Club songs, and they weren't anything we ever played live. The Tuesday Club/Fargo, Texas drummer was Pete Frease. I was on bass, Tony on guitar & Daryl Cooper on keyboard. Tony & I went to Grand Junction for a short time after Texas. Long enough to lose the other two and return to Salty.

In Amarillo, Ruff's company, Checkmate Productions, included the bands Them, The Tracers, The Orange Confederation & Fargo. We played Texas, New Mexico, Kansas & Oklahoma. I would take a dozen or better of the Salt Lake bands over the best band I ever heard in Texas, during that period. We played venues alongside many of them & they all seemed to be listening in the past. You didn't hear much of the British Invasion coming out their speakers. In fact, having played both Texas & Oklahoma, I'd say the three most requested songs were "Louie Louie", "Wipe Out" & "Gloria". It was as if they couldn't comprehend beyond three chords. It was nice to leave there & get back to the '60s.

As for those Texas bands, I'd say the Tracers were the best I heard. Richie was The Tracers drummer & one of the funniest people I ever knew.

Ray was our gig manager, and a good record producer, but Marty Cooper was our producer. Marty was based in L.A. and this was where Fargo recorded all it's tracks. Tony & I had a unique vocal blend. Our – Fargo's – earliest Capital recording was "Robins, Robins" / "Sunny Day Blue".

Back in Utah, we decided to go three-piece. We needed a drummer and I suggested my old school mate & drummer from Maudz II, Randle Potts. He played on one album cut, "Lady Goodbye". He froze up like playing in front of 100,000 people, so we hired 2 different studio players to finish off the recordings. We got rid of Potts and stole Bob [Holman] from a band called the Avanti's, which was strange, seems how Potts drove an Avanti. So Bob was our live drummer and was with us to the end. We're still in touch. Bob is a remarkable artist with a clever edge to his creations.

I played bass on all but two of the "I See It Now" cuts, and Tony did a great deal of the guitar work. Why bass & guitar credits were given otherwise on the back of the album is baffling. Kind of negated us as musicians. We were damned good & tight on stage. Dr. John played piano on the album but was given no credit, nor were the drummers. Tony was given composer credit for "The Sound Of It," which is one of my songs. I had Tony sing the first verse because of how I'd layered the harmonies, thus the confusion. When I first saw the back of that album I thought I must be in a parallel universe. The references to religion, alone, blew me away. I was and am as far removed from that world as is possible.

The post-RCA Fargo recordings were mostly made on a Sony sound-on-sound recorder using those cheap little microphones. We were a 3 piece band back then: Tony on guitar, Bob Holman on drums, & me on bass. These later nine sound-on-sound recordings need to be tuned-up a bit before I'd feel comfortable with anyone hearing them.

I'm still writing up a storm & recording "one-man-band" tracks in my studio. I've recorded recently in Nashville, & am now working with a couple of different people to promote me as either a singer/songwriter, or songwriter.
Dean and Tony are working on reissuing Fargo's Capitol single and RCA LP, possibly with bonus tracks from their later self-produced recordings.
Thank you to Dean for information on his time with the Tuesday Club and Fargo.
Special thanks to Bruce Lambert for the Garfield Air Mattress flyer and news clip and for additional information about the group.