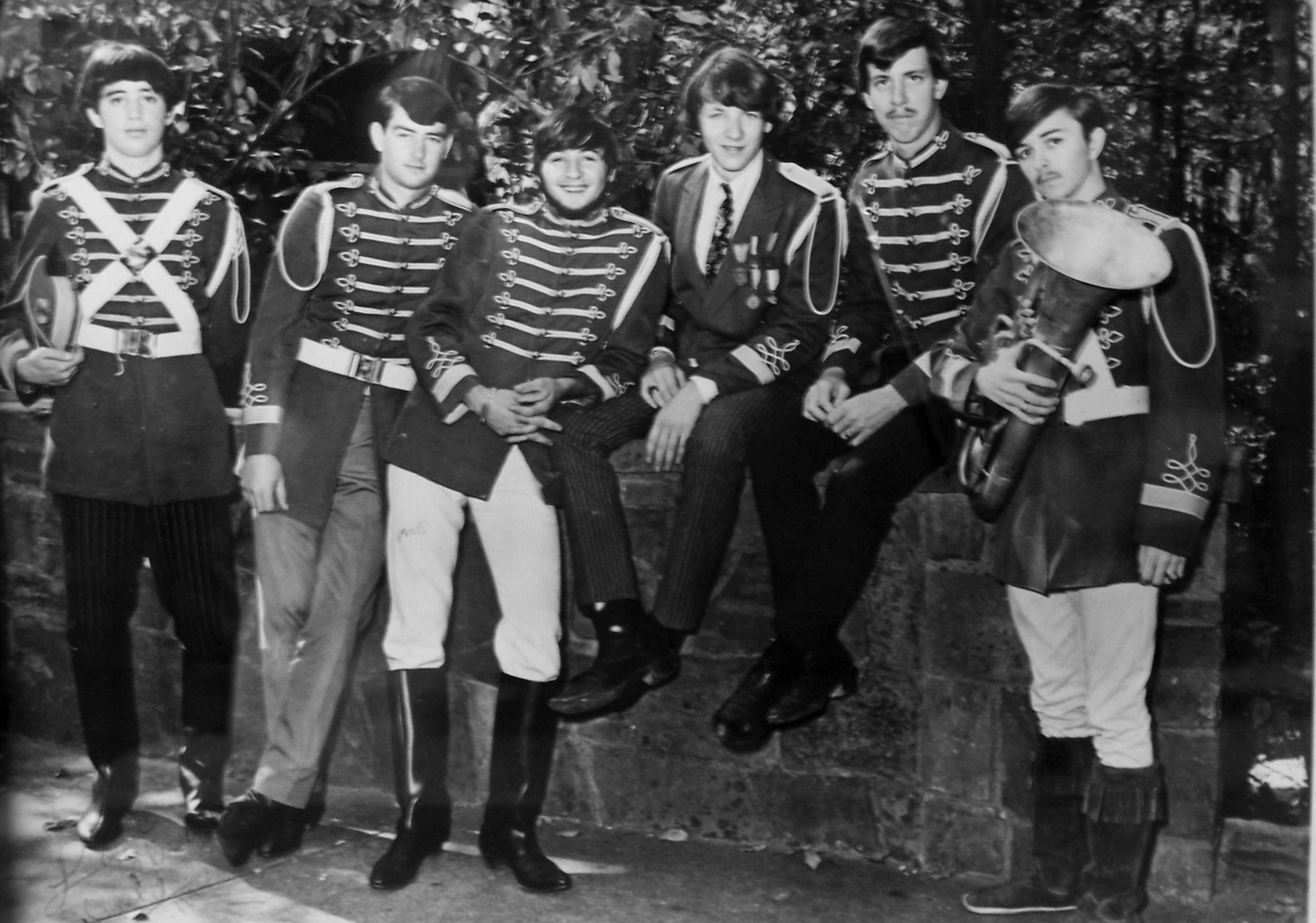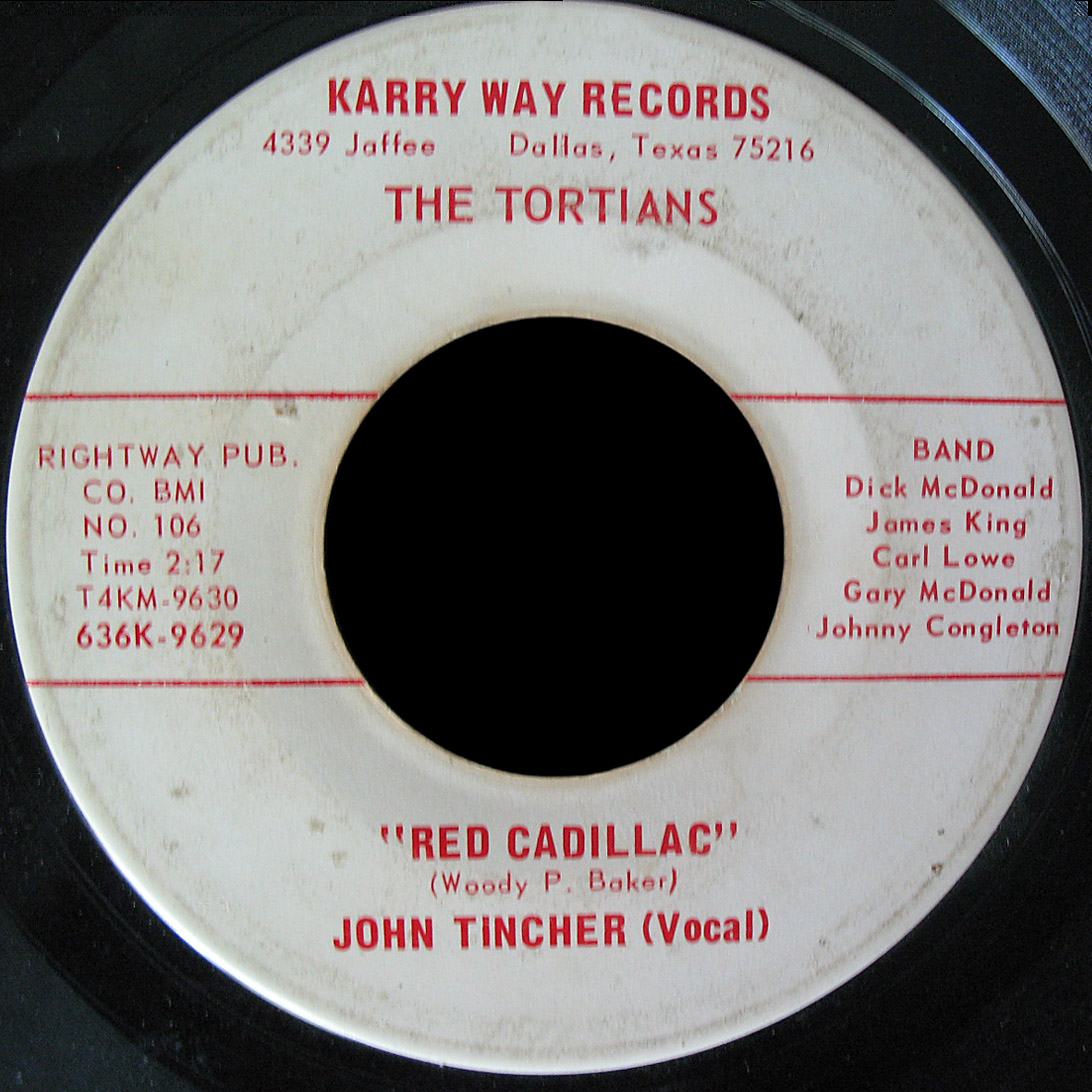 To the long list of great 45s out of Dallas, add The Tortians' "Red Cadillac". The band lays down a chunky groove that never sounds rushed, as John Tincher shouts out the lyrics and plays some fantastic harmonica.
The band was actually from Oak Cliff, but this rare single was released on Karry Way Records, with an address of 4339 Jaffee, Dallas, 75216. The RCA custom pressing code, T4KM-9629/30 indicates it was mastered in the first half of 1966. Woodrow Pearson Baker wrote both "Red Cadillac" and the flip "Vibrations" (which I haven't heard yet), published by Rightway Pub., BMI.
Guitarist Richard McDonald sent me a photo of his next group, the De'Vells, based in Irving but with some of the same members as the Tortians. Richard has a full bio on the bands at his site SpiritSteelGuitar.com, but I asked him some specifics about the Tortians and he kindly answered my questions.
My name is Richard (Dicky) McDonald. I was born and raised in a little suburb in Dallas, Texas called Oak Cliff. A lot of fine musicians and bands came from that area of Dallas like the Mystics, Kempy and the Guardians, the Jokers, Ray Wylie Hubbard, B.W. Stevenson, Jimmy and Stevie Ray Vaughan, Micheal Martin Murphey and others.

The band formed in Adamson High School in Oak Cliff around 1965, our freshman year. I played lead guitar. The Tortians were James King (rhythm guitar), Johnny Congleton (drums), Carl Lowe (bass), Dick McDonald (lead guitar), Gary McDonald (backup vocals) and John Tincher (lead vocals and sax).

We all played what ever was being played on the radio and some older stuff that we grew up with: Ventures, Chuck Berry, Jimmy Reed, Fats Domino. Duane Eddy. Most bands in Oak Cliff played pretty much the same stuff. That's all we had besides country, big band, classical. Whatever band listened to the radio and figured out the songs first was the top band. It was Robert Farris of The Mystics who could figure stuff out fast.

How the record came to be. We were playing a gig at a roller rink I think the Shamrock in Lancastor, TX. Woody P. Baker was out listening to bands and asked if we would record some of his songs and we said yes. Woody set up and paid for the studio time. The Tortians were not signed by Kerry Way Records. I don't remember the name of the studio but, it was the same studio where "Wine Wine Wine" was recorded by the Night Caps. Woody P. Baker wrote both "Red Cadillac" and "Vibrations".

There are no pictures of the Tortians and I hope someone sees your website and has some.

I also played in a very hot band called the De'vells and I do have a picture of them. Most of the De'Vells played in the Tortians. The De'vells were Joel Reiner (drums), Rick Surratt (lead guitar), Dicky McDonald (lead guitar), John Tincher (lead vocals/sax), Carl Lowe (bass/vocals), and Little David (keyboards/vocals). This band won 2nd place in the 1967 Battle of the Bands at the State Fair of Texas, and got a trophy which We still have. I am surprised that we were not listed in the newspaper clipping on the website [see this page]. We were booked by an booking agency called Showco in Dallas.

Most of the original members still live very close to Oak Cliff. I have a pedal steel guitar shop in Broken Arrow, Oklahoma.

Richard McDonald
Spirit Steel Guitar
Broken Arrow, OK