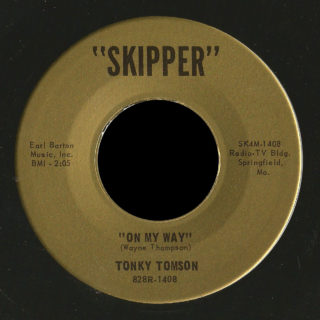 Skipper Records came from Springfield, Missouri and released at least eight singles in 1965-1966 before folding. It was a creation of Si Siman, a promoter, manager and part-owner (along with Ralph Foster and John B. Mahaffey) of Earl Barton Music, Inc., which published most of the songs featured on the Skipper label.
Everything I've heard on the label is snappy and well-produced. Half are upbeat country but there are two rock singles and a couple r&b. The releases by Tonky Tomson and David & the Boys-Next-Door are notable for featuring the earliest work of two men who would go on to have huge successes in the music industry.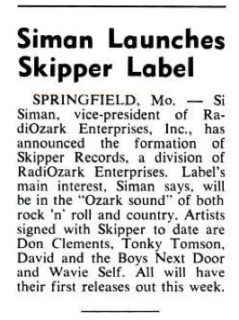 Tonky Tomson seems to be a pseudonym for Wayne Thompson, who wrote both "On My Way" and "I've Been in Love", and probably sings on this single from October, 1965. I'd say he was listening to a lot of Hollies at the time. I wonder who was the lead guitarist on these tracks, as he did excellent work, with the country tinge that the Beatles and other groups were starting to reach for.
Wayne Carson Thompson is much better known as Wayne Carson, who would write "The Letter" a couple years after his time at Skipper and go on to write many other hits. Wayne Carson died on July 20, 2015.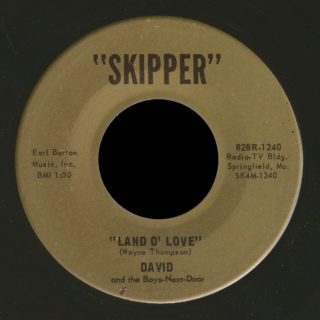 Wayne Thompson also wrote the A-side of David and the Boys-Next-Door catchy party song "Land O' Love", and co-write "If I Was King" with David Kershenbaum, the leader of the group.
In 1967 David and the Boys Next Door released a second single on Del-Ray Records of Poplar Bluff, MO, "It Ain't No Use" / "Spring Fever", both originals by David Kershenbaum published by Earl Barton. I've heard the A-side and it's good pop, with a nice guitar hook. David Kershenbaum had a solo single on Capitol Records in 1968, "White Velvet Cat" / "Forbidden", both written by Bobby Lile. Kershenbaum would go on to a successful career as a producer starting in the 1970s.
Steve Sanders would sing "Land of Love" for a single on MGM 13475, a single I haven't heard yet.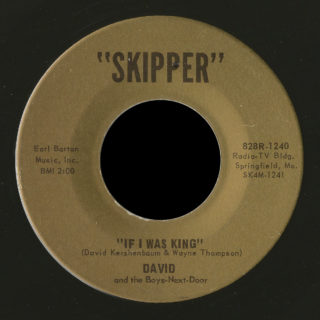 Skipper Records discography (probably incomplete – any help with this would be appreciated)
Labels for Skipper are gold with black print with the exception of the Clint Harrison 45. Some list Radio TV Bldg, Springfield, MO as the address, and the 828 prefix on these indicates their account with RCA custom pressings.
Skipper 828R-0773/4 – Lewie & the 7 Days – "Night Train" / "What You Never Had"
Skipper 828R-1240 – David and the Boys-Next-Door – "Land O' Love" (Wayne Thompson)/ "If I Was King" (Kershenbaum & Wayne Thompson) (SK4M-1240/1)
Skipper 828S-1241 – Truman-Lankford – "Arkansas Man" / "Here-Comes-Heaven-Again" (both by Truman Lankford, Jim James, Prod. M.A. Box)
Skipper 828R-1408/9 – Tonky Tomson – "On My Way" / "I've Been in Love" (both Wayne Thompson, SK4M-1408)
Skipper 828R-2735 – Wavie Self – "Kentucky" (Prichard) / "These Words" (SK4M-2736)
Skipper 828R-5695 – Lewie & the 7 Days – "You've Been Cheatin on Me" (L. Taylor) / "You're the Reason" (T4KM-5695)
Skipper 828R-6255 Clint Harrison – "Record in My Album" (Eppright) / "Thirteen to Nineteen" (T4KM-6255, red label)
Skipper 828R-7917 – Don Clements w. Anita Kerr Group vocal background – "Made in the U.S.A." (Ronnie Self) / "My Conscience Knows" (S4KM-7917)