The Sands in the Houston Post, January 9, 1966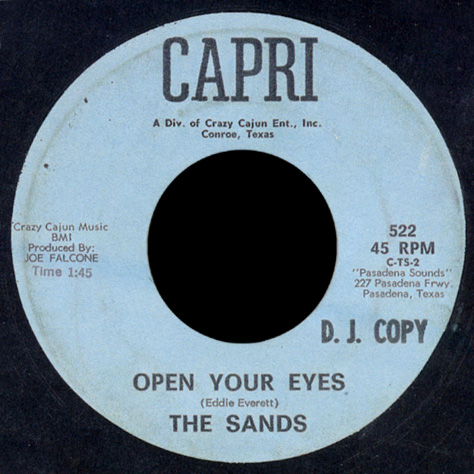 Andrew Brown suggested I cover the Sands, a Houston group who cut the legendary Seeds sound-alike "Open Your Eyes" on the Capri label in 1966.
A Houston Post article from January, 1966, shows the band at what must have been one of the oddest gigs ever, playing for patrons of the Look Plaza Barber Shop in the Spring Branch neighborhood on the west side of Houston.
Members were Tom Smith (drums and vocals), Kevin Pitts (bass), Eddie Everett (guitar), Charlie Snell (guitar) and Keith Church (vocals).
The article also lists the barbers: Herb Barnum, Montaugn Wise and shop manager Bill Cox.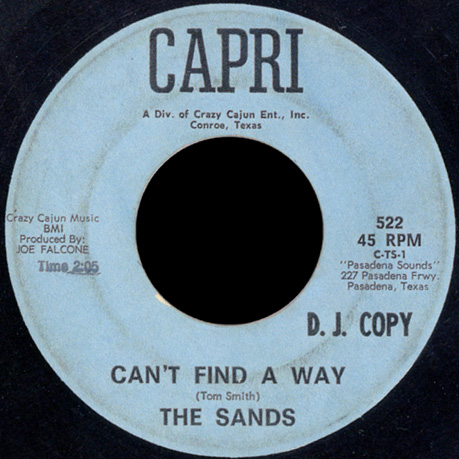 The Sands recorded their only 45 at Huey Meaux's Pasadena studio on October 11, 1966, produced by Joe Falcone. The A-side, "Can't Find a Way" was written by Tom Smith. The band is known today for the flip, "Open Your Eyes", a rewrite of "Pushin' Too Hard" credited to Eddie Everett. The band gives a spirited performance, with off-the-wall fuzz lead, frantic organ, snappy drumming and snotty lead vocals.
For whatever reason, this is one of the rarest of Texas garage singles.
Eddie Everett wrote to me:
Those were the days, my first real band! One of the barbers in the shop (keyboard player) replaced the rhythm guitar, Kevin Pitts. Shortly after that we recorded our first 45 rpm that put us on the map!

We did concerts with Fever Tree, Moving Sidewalks, 13th Floor Elevators. Down the road, I moved to Florida and played with the Night Crawlers (Little Black Egg) for two years.
Thank you to Andrew Brown for the clippings and 45 scans.