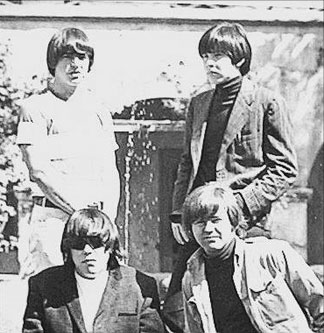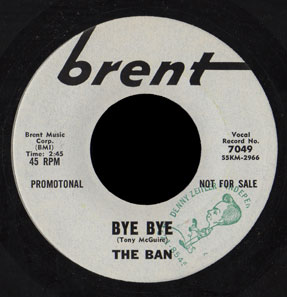 The Ban came from the small town of Lompoc, near the Vandenberg Air Force Base, north of Santa Barbara. Members were Tony McGuire guitar and lead vocals, Oliver McKinney keyboards, Frank Straight bass and Randy Gordon (aka Randy Guzman) drums. The band was managed by Randy Guzman's parents, which is why he changed his name to Gordon.
The Ban released "Bye Bye" in November of 1965, a magical record with the perfect garage organ sound, see-if-I-care vocals, resounding drums and a crude, energetic guitar solo. On the flip is another original, the moody "Now That I'm Hoping", written by (as spelled on the label) Randy Gusman and Frank Strait.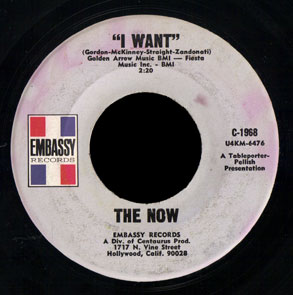 When Tony McGuire was drafted, the Ban found David Zandonatti to play bass and vocals, while Frank Straight moved over to guitar. They relocated to Los Angeles and became the Now for one fine record on Embassy in June of 1967. "I Want" channels the band's powerful playing in a very well produced recording. "Like a Flying Bird" is keyboard-driven pop with harmonies that has been compared to the Left Banke. Both songs are band originals.
The Now played shows at major venues like the Sea Witch and Pandora's Box, but they had limited success until Matthew Katz signed them to a production contract. With another move to San Francisco, they became Tripsichord Music Box, releasing a legendary album and a couple of 45s. But that is a whole other story.
Special thanks to Jason for providing the label scan for the Now 45, and to Gregg McKinney for the photo of the Now.
A bit of trivia – I wonder if the stamp on the label (Denny Zeitler, Independent Music Sales) is the same person who the 13th Floor Elevators thank on their first lp?