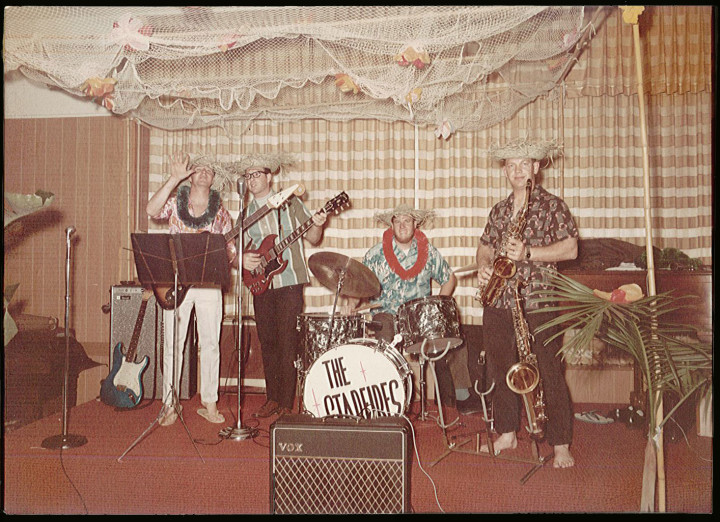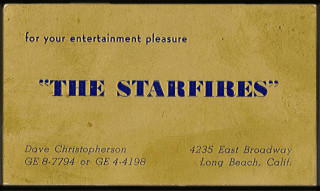 A couple years ago I posted some business cards from the Los Angeles area music scene, including two cards from the Starfires. I assumed these were from the Downey group that had six singles, including the famous "I Never Loved Her".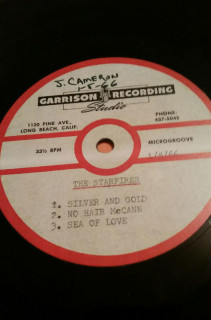 It turns out that at least one of those cards belongs to a different Starfires group, operating out of Long Beach, only 15 miles to the south. Apparently this town was big enough for two groups of the same name!
Chris Robere sent me the photos and scans seen here with a little info on the group.
In 1965, the band members included:
Pete Wilson – lead guitar
John Cameron – bass and rhythm guitar
Don Schraider – sax
Dave Christopherson – drums
The band seems to have been popular with the Naval base in Long Beach. They had at least one recording session, as an acetate demo exists from the Garrison Recording Studio in Long Beach. I haven't heard of "No Hair McCann" before so I expect that must be an original song.
John Irvin Cameron passed away on September 15, 2015.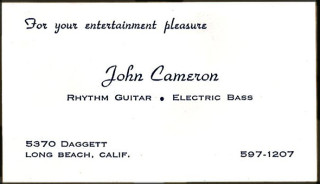 The other Starfires, from Downey, deserves to be covered on this site. That group included Chuck Butler lead vocals, Dave Anderson lead guitar, Sonny Lathrop rhythm guitar, Freddie Fields bass guitar, and Jack Emerick on drums. Freddie Fields seems to have done most of their song writing.