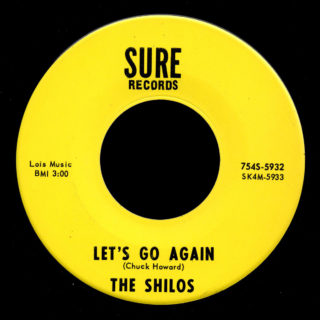 The Shilos had only one single, featuring the fine r&b sounds of "Let's Go Again", released on the Sure Records label in the second half of 1965.
The Shilos became the Four Winds, and one member recalled those groups lineups as including:
Jeff Pharion – lead vocals
Roger Riley – guitar, replaced by Bob Hill
Walt Edry – bass, replaced by Bob Blackburn
Dave Smith – drums
Russ Geis – saxophone (on occasion)
Other than Jeff Pharion on vocals, I don't know exactly who plays on the record. The flip is the lighter "You're Leaving Sunday" featuring a trumpet player. It was an RCA custom press, with master numbers 754S-5932, SK4M-5932/3.
Chuck Howard, a country singer well-known throughout southern Ohio, wrote both songs.
I'm sorry to report that Jeff Pharion passed away January 6, 2019.
Buckeye Beat has photos of the Four Winds and more info on that group.