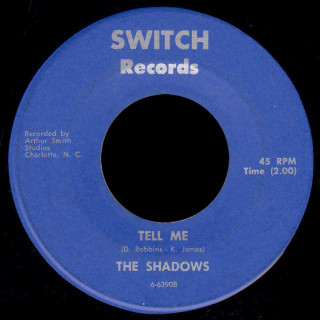 The Shadows came from Hazelwood, North Carolina, a small town about 30 miles west of Asheville. Members included Dennis Robbins and Ken James.
The band traveled 150 miles east to Charlotte to record at Arthur Smith Studios, releasing their single on Switch Records in April, 1966. "Tell Me" is a good original by Robbins and James, a tight performance with an excellent guitar break. The flip is a version of Brubeck's "Take Five" that gives the guitarist more room to stretch out. Switch seems to have been their own label, I haven't seen anything else on it.
Two months later the band drove 280 miles in the other direction, west to Nashville, where they recorded another original, "She's Like That" for release on Zeke Clements' Gold Standard Records. "Tell Me" was reused for the flip side, though without all the heavy echo on the original Switch version. I believe it is the same take of the song, not a re-recording, and I prefer it without the echo.
Dennis Robbins and Kenneth James copyrighted both songs with Clements' Blazon Music Co, BMI on June 21, 1966.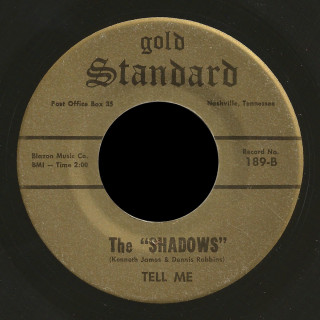 Gold Standard released over 200 singles during the '60s. There are a handful of garage or teen-beat records, which I'll list below, though some of them I haven't heard and I'm not positive they fit here. While some artists were local to Nashville, it wasn't unusual for Gold Standard to feature artists from around the country. The Cavemen came from Birmingham, Alabama and had an earlier single as J.C. & Cavemen. The Incidentals were from Montgomery, Alabama.
112 – The Cavemen (vocal by J.C. Raynor) – "Just One You For Me" (Hoyt Johnson) / "Tell Her One More Time For Me"
114 – The Incidentals – "Baby Shake" / "Till the Ending of Time" (both songs by James Segrest and Herbert Phelps, released Dec. '64)
155 – The Coachmen (vocal by Tommy Burnett) – "I'll Never Leave You" / "Possibility"
174 – Steve Stephens – "Lonely Me" (Ricky Ryan) / 'When You Grow Tired Of Him"
189 – Shadows – "Tell Me" / "She's Like That" (June 1966)
204 – Ricky Ryan & Jerry Lee McKee – "My Baby's Coming Home" / "Ask Me Baby"
209 – The Vee-Jay's (lead singer Bill Boone) – "Give Your Heart to Me" (Ray D'ahrouge") / ?
237 – Ronny Williams – "Move Up a Little Closer" (James Hendrix, Elijah & Geraldine Murray) / Larry Williams – "When You Grow Tired of Him"
262 – Five Emprees – "Little Miss Sad" / "Nobody Cares" (1967, re-recording with horns of their Freeport single from 1965)
286 – Paper Menagerie – "Left Up To You" (E. Macon) / "Love Again" (E. Macon & B.G. Gillespie) both pub. by Junellin Music BMI, prod. by Dick Sell

Anyone have a photo of the Shadows? I'd like to know more about the Shadows or any of these other groups, especially the Paper Menagerie..