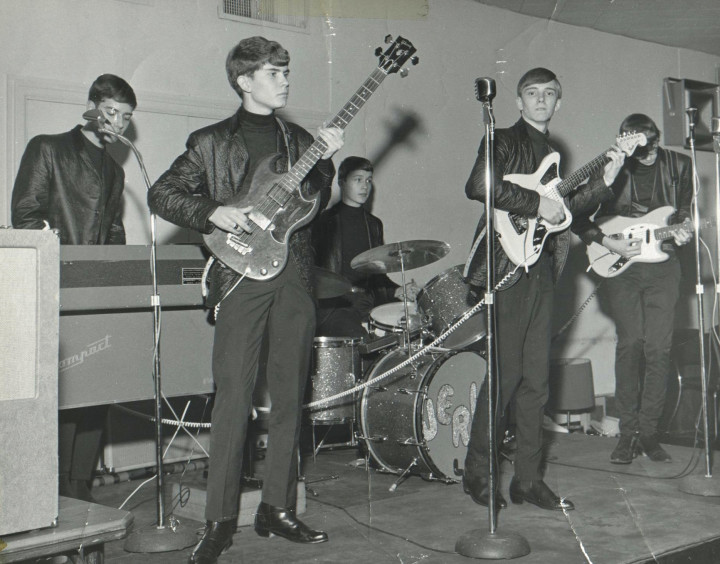 Rhythm guitarist David Duke of the Jerks wrote to me about the group and sent in the photos seen here:
The Jerks were a Birmingham, Alabama band formed in the mid 60's. The band members were:

Larry Gardner – drums
Mike Ellis – lead guitar & vocals
David Duke – rhythm guitar
Dennis Wilkey – bass guitar
Steve Fletcher – keyboards

The members came from three high schools in the East Birmingham area: Woodlawn – Steve & Larry; Banks – David & Dennis; and Mike from Erwin.

In early 1966 the Jerks recorded a record on the Vaughn-Ltd label at Ed Boutwell's early recording studio located in a vacated church at 1st Ave North and 35th Street. The main side was "I'm Leavin' You" with the back side a slower song "Don't Make Me Sorry" both written by Mike Ellis. "I'm Leavin' You" was later published in the #5 spot on Psychedelic States – Alabama in the '60s Vol.1 (Gear Fab) and is still available on CD.

"An early picture taken in my Birmingham garage basement practicing in April 1965. This was before we added the keyboards." – David Duke

The last addition to the band was Steve Fletcher on keyboards. The band gained popularity playing at Calico Corner, where many top chart artists performed, along with numerous Armories and high school dances throughout central Alabama. The Jerks were also winners of the Phipps Piano Co., VOX Battle of the Bands contest. The Jerks were popularly seen in their black leather outfits influenced by the British groups. The Jerks opened up for The McCoys concert in Birmingham.

Signatures of the McCoys

The Jerks gained early popularity in the summer of '65 as a big part of the Pizitz Department Store Fashion Shows in downtown Birmingham. The Jerks also performed for a publicity party with Beach Party movie stars Debby Walley and John Ashley at the premiere showing of their new movie.

During this time the band was offered to go on tour throughout the US by Warren "Billy" Wilson, promoter and agent, but declined due to the young age of the members. (Our parents had the upper hand on this decision!)

The band broke up in '67. Dennis and Mike continued on professionally in the music industry with several other successful bands. We believe Steve continued in his family-owned business. Larry after graduating from Jacksonville State University became a successful business owner of a large nationwide window blind manufacturing and sales company based in the Birmingham area.

David Duke, 2015

David joined the Alabama Air Guard for six years, pursued college and after 45 years as a Sr. Acct Sales Mgr in the industrial gases industry retired in 2015.

Over those years I played with several new bands in the 80's and 90's doing a 50's-60's-70's music review. I still keep my collection of guitars close by to play those classic old songs of great days.

David Duke
I asked David some follow-up questions about the group:
Q. How did the band choose The Jerks for a name?
Not absolutely sure, but the song "The Cool Jerk" performed by the Capitals was released about that time along with a dance by that name and I believe that is where we heard it. I've been asked many times and that was all I could come up with. But we did find it to be well received and well remembered for many years after, even today.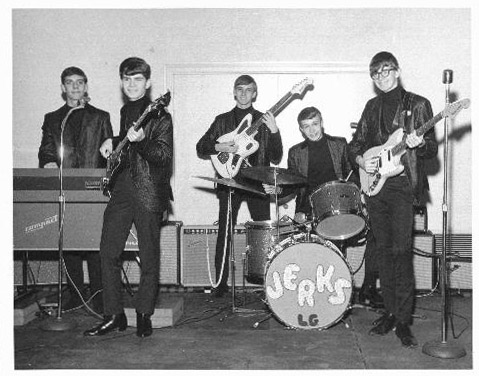 I'm playing a Fender Jaguar that my father brought home and surprised me with. It was a Daphne Blue and never saw another one like it anywhere. I was very popular just from that. I think if I had kept I might have been able to retire earlier. Around the time I either went or came back from boot camp I sold it. Mike Ellis played the Fender Mustang.
Q. Did the single get local radio play?
We did get local radio play. WSGN was the most and several of the DJ really got close to us and helped us a lot.
Q. Was the east Birmingham scene distinct from other parts of town or did bands play all over?
Most all the bands in the Birmingham area played all over including cities outside of Birmingham. Birmingham being a large city was a hub for popular bands. I was very close with many other groups during this time. I was influenced by some friends in elementary school that had a band and my friend played the drums. I would listen to them around '62 or '63 playing many of the Ventures guitar songs. That's when I really decided that was what I wanted to do and play. In later years that group became the Rockin' Rebellions which became popular throughout the south.
Some of the guys I played with in early years ended up in the Daze of the Week another popular group with records. I was close and went to high school with one from the Distortions, also I was close friends with the Vikings.
I haven't talked to any of the other Jerks band members in a while. Larry Gardner I talked to about two years ago.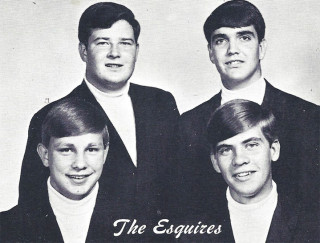 It took me a few years, then I got the bug from a friend I grew up with that had his band called the Esquires. We started a band together in the early '90s and played several gigs but had a hard time keeping or finding good members. I always said I wanted to get with him again and see if we could start another band since we were both getting close to retiring. He died of a heart attack two years ago (Terry Mathews – bottom left). I guess that is why I'm really pushing myself to have some fun while I can.