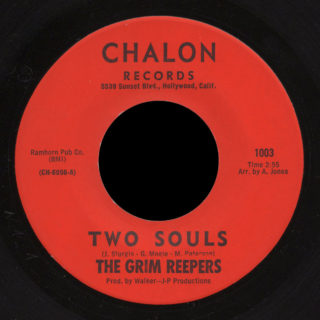 The Grim Reepers cut the excellent single "Two Souls", but are still something of a mystery group. I haven't been able to find any photos or gig listings for the Grim Reapers or Reepers, however they intended to spell the band name.
Two likely members are Greg Magie and Mark Paterson. Greg Magie's name is in the song writing credits of the album "Stuntrock" by the late '70s Los Angeles group Sorcery, (sound track to the movie Stunt Rock), and he is also, I believe, the vocalist in Sorcery as Greg McGee.
J. Sturgis is another name on the song writing credits, but in the BMI database, "Two Souls" shows only Mark Patterson, Richard Serrana and Joanne Funk.
"Two Souls" / "Joanne" was released on Chalon 1003 in January of 1967. Besides a few country singles by Roy Stevens, the Grim Reepers is the only other release on Chalon Records that I know of. Produced by Walker – J-P Productions (including B. Walker?).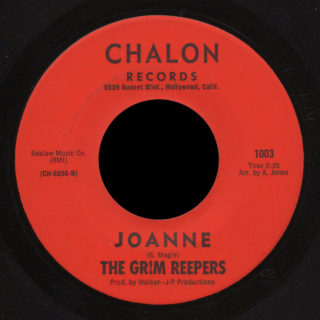 Chalon Records shared an address of 5539 Sunset Boulevard with Impression Records. Ramhorn Pub. Co. published "Two Souls" and also published many of the songs released on the Impression label. J-P Productions shows up on the Dirty Shames' Impression single. A. Jones who is credited with arranging the Grim Reepers single is almost certainly Al Jones. Al Jones and Joe Osborn's names show up on many Impression singles, and on the writing credits to Roy Stevens "Over Again" on Chalon 001.
Greg Magie's "Joanne" is published through Reklaw Music Co.