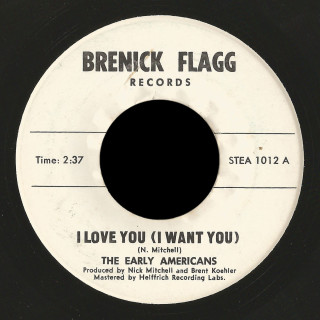 The Early Americans come up with a balanced, rich '60s sound on "I Love You (I Want You)", not released until May of 1971.
The group may have been from Bath, Pennsylvania. Both this and the b-side "Got a Lot" were written by Nick Mitchell and produced by Nick Mitchell and Brent Koehler.
The Early Americans released this single on Brenick Flagg Records STEA 1012. Pete Helffrich mastered the single, signing the deadwax and indicating stereo sound, though I don't hear much stereo separation on this single.
Helffrich Recording Labs did a lot of mastering for classical labels like Everest, Nonesuch and Turnabout, but as far as I can tell, relatively little recording. One of Pete Helffrich's most notable recordings was another PA band, Sandstone, for the album Can You Mend A Silver Thread? I checked the back cover of that LP and didn't find any other names in common with the Early Americans.
This is not the Early Americans from Tampa, FL who cut Night After Night on Paris Tower in 1967.