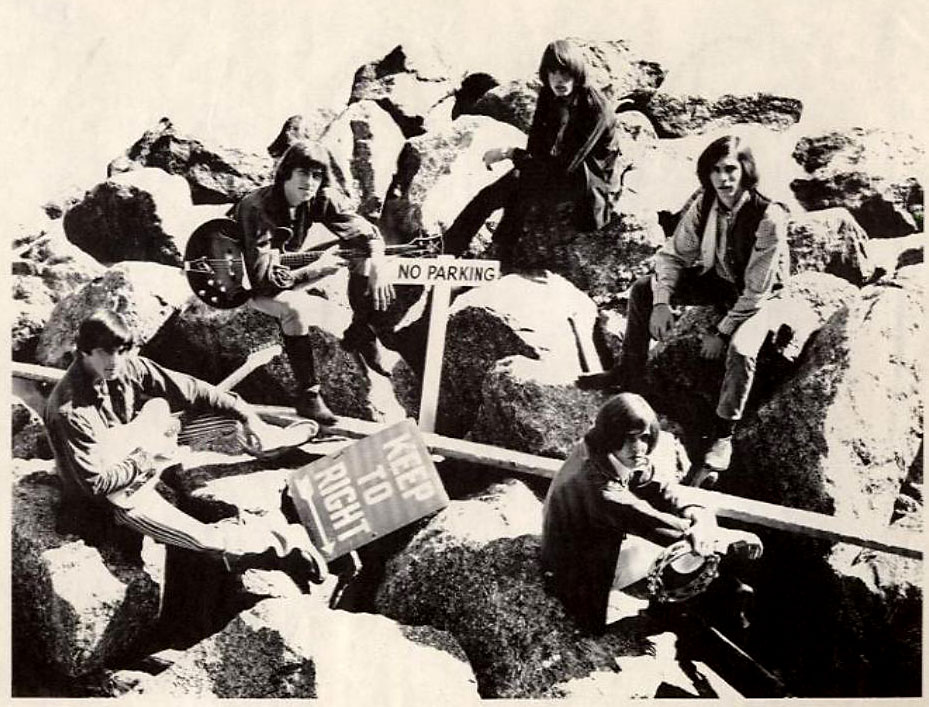 The Tasmanians ruled West Palm Beach, Florida in 1966-67. The group's members came out of Melbourne High, Cocoa High, Satellite High, Merritt Island High and Brevard Junior College. Released on the local Conda label, "Baby" is a garage classic. Despite being a rare 45, it's found its way onto many garage comps over the years. The flip side is a great pop song, "Love, Love, Love".
Members were:
Mike (Gypsy) Carns – lead guitar and vocals
Robbin Thompson – lead vocals and acoustic guitar
Craig Davis – keyboards
Woody Pollard – bass and vocals
Greg Brunt – drums
Robbin Thompson's site also mentions Steve Bland and Ronnie Cable as later members.
Thompson and Carns wrote three of the four songs released, with Woody Pollard's help on "I Can't Explain This Feeling". Robbin's name is spelled 'Robin Thompson' on the Conda labels and Mike Carns last name is spelled 'Carnes' on both.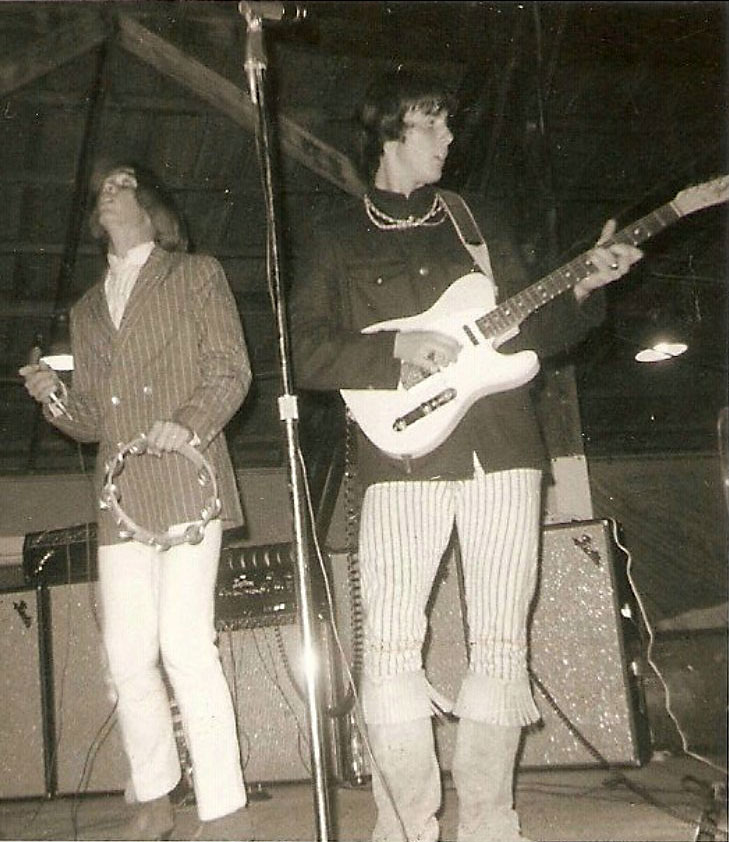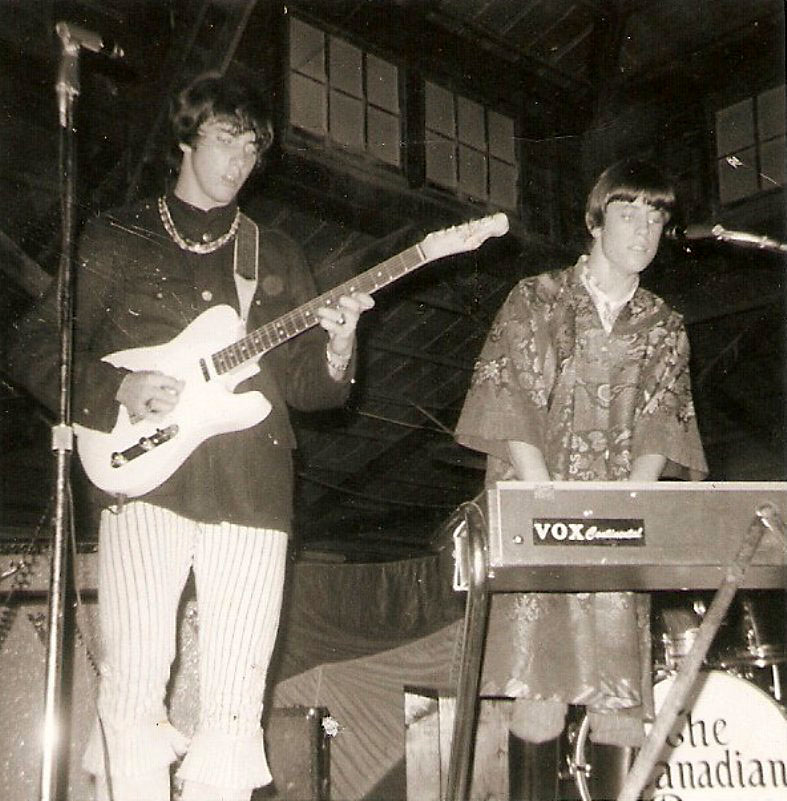 Gypsy Carns wrote to me:
Robbin Thompson had a band called The Fab Gents – I joined that band and from there we formed the Tasmanians. He knew a couple of guys and I knew a couple of guys and we jammed with different people then we settled on this line up.

I'll have to get with Robbin on how we met Bud Blount, but he was THE MAN without question and ruled the band with an iron hand. He was law enforcement in West Palm Beach Florida and an ex-Green Beret – so he had control of the band. We grew to be very popular in Florida and the south – had out the records and were by all accounts an energetic – rock till you drop – sort of with reckless abandon – type of band. You can hear it on BABY…the first single.
Robbin related this info to Jeff Lemlich:
"Baby" was written by me and Mike Carnes, now known as Gypsy Carns. "Baby" and "Love, Love, Love" were produced by a guy named Bud Blount, who was our manager at the time and also a cop in Boca Raton. I think a guy named Dave Hieronymus [drummer of the R-Dells/American Beetles/Razor's Edge, later producer, engineer, and studio owner] had something to do with it from the production side also. He was a writer from Nashville who wrote the "b" side of a second 45.

I think all four songs were recorded at the same time at Criteria Studios in Miami. the band was "discovered" by the manager and father of a member of the band "Count Five" the one-hit wonders of the song "Psychotic Reaction". They introduced Bud to us. Bud was a part-time concert promoter.
Robbin wrote to me recently:
We were introduced to our manager, Bud Blunt by the manager and father of the singer of the Count Five ("Psychotic Reaction"). The interesting part of that story is that when we played with the Count Five we were a whole different band called the Fab Gents. The band broke up for various reasons. We re-formed, called Bud and didn't tell him we were really not the band that was seen by the manager of Count 5 except for me and Mike Carns. Bud's younger brother, Glen Blount was also in the mix of all of this.

The Tasmanians broke up after Craig Davis, the keyboard player got busted for smoking pot. He was set up by one of his high school teachers. She convinced him she wanted to try it and he went over to her house with a couple of joints. When he lit one up cops came from out of the woodwork and arrested him. He got off due to entrapment but we were all smokin' by then and having a cop for a manager was a bit awkward so we parted ways. By that time Bud was a detective for the Boca Raton Police Dept. We kept up with him for a bit but he found another group to work with, the name escapes me but they were a straight laced kind of a pop band.

The Fab Gents and Tasmanians were regulars at the Melbourne Teen town which was at the Civic Center there. Between the two bands we opened for bands such as the Beau Brummels (they practiced in our living room before the gig), the Mind Benders, the Lemon Pipers, the Bitter End (a band with Allman Bros drummer Butch Trucks). We also opened (in other places) for the Turtles, Blue Cheer, Doug Clark and the Hot Nuts, Mamie Van Doren, Wayne Cochran and a group called The Seven of Us which later became NRBQ.

"Baby" and "Love,Love Love" were recorded in one session. "Can't Explain this Feeling" and "If I Don't" were recorded in different sessions at Criteria Studios in Miami by then novice engineer Ron Albert. At that time there was only one hit record on the wall there, James Brown's "Please, Please, Please", as I recall.

The only members still living in the original band are me and Mike (Gypsy) Carns. Craig Davis died several years ago.

Years went by and I searched Bud out. Gypsy Carns, Bud and I reconnected and have been keeping in touch for many years now.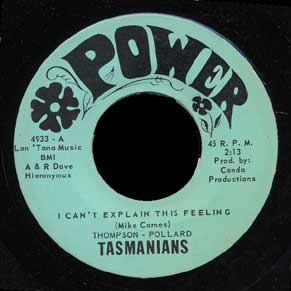 For their second and last 45, the Tasmanians adopted a much more English feel – "I Can't Explain This Feeling" is as good as some of the top UK freakbeat of the time. It's b-side "If I Don't" is competent if unspectacular Beatles-influenced pop. It's released on the Power label, or Flower Power if you take the picture into account.
Gypsy Carns:
The manager agreed to cut this track ["If I Don't"] – written by producer Dave Hieryonmous – 'to get a better deal on the studio.' The band hated this song and looked at it like a 'sell out'. The track turned out great in retrospect but the band never played this song live.

Once the band splintered Robbin got some other guys together as the Taz but that was short lived and did not have the charisma the original band had. It was an awesome experience. Robbin and I are very close to this day.
After the Tasmanians broke up, Robbin Thompson joined the Blues People, Transcontinental Mercy Flight, Steel Mill and others.
Check out Gypsy Carns's website www.gypsycarns.com.
Robbin Thompson's website is www.robbinthompson.com.
Robbin Thompson wrote "Woody (Callis Woodson Pollard III) died of drug overdose in the early 70's or earlier." Gypsy Carnes tells me that Greg Brunt has also passed away.
Special thanks to Gypsy Carns for the photos of the band. News clipping and some info from the Limestone Lounge.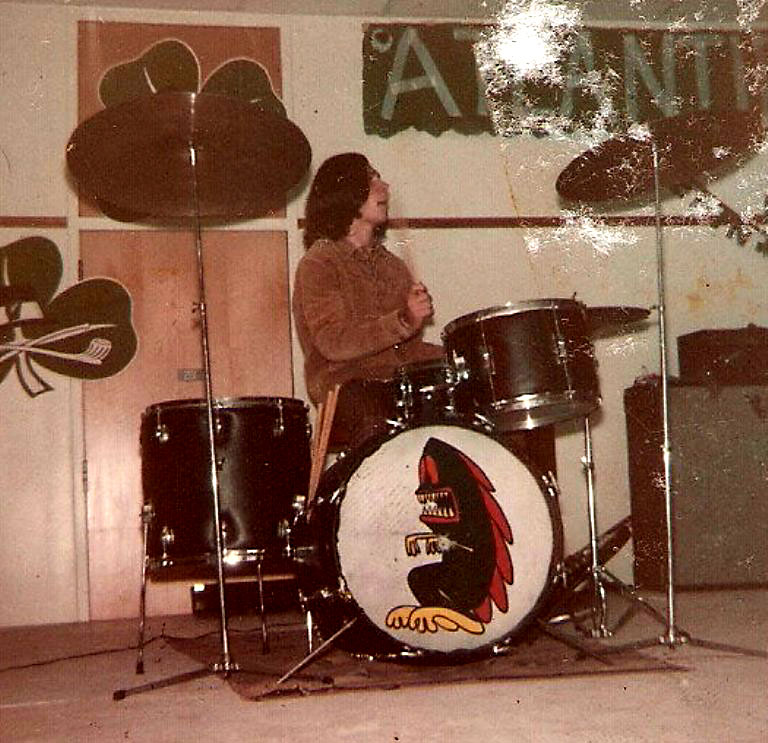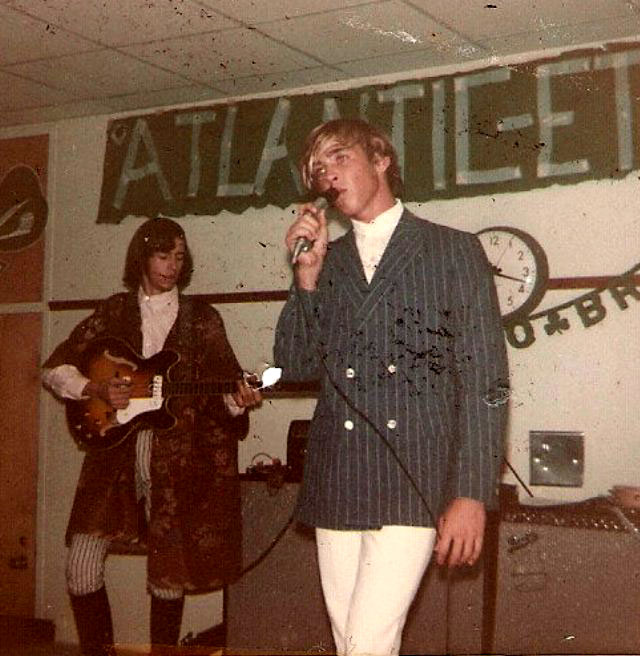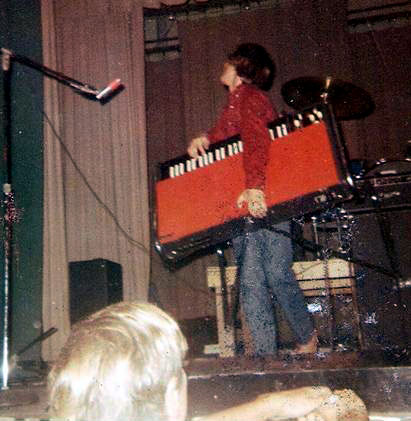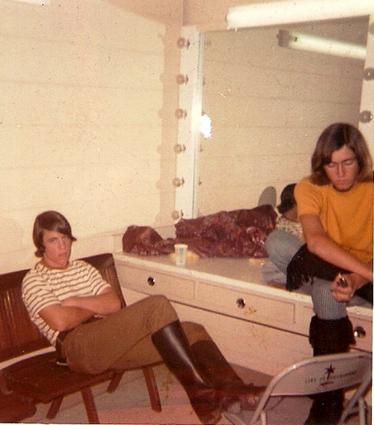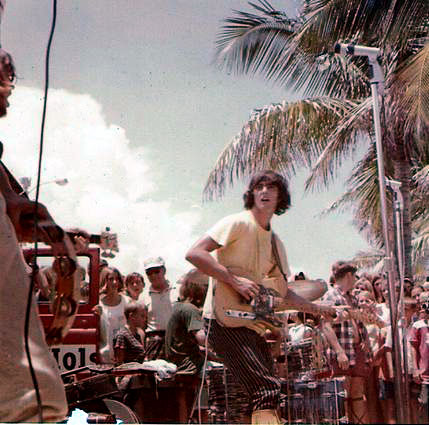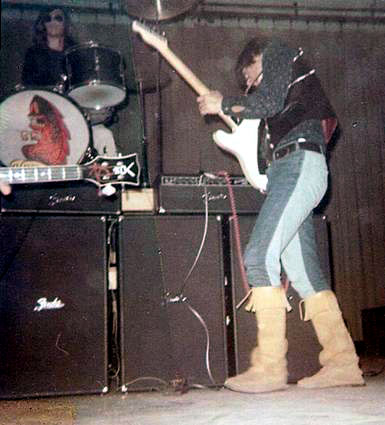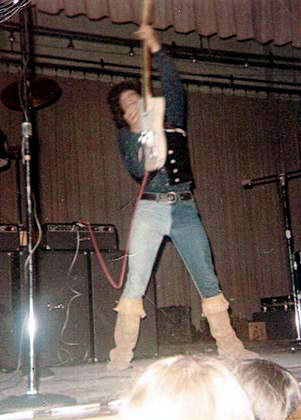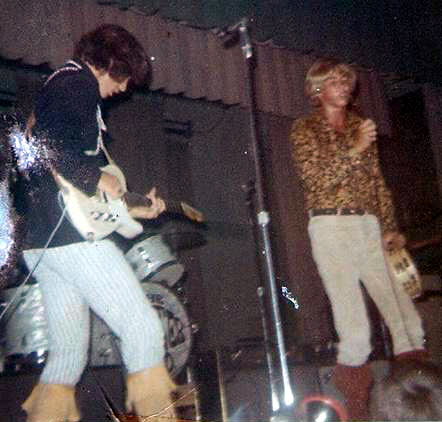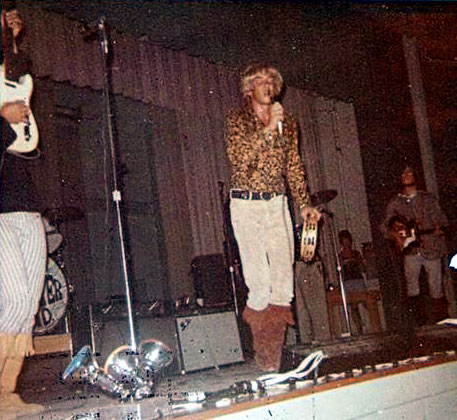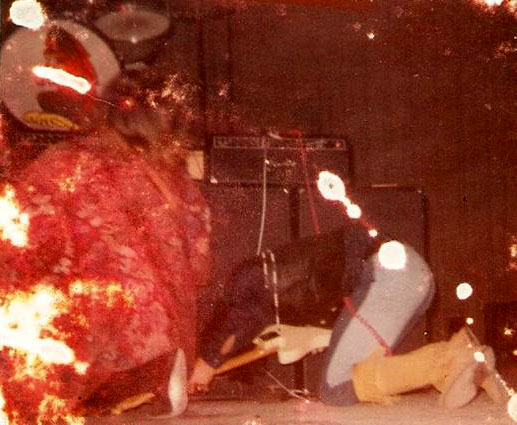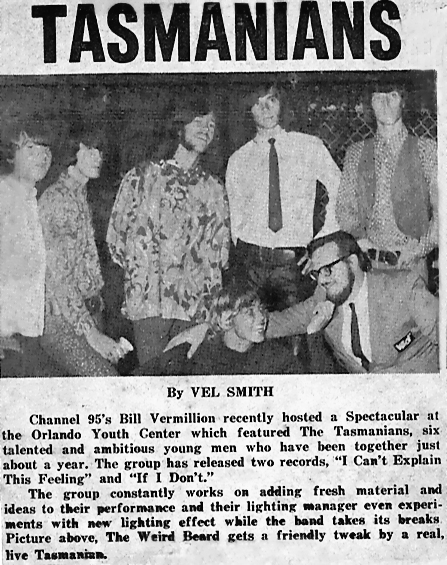 Things are shaping inside my head, I can't explain this feeling
My mind is warping, my nerves are damp, it keeps me on the ceiling
I see a blur and I hear a shot, I can't explain this feeling
I think my mind is gone to pot, it keeps me on the ceiling
People start to stop and stare, they can't explain me sitting there
In a corner dark and damp, staring at a broken lamp
The crowd gets bigger the days go by, they're wondering when I'm gonna die,
someone grabs me and pulls me down…
I feel an object but it isn't there, I can't explain this feeling
They say I'm wrong but it isn't there, it keeps me on the ceiling
People start to stop and stare, they can't explain me sitting there
In a corner dark and damp, staring at a broken lamp
The crowd gets bigger the days go by, they're wondering when I'm gonna die,
someone grabs me and pulls me down…
The Tasmanians "I Can't Explain this Feeling" by Carns, Pollard and Thompson