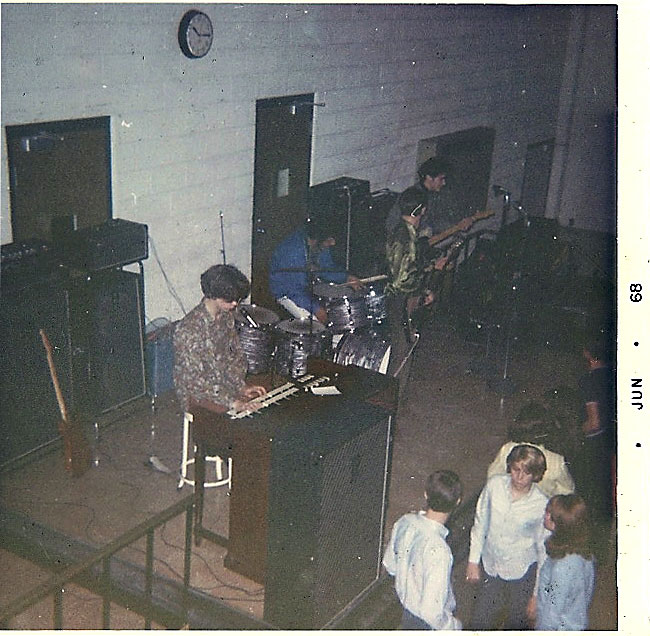 Dennis Girard of the Ruins sent in these great photos of the Blue Feeling, a band who had been widely known in the Detroit area as the Satellites.
Dennis writes:
These pics show the Satellites in 1968 when they changed their name to the "Blue Feeling". Note that Ann Marston was representing them.

They were possibly the best group in the Downriver area. At any of their gigs, the front row of the audience was made up of local musicians.

You can see all of their Vox equipment. Several Beatle amps and the infamous Vox T-60 are visible. They even used two Vox Beatle amps for their PA. In fact I bought a Beatle chrome amp stand from them.

The Satellites did the sound track for Tim Tam and the Turn-Ons ("Wait a Minute").

Dave Fero……lead guitar
Frank Schiavulli….drums (deceased 01-23-97)
Ken Sipos……guitar
Carl Sweets….bass
Frank Vargo….lead vocals

I had kept in touch with Frank Schiavulli up until his death. Dave Fero is still playing and lives in Ann Arbor.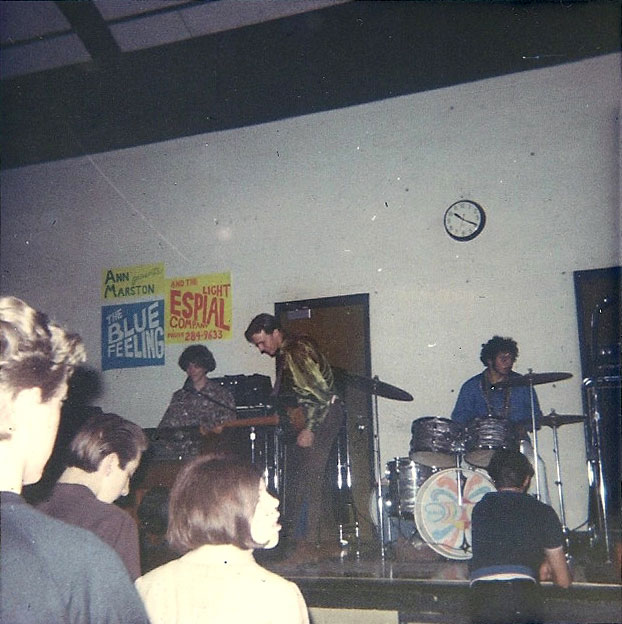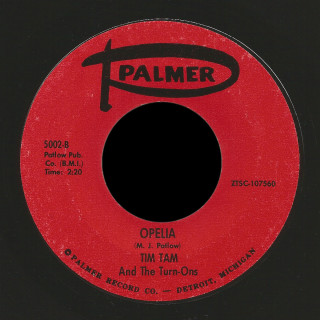 The Satellites were freshmen at Allen Park High School. They signed with Ann Marston in October, 1965, partly because she liked their wholesome appearance. Ann Marston was a former archery champion, TV personality and Miss Michigan of 1960, who started managing bands after promoting live concerts with WKNR's Frank Sweeney.
Ann booked them into venues including the Chatterbox teen club in Allen Park, the Southgate Teen Center, the Harbor Theater in Lincoln Park and the Grosse Ile Naval Base, getting them regular work. Around this time Ann produced a demo of the band at Pioneer Studios, "I'll Feel a Whole Lot Better" and "You Really Got a Hold on Me".
Dave Fero and Frank Schiavulli had been part of the group backing Tim Tam and the Turn-Ons on their huge local hit, "Wait a Minute", an unusual blend of doo wop with a contemporary rock sound. Tim Tam and the Turn-Ons were six vocalists who also met at Allen Park High. Rick Wiesend (Tim Tam) was lead vocalist, along with Danny Wiesend, Don Grundman, Nick Butsicaris, John Ogen and Earl Rennie. If you haven't heard "Wait a Minute", search it out on the internet and you'll hear why it was such a sensation.
'Wait a Minute" was released in February of 1966 on Palmer Records 5002, selling 30,000 copies in the first month of release. Frank was interviewed on the air by WKNR DJ Scott Regan about playing drums on "Wait a Minute." Tim Tam and the Turn-Ons would release three more 45s on Palmer. Rick Wiesend passed away five years ago today (on October 22, 2003).
I'm not sure who is playing on the flip side, the fine surf instrumental "Opelia", songwriting credited to Morton Patlow. Is this the Satellites?
Tim Tam & the Turn Ons next single was the very doo-wop sounding "Cheryl Ann" b/w a vocal with garage backing, "Seal It With A Kiss" (Palmer 5003)
On June 13, 1966, the Satellites went to United Sound Studios to record another demo of two songs, "I Believe" and "Midnight Hour". These were mixed by Les Cooley who would soon engineer Bob Seger's "Persecution Smith".
The band won WXYZ-TV's Talent Town competition, hosted by Rita Bell. The stereo console they won went into Frank Vargo's basement where the band practiced.
The band clashed with Ann when they gave up their straight image, but nevertheless she continued to manage them into 1968. I've never heard any of their demos, I don't know if they still exist or not.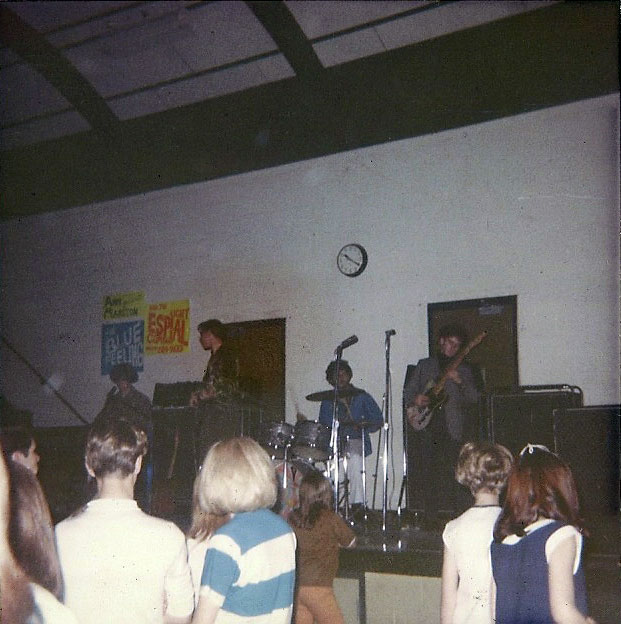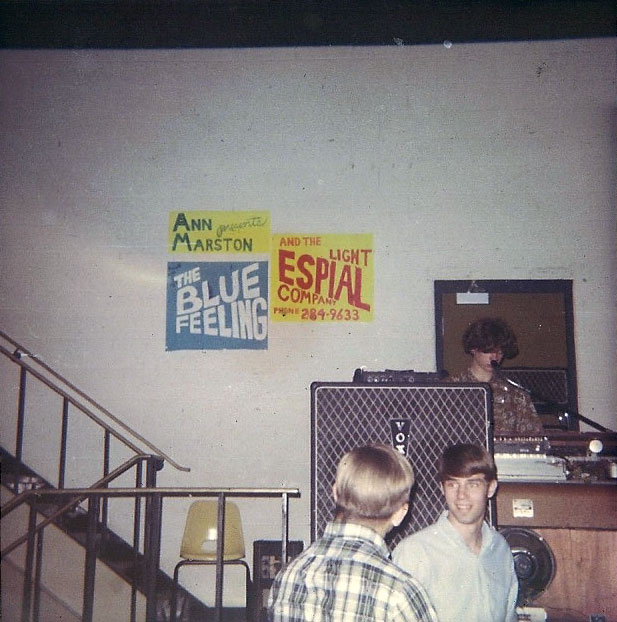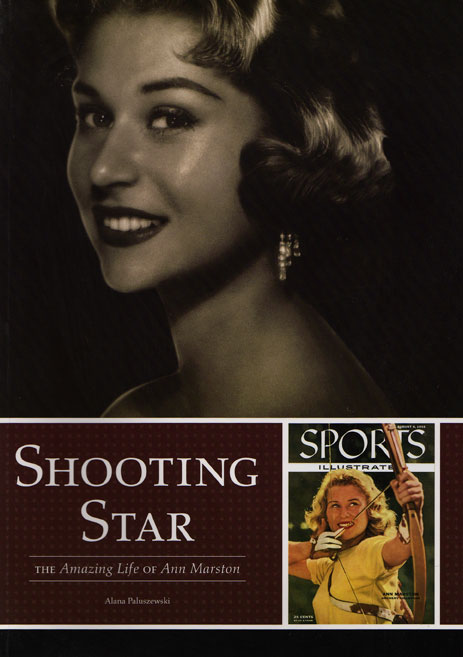 Sources include: Shooting Star: The Amazing Life of Ann Marston by Alana Paluszewski, and the Tim Tam & the Turn Ons entry on myfirstband.com.
Special thanks to Dennis Girard for the scans of the photos and for sending me a copy of Shooting Star.
Ann Marston's busy and unusual life is chronicled in Shooting Star. Those interested in her interactions with bands will find about seven pages on her time managing the very young MC5, a few pages on the Satellites, and mentions of other bands she worked with, like the Lower Deck, the Renegades, Julia, and Tom & the Fugitives. There are also photos of Ann with the Beatles and the Dave Clark Five.
Shooting Star lists Frank Vargo as the drummer on "Wait a Minute" and as the member of the Satellites interviewed on-air by Scott Regan, but this may be a mistake. Dan Wiesend, who was at the session, recounts Frank Schiavulli as the drummer.