There's no denying the power of the Mondells 45 on Gaye, "I Got a Feeling" / "You'll Never Come Back to Stay". Both songs have thick distortion on the guitar, nice organ swirls, pounding drums, and good lead and backing vocals.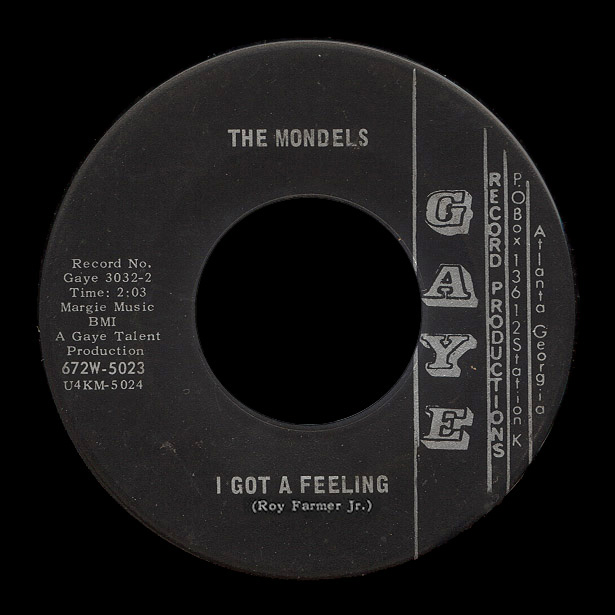 The code U4KM-5024 denotes an RCA custom pressing from the first half of 1967. The scan I originally posted showed no song writing credits on the label, but as Mike Markesich pointed out in his comment below, that scan was doctored to keep the writer's name secret until the band could be found. From the scans I now have, Roy Farmer Jr. wrote "I Got a Feeling" and Benny Thomas wrote "You'll Never Come Back to Stay". Both sides are published by Margie Music, BMI, and listed as A Gaye Talent Production.
The group itself is still something of a mystery to me. I did find out that the Mondels, like Red Beard & the Pirates, came from the rural hills between Blue Ridge, Georgia (Morganton, Mineral Bluff, Epworth) and Copperhill, Tennessee / McCaysville, GA, about two hours drive north of the studio in Decatur, GA, just east of Atlanta. From the same area came The Blazers, who had a self-produced LP On Fire.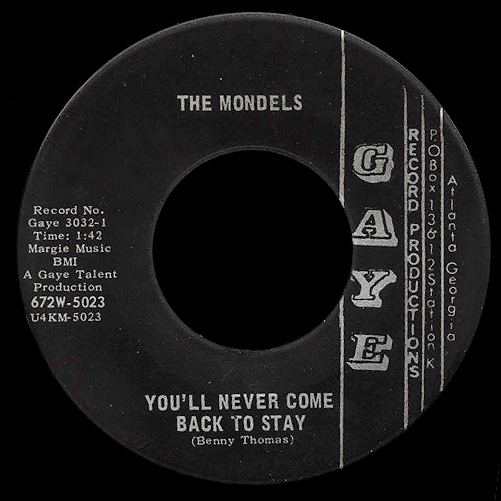 An old auction listing gives a couple names for Red Beard & the Pirates: Randy Queen and "Sea Dog". The seller also mentioned two members of the Mondels: "Billy Suites (died from auto accident) and Lamar Harper (died a couple of years ago from cancer). Actually the name 'Tootie' written on the record is my sister-in-law and she dated Lamar." I contacted the seller for more info, but I can't confirm if these names are accurate.
The Mondels is one of the rarest and best 45s on the Gaye label.
Mike Dugo interviewed a member of the Penetrations who have a record on Gaye, "A Different Kind of Man" / "I Got A Girl" but they were from Belton, South Carolina, to the north east of Atlanta.
Thank you to Mike Markesich for the scans and info on the band. Transfers from Teenage Shutdown vol. 13.