Here are two fine garage tracks from a Kirkwood, Missouri group.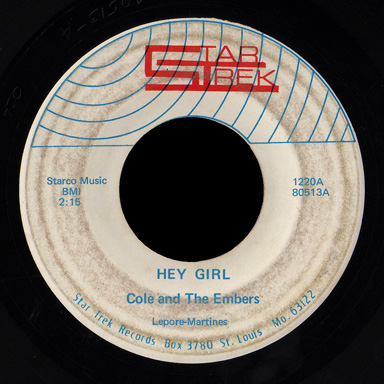 The cool label shows it couldn't be any earlier than late-'66 (named after the TV show of course), but I was surprised to see it listed in a database as a May, 1968 release. If so, it's behind the times but sounding great, however, a band member disputes the late release date (see below).
"Hey Girl" rushes through verses and the catchy chorus, with a break for the organ solo, which really has a fine sound, followed by a quick guitar break.
"Love Won't Hurt You" is much slower but has a brooding sound with the repeated high-pitched note on the organ, clipped rhythm on the guitar and harmony vocals. There's a neat section halfway through as the band moves through chord changes, and this is repeated at the end of the song after the fuzztone solo and last chorus. Lepore-Martines wrote both songs. The label for "Love Won't Hurt You" lacks the artist listing.
Lead guitarist Robert Lepore wrote to me with the history of the group, hopefully we'll have some photos at a later date:
The band started up in 1965. It consisted of Perry Cole (singer), Reggie Shaw (rhythm), Jack Pebbler (keyboard), Scott Lay (bass), Charlie Cablish (drums) and myself (lead). Scott, Charlie, and I were the core of the group. As time passed we brought in Colin Johnson (rhythm), Steve Starr (keyboard), and Doug Paone (keyboard). At the time of the recording Cole was gone and so was the rhythm position.

We all went to and graduated from Kirkwood High School in Kirkwood, Mo. A town about 30 miles from St Louis in St. Louis County. We played many school functions (dances, pep rallies etc.) as well as parties and some of the teen clubs that were so popular then such as Kirkwood Teen Town and the Rainy Daze teen club. We and another local group called the Extremes [who cut "Facts of Life" on Star Trek 1221 as the X-Treems] drew over 1,300 hundred kids one Saturday night. We also played frat parties as far as SE Mo. State in Rolla, Mo. and as far east as DePauw Univ. in Indiana.

At the time we recorded the songs the band consisted of Steve Starr, Scott Lay, Charlie Cablish and myself. Scott and I did the singing. I did the main part on "Love Won't Hurt You". We recorded the songs in the basement studio of a local late night DJ named Nick Charles from a top 40 station called KXOK. We recorded at 9 am on a saturday morning. I can remember our voices almost cracking because of the early morning after a late night of playing.

We put parts of the songs together in studio and had a good time doing it. I remember the DJ barking out some instructions to us from the other side of the glass and Steve saying "OK big daddy." to which he replied "Bullshit."

As far as the label we had nothing to do with that. My dad took care of that end of it. Cole and The Embers appeared on one [only] side because of a labeling error and we didn't really pick an A or B side because we thought both sides were good. Martinez was never in the group. He just collaborated with me on the songs.

Q. So the band kept the name Cole and the Embers after Perry Cole was gone?

We kept the name because most people called us the Embers or just the "'Bers"

I believe the the release date you have is not accurate. I was still playing an old Hagstrom 3 pick up guitar at the time. I replaced it with a Fender Telecaster which I bought long before your release date. We sold about 500 copies localy and both sides of the record were played on a local undergound station that was just starting up. KSHE 95.5 FM.

The band officially broke up in the summer of 1968. Charlie graduated in 1967 but went to a local university. Perry, Reggie, Doug and I graduated in 1968. We all went to college. Perry, Reggie and I all went into the Air Force. Steve, Scott and Collin graduated in 1969. I haven't kept in touch with any of them.

I did stay in music. The ten years I was in the service I didn't play much but I did write a bunch of songs that I put on tape just for myself. Then in 1985 I put a classic rock band together called Backtrack. It was very successful in St. Louis and the surrounding area. The band stayed together for nine years when in 1994 my bass player moved to Dallas and I to Florida. In Florida I put another classic rock band together called Goldrush. Everyone in this band could sing lead. We had such great harmonies. I moved to Texas about a year and a half ago. And you know once you've got the bug the music's in your blood so here I am, putting a praise and worship band together at church and I'm also putting another classic rock band together as well.

Robert Lepore
October 2009
Anyone have a photo of the group?