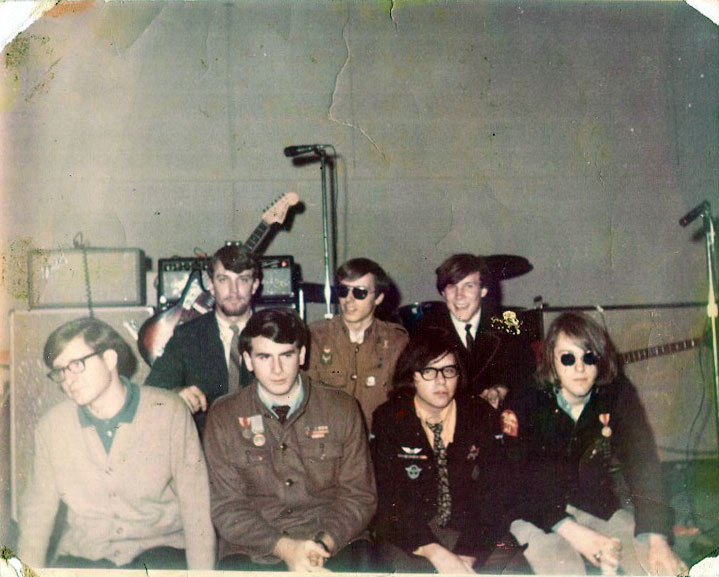 The Swinging Machine at the South Norfolk Armory
l-r: Wayne Richardson, Vince Screeney, Bobby Fisher, Lee Caraway, Dicky Bocock, Bobby Weaver and Gary Richardson
I've read many accounts that consider the Swinging Machine the best of all local bands in the Tidewater area back in its day.

In 1963 three friends from Oscar F. Smith High School in South Norfolk formed the Chevelles. The group included Evan Pierce, Jr. (lead guitar), Richard Bocock (drums) and Steven Curling (saxophone). At Old Dominion University they met Esdras ben Lubin who took over on lead guitar and vocals, and suggested the band change their name from the Chevelles to the Swingin' Machine. The addition of fifteen-year-old Billy Gene Stallings on organ helped their musical acuity considerably.

Esdras left the band and the group found Gary Richardson and Lee Caraway from the Villagers (out of Churchland High School in Portsmouth). Steve Curling left for college and was replaced by Bob Fisher, though Steve would occasionally sit in with the group.

At the time of the release of their 45 the band consisted of:

Gary Richardson (vocals)
Lee Caraway (guitar)
Billy Stallings (organ)
Bob Fisher (sax)
Evan Pierce (bass)
Dick Bocock (drums)

According to Evan Pierce, the band fought with their producer Frank Guida and was disappointed in the record. However, fans of the mid-60s band sound really love this 45, with "Do You Have to Ask" being especially tough and original. Frank Guida who was also owner of S.P.Q.R., is listed as one of the songwriters. "Do You Have to Ask" was recorded in the fall of 1965, "Comin' On Back Home" five or six months later.

"Comin' On Back Home" reached #39 on a Syracuse, NY AM radio station, WOLF 1490 in early June, 1966. How it reached the charts so far away from their base is a mystery.

Besides the 45 there is an early version of "Do You Have to Ask" and a simply amazing rocker, "Brother Look Out" that were unreleased at the time. They're both now available on the Aliens, Psychos and Wild Things series.

There is also a tape of ten cover songs recorded in a studio, probably made as a demo to get live gigs. The songs include versions of "Tell Mama", "Ain't Too Proud to Beg", "Fire", "Spooky", "Get Ready", "Wrap It Up", "Sunshine of Your Love", "Rock and Roll Woman", "To Love Somebody" and "Dear Eloise".

I would love to hear a live recording of the band – if anyone has a tape, please get in touch.

In 1967 Wayne Richardson joined on trumpet. Bob Weaver was a later member as well. Vince Screeney from the Sting Rays replaced Evan Pierce while he was in the army. Rocky Cantrell filled in on occasion.

Gary Richardson died tragically from a drug accident in July of 1968. The Swinging Machine continued for a short time with William "Rocky" Smith on vocals, but soon disbanded. Dick Bocock and Bob Weaver formed a new group, the Machine.

Their 45 producer Frank Guida passed away on May 19, 2007.

I want to say thank you to Diane for sending in these rarely seen photos of the band. Diane and Lee Caraway were married until he passed away in 1979.

Diane had this to say about the photos:

Anyone who hung out with the band will know the panel truck. That was their equipment truck for many years.

The Lighthouse pics show them unloading the equipment and setting up for the dance that night. The pics of them on stage don't do it justice because the camera won't pick up all the colors and psychedelics flashing on the stage background, the lights in that place were hooked into the sound system.

One pic is Gary and Wayne Richardson standing in front of a cottage the band was staying in at Nags Head when they were playing at the Casino.

Steve Curling wrote to me with his recollections of the band:

I will give you a brief history of the band as I saw it.

The band originally was called "The Chevelles" which consisted of Evan Pierce on bass, Dickie Bocock on drums, Bobby Fisher and myself on sax (I doubled on trumpet) and several different lead guitar players but the one I remember most was Eris Ben Lubin [Esdras ben Lubin] who was older and taught us the ropes. We didn't have an established keyboard player until Billy Stallings came along.

The band centered around Dickie's home. Dickie's father was a prominent doctor in South Norfolk and financed most of the equipment for the band. I loved hanging out at Dickey's because he lived on the Elizabeth River on about 4 acres with a pool and a 85 foot yacht named the Blue Haven which we spent many days and nights, plus he had all the toys including speed boats and a 1967 Olds 442 which Dickie and I decided to total one night coming back from the old Ambassor's club in Portsmouth.

I remember playing at several of the clubs on the Naval Base, the Ambassor's Club which we called the AB Club, the lighthouse and the casino at Nags Head. We realized that we needed a steady lead guitarist and a lead singer. While interviewing Gary Richardson for lead guitar we discovered he was a much better singer than guitar player plus his friend Lee Caraway came with him and he turned out to be a great lead guitarist and Gary stuck with singing. So the band was formed as the Swinging Machine and it really took off.

There was a battle of the bands and several groups entered the competition. Most of the people voted for their own local favorites. Since Gary and Lee were from Portsmouth and the rest of us were from South Norfolk we had the inside track on the voting from both Portsmouth and South Norfolk.

After we won the battle of the bands, things really started to happen but I had to make a decision on whether to stay with the band on continue with school. I left the group and headed to Roanoke College where I played on the weekends with several bands including Ricky and the Romans, a local Roanoke band consisting of 8 members.

During this period Evan joined the Army and only played when he had leave. In his absence, Vince Screeny filled in and did a great job. After Evan's Army service he returned to the group. I would occasionally play with the group but by this time they had become established with one sax and I mostly just filled in when needed on sax, bass and trumpet.

I don't recall the band ever going to California but I do remember talking about it since I was dating a girl from Los Angeles at the time and she was looking into renting a house for us in the Santa Monica area but it never happened. Instead we rented an old 2 story house off Indian River road and most of us hung out there to party, sleep and practice.

It was in this house that Gary died. He actually died on his own vomit. Bobby Fisher tried CPR but was unsuccessful. The band was scheduled to play at the Peppermint Beach Club and canceled. The band continued on for a while but disbanded shortly afterwards.

Lee decided to go into the ministry and rented a house from my uncle, Herman Johnson in the Great Bridge area off Cedar Grove Road. I saw him a couple of times with his Church bus but he had changed. Later I found out that he had a brain tumor which he succumbed 4 years later.

Bobby Fisher went on to play with Bill Deal and the Rhondels but by far the most talented member of the group was Billy Stallings, who was trained at Juilliard School of Music in New York. Billy practiced 6 to 8 hours everyday for years. His father owned the Triangle Billiards in South Norfolk. Needless to say, Billy could play anything. As soon as a new song would come out, Billy had already learned all the parts including the lead guitar, bass and the brass parts.

Billy was never a healthy person and the life of a musician was a hard one. Later Billy moved to Baltimore and I saw him one time at Evan's home years ago. I understand he passed away a couple of years ago.

After the band broke up Dickie lived alone in the home his father had built on the river. His father had a heart attack and died after the band was established. He has two brothers, Tom and Harry. I always thought is was funny that they was known as Tom, Dick and Harry Bocock. I would visit Dickie when I was in town and we would sit and reminisce the band.

I recently retired from USAirways and live on Lake Norman, North of Charlotte, NC. Evan Pierce owns an appraisal business in Norfolk. I hope this gives you an insight of the Swinging Machine as I lived it. It was a part of my life I will never forget.


Lee Caraway

Photos below from the Lighthouse, April 1968


Setting up at the Lighthouse


Bobby Fisher and Vince Screeney


Lighthouse interior


Lee Caraway and Wayne Richardson


Lee Caraway


Bobby Fisher on right


Lee and Gary


Dickie Bocock


Gary and Wayne at Nags Head – July '68


Bob Spain and Lee Caraway – July '68


Opening weekend at the Light House, July 1967!
Other groups include the Prophets in Flight, the Chaparrals, Beachnuts and Sound Effects.
The Hebrew writing on the poster translates to "Peace on the Land" – blessing the site of the Light House on its opening.


The "Swingin' Machines" opening a WNOR show for acts from Where the Action Is at Norfolk's Foreman Field along with lesser known groups like the Wild Kingdom, the Triumphs, the Knights and Kon Tiki and the Rafters.


At Boykins Fire House, December 30, 1967

All photos and poster scans courtesy of Diane except the Boykins Fire House poster (sent by Jay Jenkins of SouthernSoul.com), and the Ohef Sholom, Sigota Dance and Light House opening posters, which were sent in by Kelly Miltier. The Ohef Sholom, Sigota Dance and Foreman Field posters are from the collection of Billy 'Hurricane' Harrell.

Evan Pierce, Jr. has written a substantial history of the band that I recommend – look for Swinging Machine on Facebook.