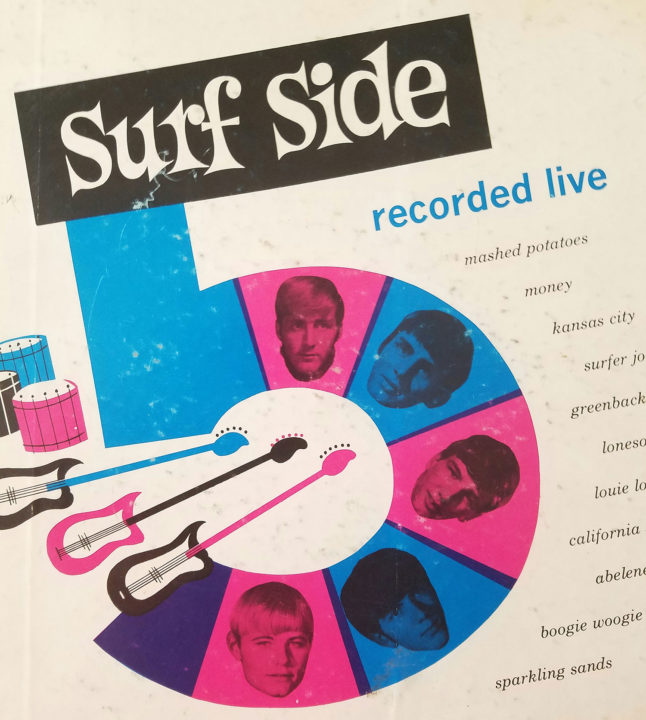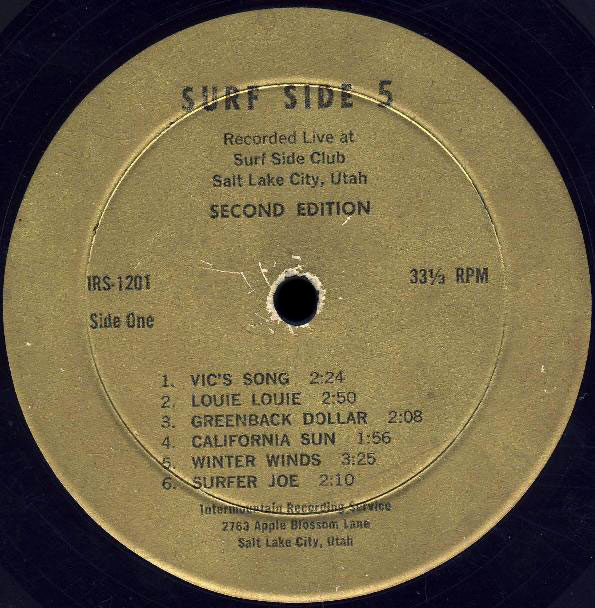 Steve Carter of Phoenix rescued this very rare LP by the Surf Side 5 from the trash, scanned the labels and transferred the LP to CD to share with Garage Hangover. Steve didn't find the cover, and it wasn't until August 2012 that Ed Nadorozny found the low-resolution photos of the front and back cover seen below.
Recorded live at the Surf Side Club in Salt Lake City, Utah in front of a small but raucous crowd, this is a solid set of mostly standard cover songs of the day. The performances are well done. "Sparkling Sands" is something of a standout and the track I would recommend.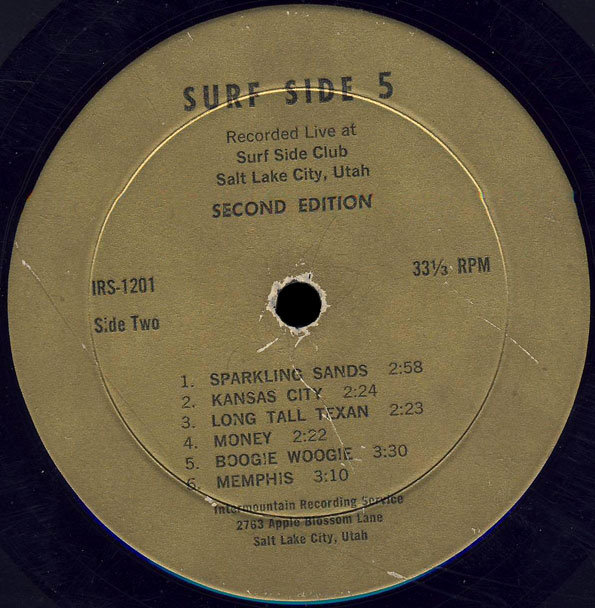 "Greenback Dollar", "Louie Louie", "Surfer Joe", "Memphis" (the Lonnie Mack version), "Kansas City" (the Trini Lopez version) and "Long Tall Texan" were all hits of 1963, and "California Sun" hit big in early 1964, so I think it's safe to date this to very early '64. Certainly there's zero British Invasion influence in their choice of material or style.
In 2017 I heard from Brent Littlefield, the drummer for the Surf Side 5 who sent in the larger cover scans seen here and answered my request for some history on the group:
I had a three piece band during high school and we mostly played at school dances and assemblies during the Beatles rage at Bountiful High School in Utah.

Walt Sanders (rhythm guitar), Randy Young (lead guitar), and Ted Gosdis (bass) all played together at Granite High School in Salt Lake City. I think Larry Higginson (lead vocal) was also with them. I joined the band in summer of 1964 right after high school graduation.

Walt's older brother George Sanders formed a teen club named Surf Side and the band played at the club for next to free after they deducted food and Cokes from our pay. That summer their drummer went on vacation and they asked me to sit in for the drummer until he returned from vacation. When he came back they asked me if I would stay and he was not invited back. We were rocking and bringing in packed crowds every night at the teen club.

When we cut the album we had only been together for about 4 months, after a few more months we really got good. The album is called the second edition because the first recording was done so poorly we made them re-do it for free. I have the original but it is terrible.

In 1965 during the "British Invasion" a promoter by the name of Al Michaels (from England) heard of us and wanted to help promote the band. He was very obnoxious but a good promoter. We had no money for promotion so he was on his own.

He arranged a "western tour" for the band. We spent a few days traveling in Idaho. In each town he arranged local performances for the band. We were greeted with convertible Cadillacs driven by a chauffeur and went through a downtown parade. We performed on the city hall steps in front of the mayor, the city council and the community. We performed at an old folks home and later that night participated in a "Battle of the Bands".

We stayed at a dumpy hotel, but it was OK because our groupies followed us from Salt Lake and a lot of the locals joined us. I guess we got a little crazy.

On the way out of town on Sunday we were listening to the local Sunday morning talk show and they were talking about these rock bands who come into town and raid their culture and people.

We played several gigs at the Lagoon Amusement Park, the same venue used by all the top groups of the day. The Everly Brothers, the Beach Boys, and Paul Revere and the Raiders and others all performed at the Lagoon.

We also played in big promotion concerts at the Terrace Ballroom, another great Salt Lake venue.

While I was in the band I worked in the teen club as a janitor, at Albertson's grocery as a bagger, and had a full schedule at the University of Utah. I flunked my 7 AM class, as I could never get my butt out of bed to get to class.

I quit the band in early 1966 as I got a pretty good job in the finance industry and planned on getting married in June of 1966.

Brent Littlefield
Feb 11, 2017
It's amazing that this LP had two editions, with some differences in song choice and the covers. The 1st edition, which the band withdrew, had "Mashed Potatoes", "Lonesome Town", "Abilene", which were replaced by "Vic's Song", "Winter Winds", "Long Tall Texan" and "Memphis" in the 2nd edition.
The Intermountain Recording Service has a Salt Lake address on the label, I believe the studio has moved and is now the Inter-Mountain Recording Studio in Carson City, Nevada, unless that is a different studio altogether.
The Surf Side 5 – Sparkling Sands (phase corrected)
Thank you to Brent Littlefield for his help in this article.