"The Weed" is the first single cut by Steve Purdy & the Studs, a group from the Homewood and Vestavia Hills suburbs of Birmingham, Alabama. A tribute to tobacco with a sound like "Money", its title and lyrics like "I need a pack of weeds that costs 15 cents" and "I wish somebody would give me a seed, that would grow me an instant weed, an instant weed would be mighty fine … give me a weed" made it into a cult favorite.
Steve Purdy and Vic Rumore share the lead vocals on "The Weed", Rumore may have been related to Joe Rumore, a popular DJ on WVOK and owner of Rumore's Record Rack; and his brother Angelo "Duke" Rumore, Birmingham DJ and impressario.
The flip of "The Weed" is "Hyannis Port Twist" which helps date this single to 1963 or earlier, along with the Southern Plastics code of SO 1292. The label was Vesta Records 200, located was 3106 Roxbury Road in Birmingham.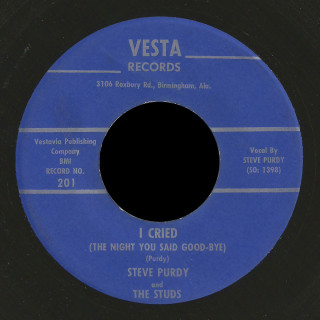 Besides Purdy and Rumore, the Studs included:
Jimmy Sullivan – lead guitar
Brooke Temple – rhythm guitar
Norman Hamm – bass
Billy McConnell or Steve Davis – drums
For their second 45, they cut two more Purdy originals, "I Cried (The Night You Said Goodbye)" with a sound close to rockabilly and "Johnny's Steady", more of a teen side but with an interesting Leslie effect on the brief guitar solo.
Does anyone have a photo of the group?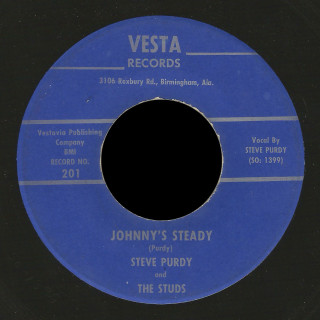 Purdy wrote all four of the songs, publishing through Vestavia Publishing Co. BMI. As far as I know these were the only two releases on the Birmingham Vesta label. There was another Vesta Records from Syracuse, NY with doo-wop releases by the Rhythm Cadets and the Eldoras.
Southern Plastics in Nashville pressed both singles, "The Weed" has SO 1292/3 while "I Cried" is SO 1398/9, which should help give exact release dates if anyone has compiled those codes.
Sources: the Alabama Record Collectors Association has a short post on Facebook about Steve Purdy and the Studs. Info about Joe Rumore from JoeRumore.net.