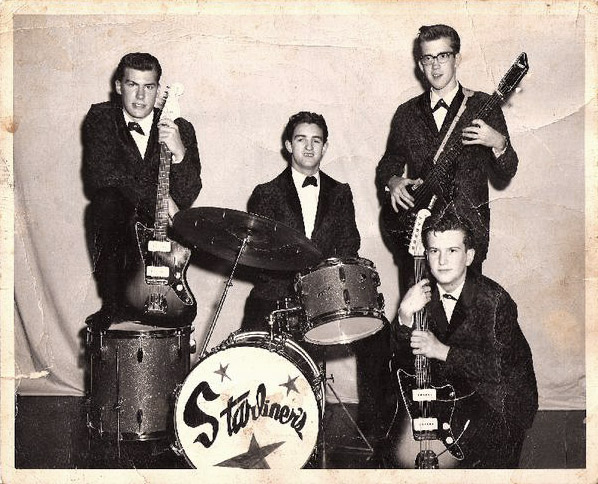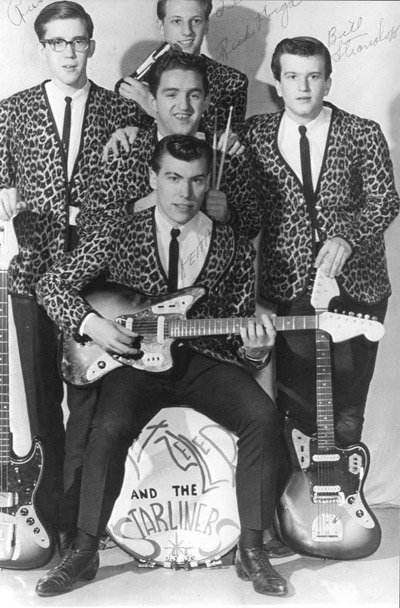 An early version of Keith Zeller & the Starliners had a successful 45 "Yellow Bird" / "Carry Mae" on Agar, a label owned by Ron Gjerde and distributed by Soma in 1961.One member of this first group was Bill Strandlof, the first lead guitarist for the Litter. Bill played on "Action Woman", "Soul Searchin'" and "A Legal Matter" before leaving that band to be replaced by Zippy Caplan.
With a change of lineup, the Starliners recorded their 1966 LP on LeJac, Live! at Papa Joe's Northern a Go Go, one of the rarest of all garage LPs. Their last release was a single as the Transplant in 1968.
1961
Keith Zeller – guitar and vocals
Billy Strandlof – guitar and vocals
Russ Wurst – bass
Rick Forga – drums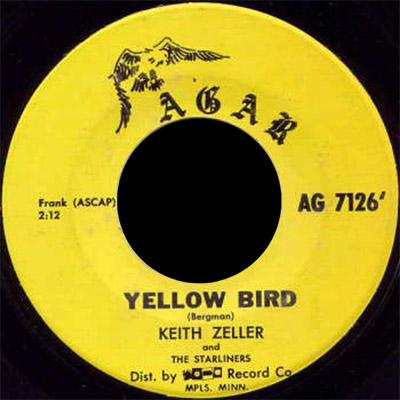 1962 – 1965
add Bobby Lee – vocals
1965 – mid 70's
Keith Zeller – guitar, piano, vocals
Jack Kollodge – bass, harmonica, vocals
John Rasnur – drums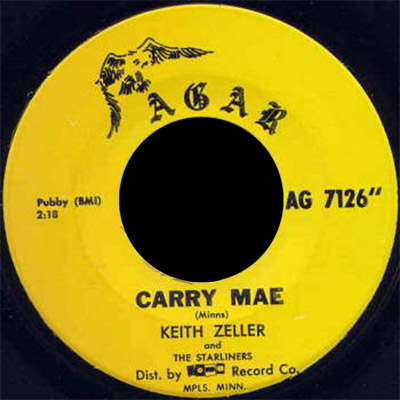 Scott Schell, who previously wrote about the More-Tishans for this site, presents the story of Keith Zeller and the Starliners:
Keith graduated from Stillwater High in 1962. He started playing guitar in 1959 after an inspiring lesson from Sonny James of "Young Love" fame.

Keith's dad Laurn (Bud) Zeller worked as a road manager for some of the top groups and singers in the '60's. To mention a few- Bobby Vee, Gene Vincent, The Fireballs, Bill Black's Combo, Roy Orbison, The Ventures, and many others.

Keith started the Starliners in 1961 as a four-piece band and then added vocalist Bobby Lee in about 1962. Keith played his own "after senior prom dance" in Stillwater.

The Starliners played most all of the local teen clubs in the '62-'65 years. To name a few, Mr. Lucky's, The Prom Ballroom, The Surf Ballroom in Clear Lake Ballroom, YES Club in White Bear Lake (a teen club) and various armories.

The Starliners were one of the first bands to play the State Fair in 1963. Keith also played that year with Johnny and the Galaxies filling in for Johnny Caola who had cut his fingers. One Thanksgiving Hop in St. Paul, they backed up Little Eva, Fabian, and Roy Druskie.

The Starliners, 1966, from left: Jack Kollodge, Keith Zeller and John Rasnur

After a few personnel changes, the Starliners became a trio in about 1965, after Keith returned from basic training from the Minnesota Air National Guard. The trio was Keith- guitar and piano, John Rasnur- drums, and Jack Kollodge on bass and harmonica. The trio recorded a live album at Papa Joe's A-Go-Go in Minneapolis in 1966. This is a rare record as only 280 copies were made. It contains an original song by Keith called "Broken Engagement".

The Starliners were put to rest in the mid-70's and Keith started a band called Group Therapy and played the Twin Cities Club scene until 1978.

Keith moved to Hawaii where he had country bands and backed up country Hall of Famers Tennessee Ernie Ford and country legend Hank Thompson and many others.

Keith played in a 50's group called Paul Flynn and Company till he moved back to Minnesota in 1991. He's sill active and playing live music weekly- blues, jazz, country, and good old rock and roll. Music has been good to him and he has been good to the music!
Scott Schell is author of Garage Sounds: Bringing Down the House, a pictorial survey of the St. Croix Valley garage bands of the 1960s, '70s and '80s published by the Washington County Historical Society.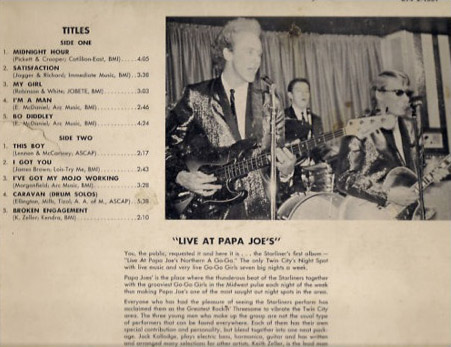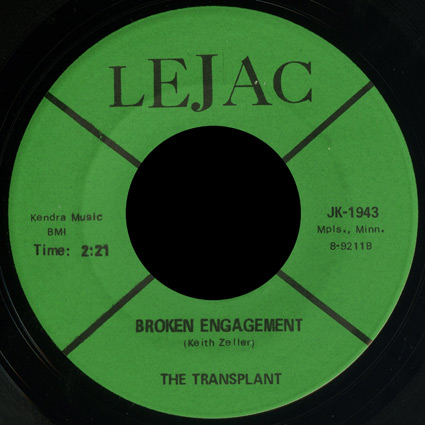 A few days after posting Scott's article I spoke with Keith Zeller about his career. I asked him about the Transplant single and for some more detail on his early days with the Starliners.Bobby Lee sang "Carry Mae", though it was the flip "Yellow Bird" that got the airplay. Keith has an unreleased acetate with an instrumental "Joyride" on one side and Bill Strandlof singing "Ubangi Stomp" on the other. Keith didn't like that LeJac overdubbed laughter and noise on "Joyride", and felt it ruined the track. Bobby Lee got married and Russ Wurst graduated college about the same time Keith had to serve in the National Guard, so the quintet broke up.
New bass player Jack Kollodge had been half of the Denny & Jack duo who cut "One More For The Road" / "Love You Everyday" on LeJac in 1965.
Using his two-track and one microphone Jack recorded a week's worth of shows and selected ten for the Live at Papa Joe's album. The Starliners ordered 500 copies but only about half were shipped. They sold what they had to friends and didn't bother to inquire about the other copies. On the 40th anniversary of the album Jack sent Keith a 3 CD set that included all the songs they left off the record!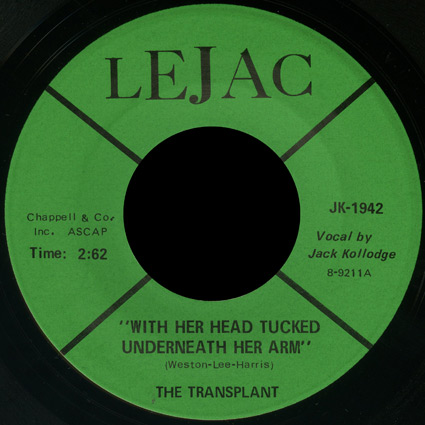 The Starliners trio of Zeller, Kollodge and John Rasnur also made a 1968 single as The Transplant on LeJac, one side being a slower, rerecorded (or at least remixed) version of "Broken Engagement" and the other Jack Kollodge singing a wild take of the bizarre horror-spoof classic "With Her Head Tucked Underneath Her Arm", probably learned from the Kingston Trio.
In the late '60s the group expanded to a quartet, with keyboardist John Fritz from St. Cloud joining for a couple years.
John Rasnur left the group and moved to Hawaii where he bacame a top session drummer. Jack didn't want to work without him, so Keith formed Group Therapy. Keith mentioned jamming with Bill Doggett a couple years before he died in 1996 as being a highlight of his career.
For more info on the LeJac and Agar labels, see the discographies I've posted on this site.
Special thanks to JP Coumans for the transfers and scans of the Transplant 45.
The Agar label scans taken from the Rockin' Country Style site.
More info on Bill Strandlof is available on The Litter's website.