Updated December, 2008
The Stains came out of Yale University in New Haven. They recorded one 45 in 1966, then disbanded and reformed as the Five Cards Stud.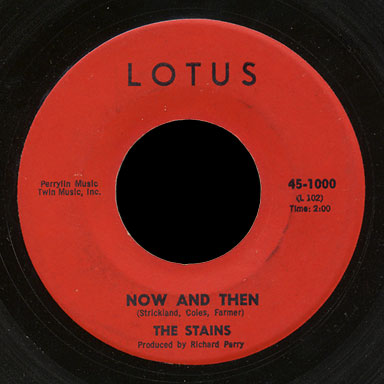 "Now and Then" is a garage classic, written by Gordon Strickland, Jonathan Coles and Mike Farmer. The actual A-side is a good cover of the Lovin' Spoonful's "Did You Ever Have to Make Up Your Mind", done with just a little crunch on the guitar.
Richard Perry produced the Stains 45 as well as their first single as Five Cards Stud, "Everybody Needs Somebody" / "Be-Bop-A-Lula" on Lieber-Stoller's Red Bird label. Perry would go on to produce Tiny Tim's and Captain Beefheart's first LPs. The Five Cards Stud cut another 45 for Smash, "Beg Me" / "Once", and the A-side became a pick hit on WLOF in Orlando in March of 1967, breaking into the top 20 in April.
Vocalist and rhythm guitarist D. Gordon Strickland spoke to me about his time with the Stains and Five Cards Stud:
I recall hearing "Hearts of Stone" when I was around 8 years old and became very interested in music. When Elvis hit the scene I knew what I wanted to do when I grew up. While I liked to sing and play the guitar, I didn't form a band until 1964, freshman year in college. I had been asked to be the drummer in a band in high school, but I declined since they only played instrumentals. It was also partly because I didn't know how to play the drums!

The Stains were essentially myself, Jon Lippincott on drums, Jonathan Coles on lead guitar, Rick Lander on bass and later Mike Farmer on Farfisa. Jon and Jonathan were roommates of mine and Rick lived across the hall. Mike was a year or two older and we hooked up with him after a few months.

In the beginning, I played rhythm guitar. Jon had never played drums and Rick had never played bass. We were pretty bad for a while. Jonathan played classical guitar having studied with Andres Segovia and cared little for rock and roll but agreed because he thought it would be fun. He never used a pick but played electric guitar with his fingers.

I don't quite remember how we hooked up with Tom Curtis, also a Yale student, but he became our manager. His grandfather and grand uncle were the Cohn brothers who founded Columbia Pictures so he had a flair for promotion. He actually came up with the name. Initially he wanted it to be Vandal Stains and the Daises but I declined to become Vandal so we settled on the Stains.

The first dance we played at was at the Yale Divinity School. It was actually quite amusing as the crowd was somewhat subdued. I got so worked up on stage dancing around that I kicked the main electric plug out of the wall so we ended a song midway through. The audience thought we were new wave.

There were several bands at Yale at the time. Prince La La was one that was heavy R & B. A local New Haven band called the Shags was popular. The Stains mostly played at colleges in the northeast.

Richard Perry was working for George Goldner when we met George and was also dating his daughter, Linda. George was old school. At one point, I was ad libbing during the fade out of one song we were recording and said Mary Jane. George asked me what that had to do with anything and when I told him it was slang for marijuana, he went back and deleted it. His glory days were behind him and he let Richard be more involved.

We signed with Red Bird but as you'd expect, never saw a dime. The problem was, and may still be, that the real money is in promotion. All we could ever get anyone to do was essentially pay for the session time and mail out some 45s. I remember going to a radio station in Hartford, CT and being shown a room stacked with probably 1000 45s that represented a few weeks of receipts. The station would obviously have slots for new songs by known artists so you were competing for very few openings in the play list. To get a better audience, you needed to spend money which our label never did.

Richard Perry had his "office in the Brill building in NYC. We visited him once and he told us he wanted us to do a cover of "Did You Ever Have to Make Up Your Mind" by the Lovin Spoonful. He had us practice it in his office. What he didn't tell us was that Kama Sutra Records was next door, the Spoonful's label. They heard us and came over to find out what we were doing. Needless to say they quickly released their version as a single which they hadn't planned on doing.

Richard Perry is the same guy who produced Streisand, the Pointer Sisters and others. I remember he played me a demo and said that this was going to make him a name. It was an atrocious song but he was right. He had discovered Tiny Tim. I was under whelmed by his musical prowess but shows what I know.

Tom Curtis got us a summer job at Harlow's in NYC, where the Rascals had recently played. Tom felt that the band members were not sufficiently strong to go "professional" so we held auditions and got three new Yale students and a keyboard player from Upsala College, in essence an entirely new band. The new members were all accomplished musicians but we had to learn a lot of material in a short period of time.

We were at Harlow's for 10 weeks, playing from 9 – 3 am, half hour on half off, six nights a week. We were reviewed by Variety, again courtesy of Tom's connections. That summer we also opened for Otis Redding at Central Park. Again, Tom called up and spoke to the President of Rheingold Beer, the sponsor, and talked us on to the show. This was the first time I had seen Otis live and afterwards it made me wonder what I was doing in the business although he said to me as we left the stage, "Not bad, kid". We also played at Palisades Park on a Cousin Brucie show that included Marvin Gaye.

The last song we recorded was produced by Artie Kornfeld, who later organized Woodstock. That song, "Beg Me", was a remake of a Chuck Jackson song and had some success, reaching number 2 in Raleigh and number 18 in Orlando. Again we saw no money and there was no effort to promote the song.The way it got to number 2 in Raleigh is that the local radio station was doing a spot for a local band that didn't have a record so just happened to pull ours from a pile and played it in the background. He started to get calls so started playing the record. He told me it would have reached number 1 but it was based on local record sales and they ran out of copies. We ended up playing before about 10,000 people in Raleigh on a show with the Tams.

I would have continued to pursue music but after college in 1968, I had two choices, get drafted into the Army or volunteer for the Navy. I did the latter and when I got out about three years later, it just seemed too late. I did write a few songs and even had Richard Perry interested in one of them but nothing came of it.

D. Gordon Strickland
Anyone have a photo of the group?

"Beg Me" at #8 on WKIX's top 30 in Raleigh NC, May 20, 1967