Simon Scott & The All-Nite Workers (May 1965-August 1965)
Simon Scott – lead vocals
Mick Stewart – lead guitar
Ron Thomas – bass
Don Martin – organ
Mel Wayne – sax
Dave Mahoney – sax
Eddie Thorpe – drums
Ron Thomas, Don Martin, Mel Wayne and Dave Mahoney had all recently worked with Mike Dee & The Prophets alongside singer Mick Wheeler (aka Mike Dee), lead guitarist Dave Claridge and drummer Ken Hope.
When Mick Stewart replaced Dave Claridge on lead guitar in late April/early May 1965, Mick Wheeler and Ken Hope decided to leave the band and The Prophets split up.
Mick Stewart was responsible for the link up with Simon Scott, who he'd previously worked with. With music impresario Robert Stigwood representing the band, the remaining Prophets changed name to The All-Nite Workers, taking the name and spelling from the Rufus Thomas song.
On 15 May, two days after Mike Dee & The Prophets formally split, the group met with Simon Scott for a rehearsal at Rayrick Sound in Hampstead. Two days later, the musicians met Robert Stigwood for a meeting with his Starlight Agency in London. Then, on 19 May, they returned to Rayrick Sound for a second rehearsal with Simon Scott.
On 25 May 1965, Simon Scott and The All-Nite Workers recorded "Tell Him I'm Not Home" (featuring Goldie & The Gingerbreads on backing vocals) at Regent Sound Studios in Denmark Street along with a track that was never released – "Simon Says". The former track was subsequently coupled with an earlier recording – "Heart Cry" for a lone single on Parlophone, released on 25 June 1965.
Scott performed the A-side on Ready Steady Go, which was recorded at Studio one in Wembley on 2 July and broadcast on 9 July. Also on the same show were The Yardbirds, The Dave Clark Five, The Ivy League, Zoot Money Big Roll Band, Lulu and Goldie & The Gingerbreads.
Stigwood, who was acting as manager by this point, also arranged for the band to record an album's worth of material at Regent Sound over a two-week period in late May-early June. The album, which contained tracks like "Last Night", "Watermelon Man", "Night Train", "Land of a Thousand Dances" and "Mr Pitiful", has never been released.
On 23 June, the band cut two tracks with Simon Scott at Rayrick Sound, Hampstead that were never released – "Son This Is She" and "One Kiss".
After rehearsals at the Viaduct and King's Arms pubs in Hanwell (just down the road from Jim Marshall's shop), Trafalgar School in Twickenham and Northfields Community Centre, The All-Nite Workers participated in a short UK tour with Simon Scott from late June-late July, travelling as far north as the Drill Hall, Dumfries and as far south as the Bude Country Club, Eastleigh.
On 30 July, Simon Scott & The All-Nite Workers attended Rayrick Studio in Hampstead to rehearse two songs with the intention of recording them – "Oo Wee Baby" and "Better Get A Move On". On 3 August they had a second rehearsal but a recording on 5 August was cancelled, possibly because the relationship between the musicians and Scott was coming to an end.
Shortly after a final gig in Greenford on 15 August 1965, the band left Simon Scott. The musicians worked independently as The All-Nite Workers until about September/October 1965 when they joined forces with future Sweet producer Phil Wainman.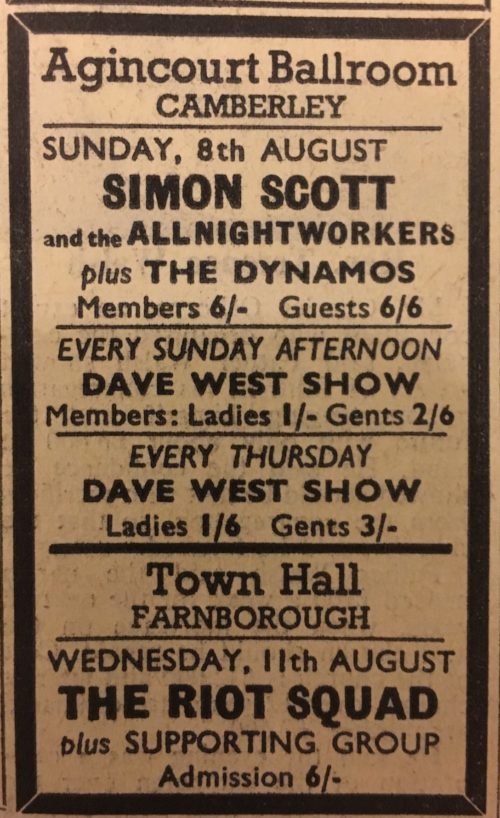 Gig list:
22 May 1965 – Starlight Ballroom, Greenford, Middlesex with Hysters (most likely without Simon Scott)
5 June 1965 – Half-way House, Southall, Middlesex with Four Jacks and a Joker (most likely without Simon Scott)
25 June 1965 – Cheltenham Spa, Town Hall, Cheltenham
26 June 1965 – Maple Ballroom, Northampton with The Shames
30 June 1965 – Marquee, London
3 July 1965 – Carlisle Market Assembly Hall, Carlisle, Cumbria with Sax-Band
9 July 1965 – Winchester Lido Ballroom with The Del Rio Four
10 July 1965 – Bude Country Club, Eastleigh, Hants with The Bunch
16 July 1965 – Southsea Savoy Ballroom, Southsea, Hants with The Informers
19 July 1965 – Shrewsbury Mons Ballroom (van ran out of petrol on the way back)
22 July 1965 – Locarno Ballroom, Swindon, Wiltshire
23 July 1965 – Harwich Town Hall, Harwich, Suffolk (cancelled)
24 July 1965 – Dumfries Drill Hall, Dumfries, Scotland with Simon's Gentlemen
6 August 1965 – Welfare Centre, Corby, Northamptonshire (cancelled)
7 August 1965 – Justin Hall, West Wickham, London with C-Jam Blues
8 August 1965 – Agincourt Ballroom, Camberley, Surrey
10 August 1965 – (Top Hat?), Littlehampton, West Sussex (cancelled)
14 August 1965 – Il Rondo Ballroom, Leicester
15 August 1965 – Starlight Ballroom, Greenford, Middlesex
Copyright © Nick Warburton, 2014. All Rights Reserved. No part of this article may be reproduced or transmitted in any form or by any means, without prior permission from the author.
To contact the author, email: Warchive@aol.com
Many people helped piece this story together. My personal thanks go to: Don Martin, who shared his diary and live dates from 1965. Thanks also to Ron Thomas, Mel Wayne, Mick Stewart, Simon Scott, Brian Hosking and Phil Wainman.