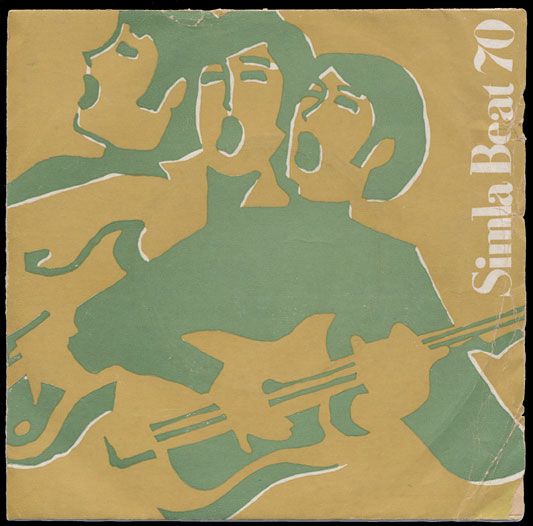 This is about as obscure as garage rock gets. For two years, 1970 and 1971, a cigarette company in India sponsored a battle-of-the-bands competition, with the winners going to Calcutta to record for compilations called Simla Beat.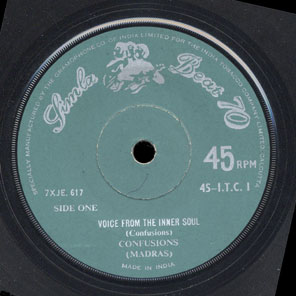 Each year an album was released with no info about the bands other than their hometown. Also issued was this 45 with two of the better tracks and some silly liner notes on the back of the sleeve (detail here).
Some people think this is a hoax, or that the recordings came from somewhere other than India. It's true that some bands have a similar sound, though this could be from sharing a studio and perhaps instruments as well. Also, the bands lean heavily on American rock of the time and show very little British influence.
The Confusions from Madras cut this amazing original, "Voice from the Inner Soul". It has a tough, heavy sound with a rudimentary beat, sharp bluesy guitar fills, and an organ sound right out of 1966.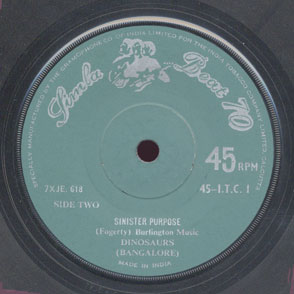 The Dinosaurs, from Bangalore, contribute a fine cover of Creedence Clearwater Revival's "Sinister Purpose", giving Fogerty writing credit, somewhat surprisingly given the usual global practice of song appropriation. This one has nice fuzz guitar and gravely vocals. I'd say it surpasses the original.
All my research so far turns up no other information about the groups on these releases. Hopefully someone associated with this project will come forward and fill us in on the story behind Simla Beat.