A partial discography for Showcase shows the styles and production credits to be all over the map, with soul, folk, and even show tunes. Mop Top Mike wrote to me "The S400 series was the 1965 release numbering for Showcase. They switched it to 98xx in 1966; 99xx in 1967."
S-401 – Gary Burghoff – As I Am / Rainbow
S-402 – Little Freddie & the Gents – Betty / Push, Kick & Shout (group from Ft. Lee, New Jersey)
S-403 – The Wouldsmen – What's The Use Of Crying (Adler-Ross, pub. by George Paxton, Inc., ASCAP) / Summer's Over
S-404 – Shan Dels – Please Stay / Treat Me Like a Man
9800 – Mat Matthews – Milk and Honey / Shalom
9801 – ?
9802 – Sonny Stevenson – Night Stroll (parts 1 and 2)
9803 – ?
9804 – ?
9805 – Beverly Ann – Great Pretender / We Got Trouble
9806 – Adam & Eve – The Game of War / Hang Me From The Highest Tree
9807 – Johnnie Shepherd – Coming Home / Mr Weather Man
9808 – ?
9809 – The Parris Mitchell Voices featuring Chips Murphie – We Need a Little Christmas / Mame
9810 – Henry the IX – Don't Take Me Back, Oh Nooo! / Don't Take Me Back (part 2) (Beducci)
9811 – Lost In Sound – You Can Destroy My Mind / Stubborn Kind Of Fellow (August 1966)
9812 – Yesterday's Children – Feelings / Wanna Be With You (September 1966)
9813 – Larry Benson – I Do, I Do / Together Forever
9814 – Don Goldie – Popcorn / Summertime
9901 – Maurice Bower – What's More American / America The Beautiful
9902 – Beechnuts – Nature's Company / My Iconoclastic Life
The Beech-Nuts (not the Lou Reed group the Beachnuts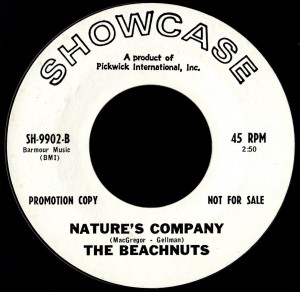 – even though he did plenty of work for Pickwick) cut their Showcase 45 at Majestic Studios in Manhattan, a studio also used by the Lovin' Spoonful. I've read the Beechnuts record was bootlegged years ago.
There were at least two other Showcase labels, unrelated to the Pickwick one. Davie Gordon writes, "The 2500 series was from Nashville … the label changed its name to Sound Stage 7 and became Monument's R&B subsidiary. There was another Showcase label using a 10xx series but it has no connection to the others. It's from the early sixties."
2500 – Barbara Grindstaff – Have Mercy (Mr. Lonely) / Where the Red Roses Grow
2501 – Delcos – Arabia / Those Three Little Words (Distributed by Monument Records, Nashville)
Sources include: Beech-Nuts info from Beyond the Beat Generation. Special thanks to Mop Top Mike and Davie Gordon for help making sense of the Showcase release numbering, and to Rich, Max Waller and Ad Z. for their help.