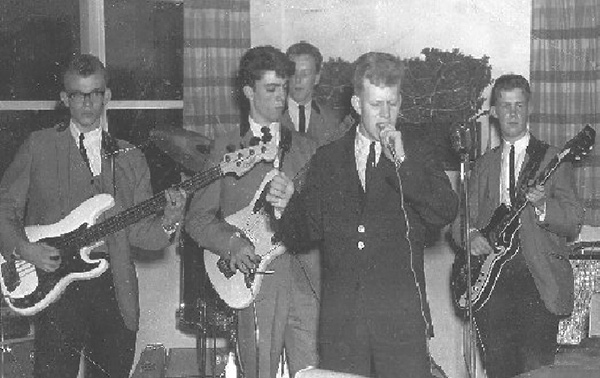 Updated June, 2016
The Shays came from Mount Prospect, Illinois, northwest of Chicago, and released one 45 on Astra, "People've Been Sayin'" / "Tell Me Where". These two tracks feature basic but solid two-guitar instrumental backing for the vocalist.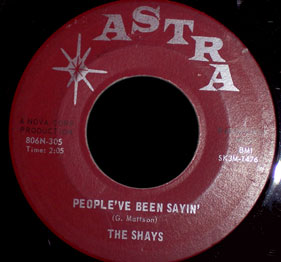 Members were:
Ken Heinrich – lead vocals
Denis Ahlborn – lead guitar
George Mattson – rhythm guitar & backup vocals
Steve Naylor – bass
Jim Harvey – drums
Both songs were written by George Mattson, who contacted me about the band:
Jack Schapps owned three music stores in shopping centers in suburban Chicago and Astra Records was kind of a sideline business of his. The Shays' bass player, Steve Naylor, and myself worked at his music store at Randhurst Shopping Center in Mt. Prospect and Jack agreed to record our band on his label. I understand that he had worked for RCA records before going into retail, therefore we recorded at the RCA studios in Chicago (somewhere near Navy Pier) around 1965. We did get airplay on WCFL-AM for "Tell Me Where", which is what we considered the A side. Originally the playing time was almost 3 minutes. WLS told us that was too long to get airplay on their station. At that point, Jack had the 2nd verse removed to reduce the playing time. WLS still wouldn't play it. 😉

While checking out your website, I discovered the pics of "The Mouse Trap" club in Vernon Hills. The Shays played there regularly in the mid-60s and I still remember The Riddles as another regular band from there. It was another flashback to see the photo of Phil Metzler there. I believe Phil was the guy who started the rumor that burned through the NW suburbs that The Beatles might make a stop at the Mouse Trap after their concert at Comiskey Park in 1965. That night the club was the most crowded that I ever remember. (Phil was a real promoter.)

George Mattson
As George added in a comment below, "we basically were busted up by the Viet Nam draft around 1966-67."
This group was not connected to the Shays from Canada who had a couple 45s on Roman Records.
Astra Records were part of the Nova Corporation in Hillside, Illinois. Their RCA account number was 806N, with original songs (such as the Shays and Bobby Stanton Sextet) published through Randhurst Music, BMI. There about five other Astra labels from the '60s including the the reissue label from Pittsburgh and one from Detroit specializing in doo-wop and r&b.
Astra Records discography:
Astra 300: Bobby Angel and the Hilltoppers "Submarine Races" / "Heartbreak Hotel" (instrumental) (N8OW-7560/1, 1962)
Astra 301: Bobby Stanton Sextet Scree….Aghh" / "Scree….Aghh's Gone" (1963)
Astra 302: Tommy Johnson & Bobby Stanton Quintet "Do You Mean What You Say" / "Coolin' My Heels" (both by Emme Mullis & Ruth Kling, P3KM-8119/20)
Astra 303: ?
Astra 304: ?
Astra 305: The Shays "People've Been Sayin'" / "Tell Me Where" (1965, SK3M-1475/6)
Thank you to George Mattson for the photo and information on the band, and to Gary Cease for providing the photo of the label.