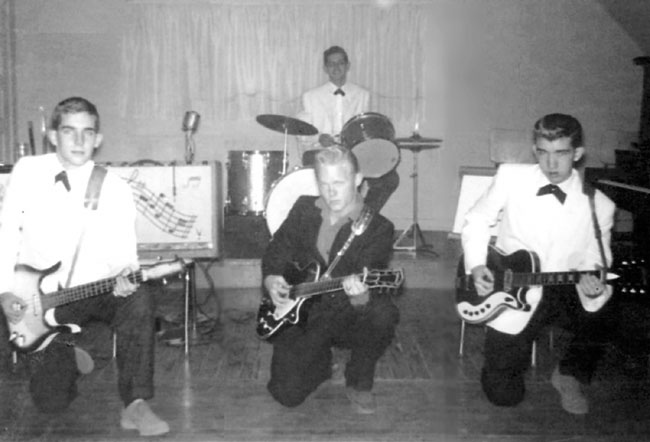 Lonnie Lee and the Big Beats, circa late 1960
from left: Dale Roark (bass), Lonnie Lee Edens (guitar), Jerry Woods (drums), and Archie Barnes (guitar)
"I had just turned 17 when this picture was taken. I believe Archie was 14!
It was taken at the Starlite club in Bartlesville, Oklahoma." – Dale Roark
Dale Roark of the Escapades sent these songs and recollections of his start in music in the town of Bartlesville, forty miles north of Tulsa:

These recordings chronicle three musicians from Bartlesville, Oklahoma from 1961 until 1966.

The area around Tulsa in the late 50's and early 60's was a hotbed of musicians. David Gates (later 'Bread'), Johnny Cale (later J.J. Cale), Tommy Crook (local guitar legend that stayed put), Leon Russell plus traveling Arkansas bands such a Ronnie Hawkins and the Hawks (later 'The Band'), Charlie Daniels and the Jaguars (yes, that Charlie Daniels), and the McClellan brothers (The Five Emcees) out of Okmulgee, Oklahoma, all put their mark on the local music community. The Paradise Club in particular was a venue where musicians would casually approach the bandstand with "hey man, can I sit in?". It was always fun but occasionally Tommy Crook, Roy Clark, or some of the other professionals would just blow you away. Any musician could request and it was understood that you would let them. It was competitive but also an inspiration.

Dale Roark (bass), Archie Barnes (guitar), and Denny "Zoot" Freeman (drums) formed a group called The Ravens in late 1959 and played local YMCA and high-school gigs for about a year. I was a high school junior. Archie and Denny were both in the 8th grade. A year later we joined up with Lonnie Lee Edens and formed Lonnie Lee and the Big Beats. We played the local night-clubs and did pretty well for a bunch of high schoolers.

During my senior year Dale Smith, my high school choir director, approached the group about backing him up on an original song he had written. As you will see, he had a beautiful Perry Como-type voice. He rented time a Tulsa TV station studio and me, Archie, and Denny plus Richie Dickerson (9th grade – piano) backed him up. When you listen to Archie's solos, keep in mind that he was in the 9th grade! Let's Fall In Love (Mr. Smith's original) and Canadian Sunset Twist were the result.

I went off to Oklahoma State University and wasn't active in music my freshman year but right before the end of the winter semester I was approached by Kent Washburn to join the "Shadow Lake 8" for the summer gig in Noel, Missouri. The band had been a staple at OSU for years with graduating members being replaced by new, younger talent. They also needed a guitarist so I introduced him to Archie and his mother agreed to let the young sixteen year old join the band. The drummer quit the first week there and Denny was contacted and drove out the next day.

The band at that point consisted of:

Kent Washburn – Tenor Sax and Band Leader
Amos Ming – Alto and Baritone Sax plus flute
Terry Mead – Trumpet and Valve Trombone
Bing Vasser – Trumpet
Bill Schooler – Piano
Archie Barnes – Guitar
Denny Freeman – Drums
Dale Roark – Electric Bass

During the winter of 1963, Kent's younger brother, Gary, replaced the piano player with his brand new Hammond B-3 organ and the dynamics of the group started to change. A demo tape was made at the Tulsa University ballroom. Single mike, no mixing, direct to tape and later cut as a demo. It is 45 years old and has a lot of pops and scratches so I only included a couple of snippets to help contrast with later recordings.The last 30 seconds of "Splankie" show Denny's mastery of big band jazz. The last two minutes of "From the Heart" (a Ray Charles number from his "Genius Plus Soul = Jazz" album) show off Archie and Denny's 10th grade musician skills. Denny was a huge jazz fan and his talents are present in his kicks and comping abilities. Archie shows a sophistication that few rock and roll musicians could conceive at such a young age. It also allows comparison between Gary's "All Skate" tone to the later recordings as he finally mastered the tone controls of his B-3. He was also in high-school at the time.

That next summer we played at Rockaway Beach, Missouri. It is a resort town of about a hundred people just a few miles from Branson. It predated the Branson we know now and was the "in" place for college kids from Kansas City, Springfield, Memphis, Saint Louis etc. to go. The club was huge by that day's standard and probably held a couple of thousand people. The group tightened up quite a bit but I quit the following fall for personal reasons. I was replaced by Bill Hieronymus and the following summer they toured the Florida night club circuit as "The Jades".

"South Parkway" / "Power" on Em-Kay – [this repeats Dale's comment, below]:

The Shadow Lake 8 – South Parkway
The Shadow Lake 8 – Power

I believe it is the only released record the Shadow Lake 8 / Jades ever cut. These two sides were made after I left the band. "South Parkway" was a major street in Tulsa at the time so that's what they called the first cut. I am pretty sure that was Amos speaking "g'wan to South Parkway" at the start and Archie counting then Kent speaking on "Power".

Kent gave me a copy and I took it into Stax records and played it for Steve Cropper the very week I moved to Memphis but Steve wasn't interested in either the record or the group because of their own in-house musicians. I lost my copy somewhere between Memphis and a half dozen other places over the past 45 years.

I don't hear any trumpets so I guess it is:

Kent – Tenor Sax
Amos – up front and center on Baritone Sax
Gary – Organ and Piano
Archie – Guitar
Bill – Bass
Zoot (Denny) – Drums

Maybe one of the guys can acknowledge or correct me. Archie's solos are typical of Tulsa area guitarists at that time . . . speed, speed, speed . . . It wasn't the most melodic but the dancers loved it!


Both songs by M. Kent Washburn. Rite Pressing #12877/12878 which dates it to 1964.

The band pretty much stayed together for several more years. I had moved to Memphis and was the leader of a group called The Escapades. We were under contract with Sun records and Kent contacted me during the summer of 1966 about cutting a record at Sun. The following four Jades tunes were the result:

Rainbow Riot – A Bill Doggett tune the band used as their theme song
High Heel Sneakers – Kent and Archie doing the vocals
I Got a Woman – Gary Washburn rockin' on his B-3 including the bass pedals
Come and Take Me Baby – An original with Archie Barnes vocal and local Memphis back up singers

Bing Vasser had left the band prior to this but the rest of the musicians were together. I substituted on bass for Bill who couldn't make the session. The group stayed together a little while longer but then went their separate ways. To the best of my recollection, with some help from Bing Vasser:

Amos Ming– became an accountant in Nashville with Brenda Lee as one of his clientsKent Washburn – moved to the West Coast and became a Christian Record Producer

Gary Washburn – became a music professor at the University of Hawaii

Bing Vasser – obtained a Masters degree in music from Tulsa University and taught music in Idaho Falls, Idaho. He then returned to Tulsa University to graduate with a Masters degree in mathematics and music computation. His computer music programs were used to produce synthesized music in one of the early computer music conferences held in Tulsa featuring Aaron Copeland.

Dale Roark – formed The Escapades in Memphis, was drafted into the Army, then earned a degree in Computer Science and had a 30 year high-tech career. He now lives in Eagle Mountain, Utah within 1 mile of his 4 children and 6 grandchildren.

Terry Mead – joined Brenda Lee's back-up band then moved to Nashville for a successful music career. He played on the live TV show "Nashville Now" for several years until ill health caused his retirement. Terry died May 13, 2007.

Archie Barnes – joined Brenda Lee's back-up band then moved to Toronto

Denny (Zoot) Freeman – joined Brenda Lee's back-up band then moved to California. He passed away in 2000.

Bill Hieronymus – went back to school and earned a degree in geophysics from the University of Houston. He became a consultant with several major oil companies and was well respected for his analytical expertise. He was also cited by Downbeat Magazine as one of the premier jazz bass players in America. He died on Thanksgiving day, 2008.

Dale Roark, April 2009 (Original Text)
Bing Vasser, (Update and corrections)

Dale and Ken Washburn have created their own website for the Shadow Lake 8 at ShadowLake8.com with more information and photographs.