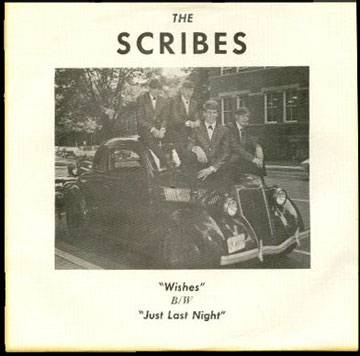 Updated June 1, 2010
I knew hardly anything about The Scribes until I was put in touch with their lead guitarist Danny Brewer. Danny kindly answered my questions over the phone this last Sunday.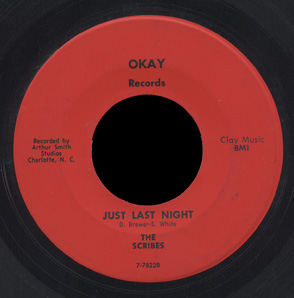 As it turns out, the band was from Rock Hill, South Carolina. Besides Danny, their members were Ray Howison guitar and keyboards, Darryl Whitington bass and Steve White on drums.
Danny and Ray formed the band in 10th grade in high school, initially playing local skating rinks, private parties and a bowling alley. Their main competition was a group called the Open Roads.
The Scribes recorded this 45 at Arthur Smith Studios in Charlotte, North Carolina, just 25 miles from Rock Hill. The band was about 16 years old at the time. This studio, owned by Arthur "Guitar Boogie" Smith, was also the one used by the Paragons on their classic punker "Abba", not to mention where James Brown recorded "Papa's Got a Brand New Bag".
Lively guitar work and good singing distinguish "Just Last Night", written by Danny Brewer and Steve White. Danny told me he used a different guitar tuning for this song, tuning the high E string down to a B.
The A-side "Wishes" is more conventional, but enjoyable nonetheless, it was written by Brewer and Howison.
The Okay label was named after the OKay Boys and Mens shop, whose owners helped the band get their record produced. The band pressed up several hundred copies which they sold to friends in high school. The photo was taken with a friend's car on the campus of Winthrop University.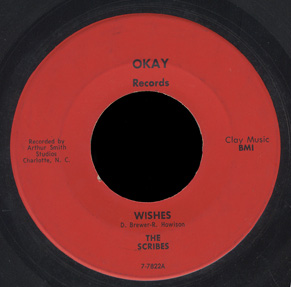 For decades this record was unknown outside the area, but a number of unplayed copies with the sleeve turned up a few years ago and started trading for a lot of money. I saved myself close to $200 by buying a used copy of the 45 without the sleeve.
After high school the band added horns, becoming the Scribes Revue, specializing in soul music and playing clubs and colleges around the area. Eventually Danny was the only original member left in the group.
After the Scribes Revue, Danny joined Billy Scott and the Georgia Prophets. Danny played guitar on the Three Prophets' modern soul 45 from 1971, "I Think I Really Love You" on the Together label.
Thanks to Danny Brewer and to Mike Cobb for putting us in touch.