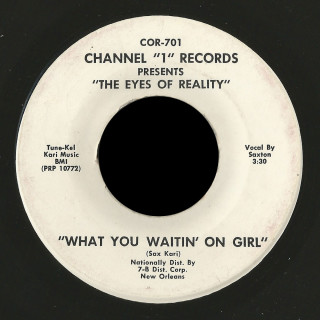 Recently I picked up two singles on the Channel "1" label, by the Eyes of Reality and the Systems. The label intrigued me for the 7-B distribution listed at the bottom, as 7-B, or Seven B, was a great New Orleans funk label owned by Joe Banashak.
I quickly realized these were not New Orleans productions, but instead came out of the Mobile, Alabama studio of Sax Kari, who wrote, produced and/or sang on each of these.
Saxton Kari had a long career in music, but I know his name mainly from Preston Lauterbach's eye-opening history, The Chitlin' Circuit.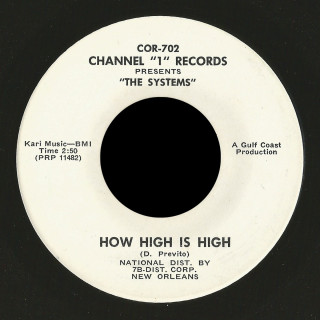 The first single on Channel "1" was the Eyes of Reality doing a laid-back funky come-on, "What You Waitin' On Girl". The flip is the even more mellow ballad, "Goin' Back". I'm not sure who was playing in the Eyes of Reality, but Saxton Kari wrote and sang both sides.
Next comes what sounds like a real band, the Systems, doing an original by Doug Previto, "How High Is High". I presume Doug was a member of the group. The flip is "Where Did I Go" a song by Carson and Tim Whitsett. Tim Whitsett led the Imperial Showband with Tommy Tate, who cut the definitive version of this song for Musicor.
Francine King cut the third Channel "1" single, "Two Fools" a spare funk vocal that has its fans.
I haven't heard the next Systems single, the intriguingly-titled Sax Kari composition "The Story of My Hair" b/w another Doug Previto song, "Oh How I Wish". The group's name is listed as simply the System, singular, and the label has a new design. The label name was spelled Channel One for COR-711 and COR-712.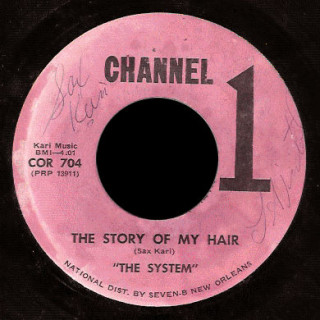 The last single on the label is another one I haven't heard, Simon Birk's "Babbalulla".
Channel "1" Records discography
COR-701 – Eyes of Reality – "Goin' Back" / "What You Waitin' On Girl" (PRP 10771/2)
COR-702 – The Systems – "Where Did I Go" (Carson Whitsett, Tim Whitsett for Whitsett Bros Music/Catalogue Music BMI) / "How High Is High" (Douglas Dwight Previto, Kari Music BMI) "A Gulf Coast Production"
COR-703 – Francine King – "The Grapevine Can't Tell You" / "Two Fools" (PRP 11471/2)
COR-704 – The System – "The Story Of My Hair" (Sax Kari) / "Oh How I Wish" (Douglas Dwight Previto)(PRP 13911/2, )
COR-711 – Francine King – "Dirty Man" (Bobby Miller) / "Yo Yo"
COR-712 – Dirty Red Morgan Group – "Your Chicken Ain't Funky Like Mine" / "Finger Lickin', Funky Chicken"
COR-720412 – Simon Birk – "Babbalulla" (J. Simmons, Channel One Music) / "Love Never" (PRP-38351/2)
COR-770518 – Benny Watson – "Sunday Afternoon In Memphis" / "Going Down for the Third Time" (both by Jerry Powell, released 1977)
Unless indicated otherwise, all songs written by Sax Kari and published by Tune-Kel and/or Kari Music BMI.
Thank you to Peter for pointing out a few unknown to me, and to Gordon Dodson of the Barons from Ozark for the scan of the Francine King single.