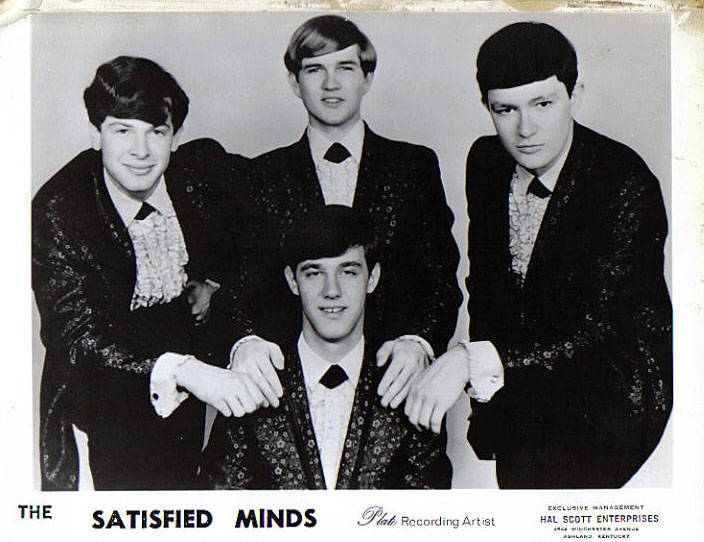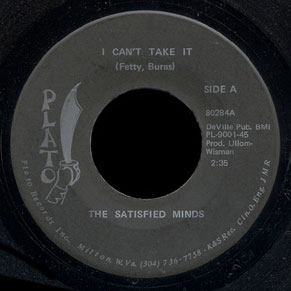 The Satisified Minds formed at Marshall University in Huntington, West Virginia and recorded the first and liveliest garage 45 released on the Plato label. Fuzz guitar drives this one throughout, and the distortion gets especially wild during the solo. "I Can't Take It" was written by Darrell Fetty and Yancey Burns. Darrell Fetty also wrote the softer b-side, "Think About Me".
I just heard from Yancey Burns, bassist and vocalist (and later guitarist) with the group. Following is his history of the group and his answers to some questions I had about the band.
My name is Yancey Burns, and I'm the Burns in "Fetty/Burns" on the Plato record "I Can't Take It" by the "Satisfied Minds." When I found out about your website, I was shocked that anyone remembered what we were up to in 1967.

from left: Yancy "Ed" Burns, Hale Talbot, Mike Fincham, & Darrell Fetty. Thank you to Lola Fincham for the photo scan

Our record did very well here in the West Virginia, Kentucky, and Ohio area, but never charted. At the time, Darrell and I were going to Marshall University in Huntington, West Virginia. The band had personnel changes all through our time at Marshall, but the constant in the band was Darrell and I. The first photo is the original line-up on the record: Darrell on B-3 organ and vocals, Danny Ward on guitar, Hale Talbot on drums, and me on bass and vocals.

I switched to guitar later when we went to a three-piece, with Darrell handling the bass by adding a Fender Bass Keyboard (like Ray Manzarek used in the Doors) to his customized B-3 set-up. We had gigs all throughout the south, performed as the opening act for a few local concerts, but mostly played tri-state area rock clubs, college parties, and high school dances.

Local music store owner and county fine arts educator Pat Wiseman began Plato Records in 1967 with a pharmacist and music lover named Bob Ullom. They booked their sessions at King Studios in Cincinnati, Ohio.

We were playing a lot of live gigs at that time, and on the night before our recording date, our hustling manager Hal Scott of Hal Scott Enterprises in Ashland, KY (besides booking rock bands. he ran a mortuary business) had us booked for a high school prom from 9pm to 1am, THEN an after-prom party at a DIFFERENT high school from 4am to 6am! So, with no sleep for 36 hours, our voices raw from singing for six hours, our bodies aching from packing and unpacking our equipment, and driving the hundred plus miles from West Virginia, we arrived for our session at around 11am. Because our voices were so ragged, we weren't able to do the harmonies that we did live, but everybody seemed to like the rawness of the record.

The Satisfied Minds, 1968

After college graduation, I did two years in the Army, then started teaching, while Darrell took off for Hollywood to pursue acting. But we kept in touch, and I kept playing. In 1977 Darrell called me out to L.A. to play music and be in a film he was co-starring in called "Big Wednesday", a surf epic written and directed by John Milius that's become somewhat of a classic. Shortly after that, Darrell starred in a CBS comedy series pilot written by Lorenzo Music called "Friends" about a couple of rock stars, loosely based on Flo and Eddie from The Turtles. Darrell got me on that show as the guitar player in his band. In the opening credits for the show, there's a scene of Darrell & his co-star playing a gig at the legendary Troubadour club. Along with the show's fictional band, the marquee proclaims "Now Playing ……..The Satisfied Minds!"

The pilot wasn't picked up, but Darrell and I continued to play in groups in L.A. -. Among them, a group called "Pacific Ocean," which featured singer Edward James Olmos before he became a famous actor. We also played a number of gigs with David Carradine and his younger brother Robert Carradine. In 1979, we did a concert with the entire family: David, Robert, their brother Keith, and father John Carradine at the Wilshire Ebell theatre, called "An Evening With The Carradines." Filmed live, the concert became part of a documentary that's now on DVD.

After that we started a California version of the Minds with our good friend Sam Melville a co-star with Darrell on Big Wednesday who had been one of the three leads on the ABC hit show "The Rookies". We called this band "Raw Dog", but it was still the Minds. A couple of years later, I moved back to the family farm in Lincoln County, West Virginia to be with my aging parents. I started teaching again but kept right on playing. Darrell segued into writing and producing TV and films.

The pictures enclosed are the band in 1966 (check those tuxedos), in 1968 (times were a-changin' and the guy sitting on the stone was our drummer, Jim Frazier–Hale had gone off to the Berklee School of Music in Boston). The third one is 1980 of "Raw Dog," and the guys with Darrell and me are Sam Melville on bass and Jeff Marx on drums.

Darrell and I still stay in touch and try to play music together whenever he's in town. Lately, we've been talking about writing a stage musical based on some songs I've written about the "Chemical Valley" (the heavily industrial Charleston, St. Albans, Nitro area) where I grew up. Don't worry….we're not through yet!!!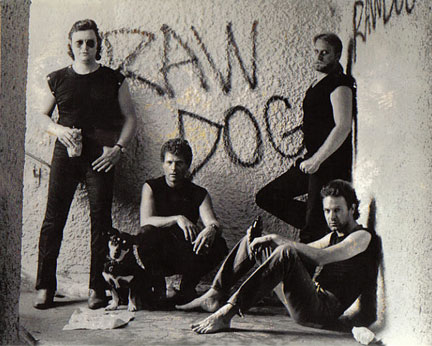 Q. How did you start in music? Was the Satisfied Minds your first band?
Yancey Burns: I had played in high school groups, but I didn't know Darrell or any of the other guys then. When I came to Marshall, I formed an R & B group called "The Seagram Seven." We featured a big black guy who looked and sounded just like Junior Walker on saxophone and a crazy New York Italian guy who sang soul songs. Since we were a mixed group (black guys & white guys) we played a lot of black clubs and frat gigs.
One night, during a snow storm at about 3 a.m., we were driving from a gig in the customized hearse we used to haul our equipment. No one else was on the road at that hour but the occasional truck driver. Suddenly, we saw this silhouetted figure crawling out of a snow drift in the Interstate median – It was Darrell Fetty struggling across the highway to flag us down. He had been driving from a gig in the opposite direction when his car broke down. He had been out there alone (remember this was before cell phones) for a couple of hours and was about to freeze to death. That's how we met.
Darrell was still in high school at the time, but had been playing in various rock groups for several years. He started playing piano when he was eight for church choirs and gospel quartets. We happened to be looking for a new keyboard player at the time, so Darrell gave me his number. I called him a couple weeks later, and he was thrilled to join the "Seagram Seven" to play college bookings and get away from the Elks Club and Moose Lodge gigs he'd been playing with an older group.
When Darrell came to college the following year, his Dad bought a boarding house where a bunch of us guys lived and practiced music in the basement.
Q. How'd the band get it's name?
Yancey Burns: After the "Seven" broke up, we were looking to play a new kind of music that was happening then. It was 1967, so we still had to play a lot of R & B for the local gigs, but we started stretching things out with guitar solos and so forth and played sort of "psychedelic soul" style. We got a light show, and I started burning guitars and setting off smoke bombs onstage. We wanted a name that reflected sounded kind of mind expansive, so Darrell came up with the "Satisfied Minds" which was actually pulled from the lyrics of an old country song about "a man with a satisfied mind."
Q. Did you know other bands on the Plato label, or were friends with other local acts?
Yancey Burns: We knew all the acts! They weren't exactly friends, because, then, we saw them as our our competition. Although secretly we were all kinda fans of each other. Most of the acts on Plato were managed and booked around the area by Hal Scott Enterprises.
This was a great time for music in this area. We'd see professional acts like Paul Revere and the Raiders, then later Led Zeppelin, the Who, etc. but none of them seemed as exciting as some of our local groups! Among some of the other groups in the Tri-State area at that time were "The Explosive Dynamiks" who featured three lead singers, a white guy and two black guys (one sounded like James Brown and the other like Brooke Benton). The Dynamiks had a local hit, but it was a record they produced and distributed themselves (not on Plato). [for more info on the Dynamiks, check out this entry at Capitol Soul Club]
There was also "The Fugitives" who went to New York for awhile and actually opened for "The Young Rascals" for a couple of concerts. Darrell and I were also big fans of "Little Archie & The Parliaments" an all-black group who also recorded their own records (not on Plato). Little Archie was about seven feet tall who could sing, dance, and gave as great of a show as Otis Redding!
Q. I've heard that Plato was started as a label for black music. This doesn't really fit in with the fact that the Satisfied Minds was the first record released on Plato. What would you say were Wiseman and Ullom's ambitions for the label?
Yancey Burns: Maybe because of the number of black groups on the label and in the area. Actually, Wiseman and Ullom just wanted to tap into that locally-happening music scene and just get a hit! Our record was the first release, but remember we were segueing from a soul band (you saw the tuxedos) to a psychedelic/rock band at the time.
Q. Are there any unreleased or live recordings of the band?
Yancey Burns: Not that I know of.
Thank you to Yancey Burns for his history and photos of the group.
Update, October 2010:
I'm very sorry to hear that Yancey passed away on June 6, 2010.
Darrell Fetty wrote to me about some of the music he and Yancey did after the Satisfied Minds:
"Reds and Blues" is from a live performance we did in L.A. (I think it was the old Palomino Club) as "Leon Keyboard & the Bilnor Spashers" – it was the "Raw Dog" core musicians: Yancey on guitar, me singing and on keyboards, etc., but for a few gigs we brought in a number of friends of ours who were celebrities at the time. It was a fun, ever-evolving gang of people modeled after the "Mad Dogs & Englishmen" group. On this performance, in addition to Sam Melville and Mark Singer, and our wives Annie Melville, Hau Nani Singer, Carolyne McCoy Fetty, we had Carradine brother Bobby on guitar.

Yancey wrote "Red and Blues" one night after watching a documentary on Custer's Last Stand. It's a funky rock/folk song with a raw reggae feel that tells the story (with real names of some of the soldiers involved) from the Indians point of view. This is also a rare recording of Yancey himself singing the lead vocal.