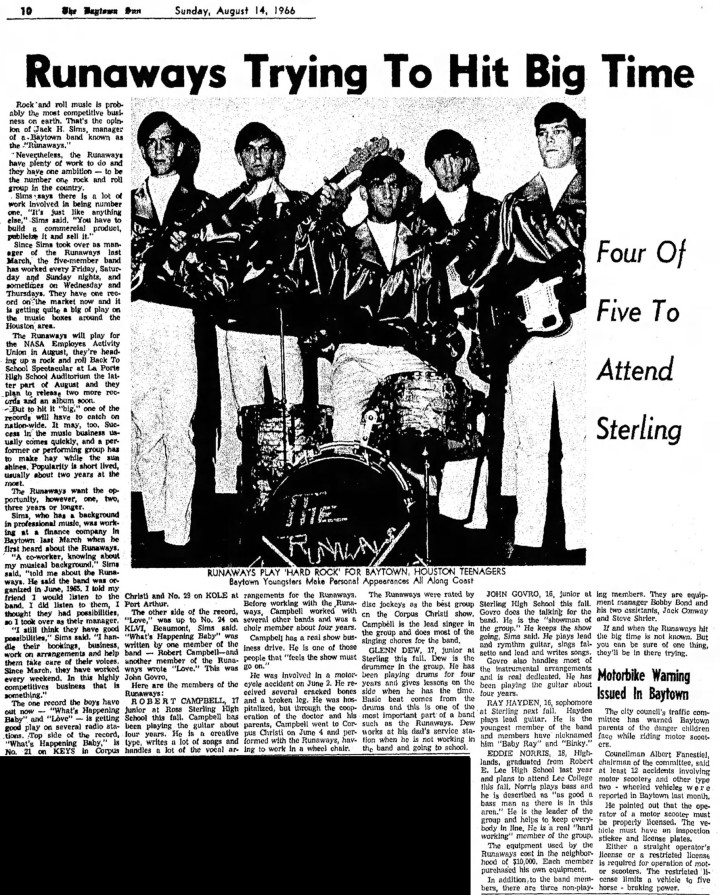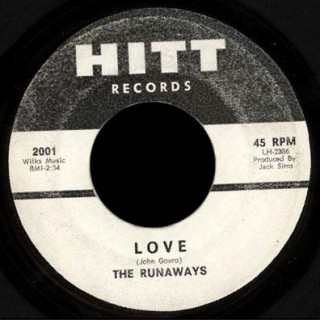 The Runaways came from Baytown, across the San Jacinto River and about 25 miles east of Houston. The band formed in June of '65; most of them were students at Ross Sterling High School. They cut one fine 45, notable for the rockin' harmony cut "Love", released in May, 1966.
Robert Campbell – lead vocals and guitar
John Govro – lead and rhythm guitar, vocals
Ray Hayden – lead guitar
Eddie Norris – bass
Glenn Dew – drums
An article in the Baytown Sun from August 14, 1966 mentions their 45 on Hitt, stating that "What's Happening Baby" (good vocal harmony pop, written by Robert Campbell) reached #21 on KEYS in Corpus Christi and #29 on KOLE in Port Arthur, and "Love" (written by John Govro) made #24 on KLVI in Beaumont.
Jack Sims managed the group and produced the single. Bobby Bon was equipment manager with Jack Conway and Steve Shrier.
There was another Texas group called the Runaways, from San Antonio, with the legendary single on Alamo Audio, "18th Floor Girl" / "Your Foolish Ways".